Crostini with White Truffle Oil and Lavender is an exceptional appetizer recipe!  The smell alone of this Crostini with White Truffle Oil will drive you wild as the smell of truffle oil is so sensual and intoxicating that it will make your mouth water.  Remember, it is important to use only a good-quality truffle oil.
Truffle oil is top-quality olive oil that has been infused with either white or black truffles.  Both types of truffles have an earthy, mushroom flavor.  Truffle oil was originally created when truffles are soaked in olive oil.  Before commercial truffle oil was introduced in the 1980s, chefs in Italy and France traditionally made they own by steeping tiny bits of fresh truffles in high-quality olive oil.  Learn about Truffle Oil.
Did you know that both the ancient Greeks and the ancient Romans attributed romantic powers to the truffle?  Lavender is an incredibly versatile herb for cooking.  In today's upscale restaurants, fresh edible flowers are making a comeback as enhancements to both the flavor and appearance of food.  This Crostini with White Truffle Oil and Lavender is so easy to put together and serve.  You could also serve this spread on crackers.  Learn about Edible Flowers.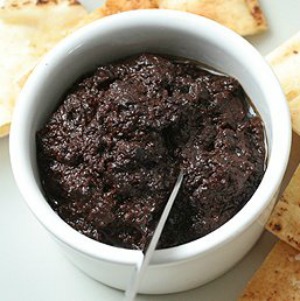 Crostini with White Truffle Oil and Lavender Recipe:
Keyword:
Crostini with White Truffle Oil and Lavender Recipe
Instructions
Preheat oven to 400 degrees F.

Place bread slices on a baking sheet and bake until lightly toasted, approximately 5 to 6 minutes. Remove from oven.

In a medium bowl or mini-processor, mash the olive paste (or chopped olives), truffle oil, and lavender flowers together.

Spread olive mixture on the warm bread and serve immediately.

Serve with a good red wine and enjoy!


Recipe Notes
* Choose a bread with a close texture and a good crust, like a baguette bread.
** If you can't find olive paste, use a combination of green and black olives (that you can purchase from tubs at your local store).  Some Sevillano, Kalamata, etc.   I did throw in some plain black olives.   I did not make a paste, but chopped until small in mini-processor.  Then added white truffle oil and the dried lavender flowers to processor and chopped in.
Sources:  I slightly adapted this Costini with White Truffle Oil and Lavender recipe from the cookbook La Vera Cucian, Traditional Recipes from Homes and Farms of Italy by Carlo Middione.  Carlo describes this recipe as, "This is a magic dish I eat with intimate friends because I often find myself licking my fingers to catch every essence of the truffle."
Comments and Reviews