Tomato Bruschetta are the most wonderful appetizers during the fresh tomato season.  Easy to prepare and bursting with summer flavors, bruschetta makes a great snack, appetizer, or side dish.  This is a superb tomato bruschetta appetizer recipe that my whole family enjoys, even my young children.  Your family and guests will be coming back for seconds, thirds, and even fourths.
This past summer, I discovered a wonderful flavor infusion of Egyptian and Italian cuisine!  The marinade I used came from Maha Barsoom and her Egyptian Tomato Salad recipe.  After making her tomato salad, I enjoyed the classic Egyptian flavor combination of lemon, garlic, and fresh herbs with the tomatoes so much, that I chopped up some of the leftover tomato salad and served over toasted bread slices as a bruschetta that the whole family enjoyed.
This appetizer is true celebration of summer's fresh and tasty tomatoes.  The flavors are sophisticated, yet with a touch of simple summer goodness.  This variation of the classic Italian Tomato Bruschetta recipe makes a wonderful appetizer or a summer meal to enjoy with a glass of wine. Imagine sitting out on your patio enjoying your favorite wine while nibbling on these tasty Bruschetta bites.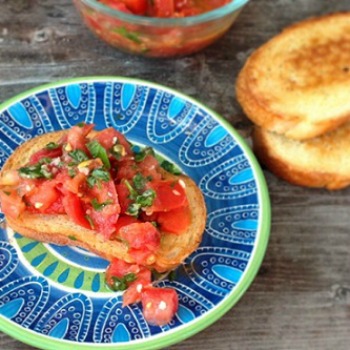 Also try these wonderful Tomato Bruschetta and Spanish Tomato Toast Recipes!
Egyptian Tomato Bruschetta Recipe:
Keyword:
Egyptian Tomato Bruschetta Recipe
Ingredients
3 to 4

large vine-ripened

tomatoes,

chopped into large 1/2-inch chunks

5 to 6

cloves

garlic,

minced

Juice and zest

of 1 lemon

4

tablespoons

olive oil,

extra-virgin

4

tablespoons

white vinegar

1

teaspoon

sea salt

1

teaspoon

coarsely-ground black pepper

1

teaspoon

cumin powder

1/4

cup

parsley,

fresh, chopped

1/4

cup

cilantro,

fresh, chopped*

1

loaf

baguette bread

slices, cut on an angle

Olive oil,

extra-virgin

1 to 2

cloves

garlic,

peeled and cut in half
Instructions
In a small bowl, mix together the garlic, lemon juice, lemon zest, olive oil, vinegar, salt, black pepper, cumin, parsley, and cilantro; set aside.

Drain tomatoes of extra juice and add chopped tomatoes to a medium-sized bowl. Pour prepared dressing over the tomatoes. Cover tomato and dressing with plastic wrap and let sit in the refrigerator for a couple hours for the flavors to marinate with the tomatoes. Halfway through, stir the tomato mixture.

Preheat oven to 375 degrees F.

Brush baguette bread slices on both sides with olive oil and place them on a baking sheet. Bake slices until just crisp, about 3 minutes a side. Remove from oven and leave on baking sheet. (Bread can be toasted 3 hours ahead; covered loosely with foil and leave at room temperature.) Take cut garlic clove and rub against surface of baguette slices.

Remove tomatoes from refrigerator 20 minutes before ready to serve. Pour tomato mixture into a nice serving bowl and place on platter with toasted baguette slices. Allow each guest to spoon the tomato mixture on the toasted baguette slices and enjoy.
Recipe Notes
* Fresh cilantro is also known as fresh coriander outside the United States.
Comments and Reviews