Fried Mozzarella Cheese with Anchovy Sauce appetizer would make a great starter course for your dinner party.  
This recipe uses an anchovy Sauce.  The sauce is delicious, really rich and intense – great to make again and again.  Try it on pasta, bruchetta, sandwiches, or even give it as a gift!  Give this Fried Mozzarella Cheese appetizer a try and you will be pleasantly surprised.
If a recipe specifies Fresh Mozzarella Cheese, please only use Fresh Mozzarella Cheese – You will be sorry if you do not use it!  When using mozzarella cheese in cooking I prefer as fresh as possible.  Most people are not able to find Fresh Mozzarella Cheese.  If you can, you are very lucky and will have the most wonderful taste experience.  If you have not tried fresh Mozzarella, you are missing out on the one of the creamiest textures in the cheese world.  It is a delicious way to enjoy a low-fat, high protein snack.  Did you know that fresh mozzarella cheese only has 87 calories per ounce?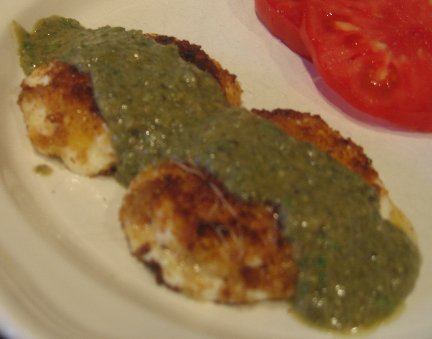 Fried Mozzarella Cheese with Anchovy Sauce Recipe:
Keyword:
Fried Mozzarella Cheese with Anchovy Sauce Appetizer
Ingredients
2

(8-ounce) balls fresh water-packed

mozzarella cheese,

drained

Flour,

all-purpose

1

large

egg,

beaten

3

cups (about 8 ounces)

breadcrumbs,

fresh*

2

tablespoons

butter

6

cloves

garlic,

minced

1

cup (packed)

Italian parsley

leaves, fresh

1/2

cup

olive oil,

divided

1/3

cup

capers,

drained

1

(2-ounce) can

anchovy fillets,

drained**

1 1/2

teaspoons

lemon juice,

fresh squeezed

Coarse salt

and coarsely ground black pepper to taste
Instructions
In three individual bowls, separately place the flour, beaten egg, and breadcrumbs.



Slice each ball of mozzarella cheese into four 1/3- to 1/2-inch thick rounds. Coat the sliced cheese in the flour, then the beaten eggs, and then the breadcrumbs.

Place on a baking sheet; cover and refrigerate until cold, at least 2 hours.
To Make the Anchovy Sauce:
In a small frying pan over low heat, melt butter. Add garlic and saute approximately 3 minutes.

Transfer garlic/butter mixture to a food processor. Add parsley leaves, 1/4 cup olive oil, capers, anchovies, and lemon juice. Blend until a coarse paste forms. Season with salt and pepper to taste.
To Fry Mozzarella and Serve:
When ready to serve: In a large frying pan over high heat, heat the remaining 1/4 cup olive oil. Working in batches, fry prepared cheese slices until brown, approximately 2 minutes per side.


Transfer fried cheese to individual serving plates. Spoon warm anchovy sauce over the top of the cheese.

NOTE: The Mozzarella cheese and the Anchovy Sauce can be prepared 1 day ahead. Cover separately and refrigerate. Re-warm sauce slightly over low heat before serving.
Recipe Notes
* Learn how to Make Homemade Bread Crumbs.
** Anchovy Paste may be substituted for the anchovy fillets.  1/2 teaspoon anchovy paste is equal to 2 anchovy fillets.  You can also adjust the amount of anchovies used according to your taste.  To purchase Anchovies and Anchovy Paste, check out What's Cooking America's Kitchen Store.
Source:  I slightly adapted this appetizer recipe from the Genoa restaurant in Portland, Oregon and was featured in the Bon Appetit magazine, April 2003.
Comments and Reviews