My family really enjoys this delicious Honey Walnut Spread Recipe served on bagels, toast, English muffins, and waffles.  Be creative with this Honey Walnut Spread as it is so fantastic!
Spread on toast it makes a great bruschetta to serve at your next gathering.  It also makes a great spread for sliced apples.  This appetizer treat toes the line between savory and sweet.  It is easy to make and highly addictive.  This is a great appetizer to serve with your favorite wine.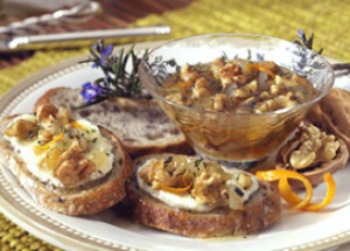 Goat cheese is available in various shapes and textures, and sometimes flavored with herbs or spices.  For this Honey Walnut Spread recipe, you will want an unflavored goat cheese, and what you use will depend on local availability and your preferences.  The honey walnut spread makes a generous amount, so serve the extra in a bowl, with crackers or sliced bread.
Did you know that the state of California supplies 99 percent of United State walnuts and the majority of the world supply?  In fact, walnuts have a history that is even more ancient than the Romans, dating back to prehistoric times.  Today, walnuts are used in cuisines around the world, particularly for baked goods and confections.
I slightly adapted this great appetizer recipe, originally by Chef Roxanne O'Brien of the Walnut Marketing Board, to share the wonderful flavors of honey and goat cheese.  This recipe first appeared in a 2005 Walnut Marketing Board brochure titled, Sensational Walnut Recipes from Celebrated Market Chefs.  The recipes were created by chefs who work at independent markets in Northern California.
Honey Walnut Spread Recipe:
Keyword:
Honey Walnut Spread Recipe
Ingredients
2

cups (8 ounces)

walnuts

3/4

cup

honey

3/4

cup (about 4 ounces)

dried pears,

cut in 1/4-inch dice

2

teaspoons

herbes de Provence

or mixed Italian herbs

1

teaspoon

coriander,

ground

2

tablespoons

orange zest,

finely-grated

1

tablespoon

orange juice,

fresh-squeezed

1

teaspoon

lemon juice,

fresh-squeezed

1/8

teaspoon

coarse salt,

or sea salt

12

slices (16 ounces) baguette-type

French bread,

cut diagonally, about 1/2 inch thick

4

ounces (1/2 cup)

goat cheese,

plain
Instructions
Preheat the broiler of your oven.

Coarsely chop 1 cup of the walnuts; chop the remaining cup of walnuts finely. Place all the nuts in a large bowl. Add the honey, dried pears, herbes de Provence, coriander, orange zest, orange juice, lemon juice, and salt. Beat vigorously until completely mixed; set aside.

Slice baguette on the diagonal into about 12 slices; place on a baking sheet.

Cut the goat cheese into pieces; divide and place on top of the baguette slices. Using a knife, spread cheese uniformly on each baguette slice. Broil until cheese is just melted. (Broil about 4 inches from heat, just to warm the bread and soften the cheese - watch closely, this only takes a moment.)

Top each baguette slice with a spoonful of Honey Walnut Spread and serve immediately.
Comments and Reviews