Savory Snack Foods – Football Snack Foods – Finger Snacks 
A savory snack appetizer is defined as any type of food eaten between meals (usually with the fingers) whether healthy or not healthy.  A savory snack appetizer can consist of nuts and seeds, popcorn, chips, crackers, and other savory snacks.  Some people would also call these snacks football food.  Check the recipes out, prepare them for your family and friends, and ENJOY the compliments you will receive!
Back to the main Appetizer Recipe Index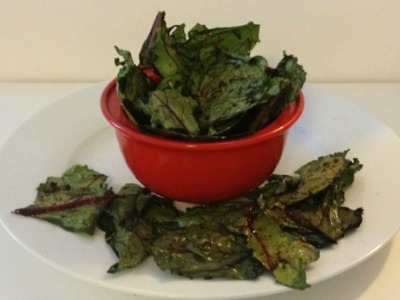 Baked Beet Green Chips – Oven Roasted Beet Green Chips
Learn to make these delicious and healthy Baked Beet Greens Chips.  Not only are they healthy, but they are pretty to look at as they roast up in various shades of greens and browns.  They taste very similar to Baked Kale Chips, and are sure to become one of your favorite snacks!  They are a healthy alternate to potato chips and are perfect for snacking.  What more could you ask for?
Baked Kale Chips – Oven Roasted Kale Chips
Not a fan of kale?  Well, these crispy baked kale chips are sure to convert you.  In fact, they will probably become you new favorite snack!  They are a healthy alternate to potato chips and are perfect for snacking.  I know that there are hundreds of baked kale chip recipes on the internet, but I hope my recipe will help you also make perfect kale chips.  What more could you ask for?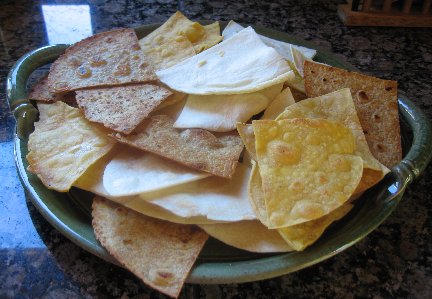 Baked Tortilla Chips
Try my delicious low-fat Homemade Baked Tortilla Chips with the following salsa and guacamole recipes.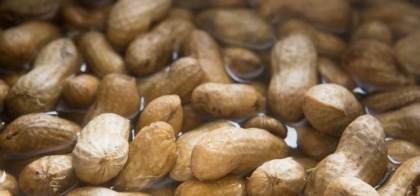 Boiled Peanuts
Judging from the many variations on recipes for boiled peanuts, there appears to be no wrong way to boil green peanuts.  The important thing is the many tastings needed to determine when they are done.  You must taste test the boiled peanuts for saltiness and firmness, as some people prefer soft nuts to firmer ones.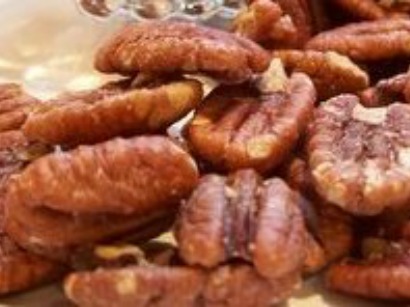 Bourbon Pecans
You won't be able to stop "grazing" on this delightful nuts! Recipe from The Frog Commissary Cookbook.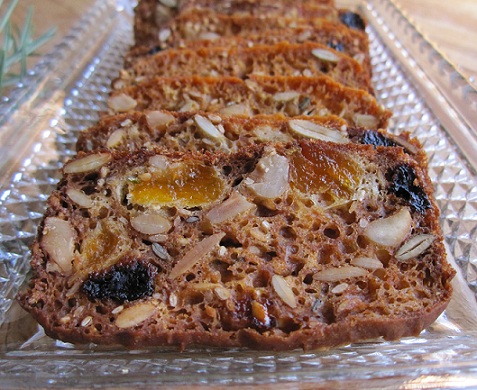 Dried Fruit, Nut, and Seed Crisps
I love crackers with nuts and dried fruits in them.  They are expensive to purchase, but very inexpensive to make.  These easy-to-make crackers require no rolling out as other recipe do.  The crisps are twice-baked like biscotti and thinly sliced. They are excellent served with some cheese and wine, and they are so addictive!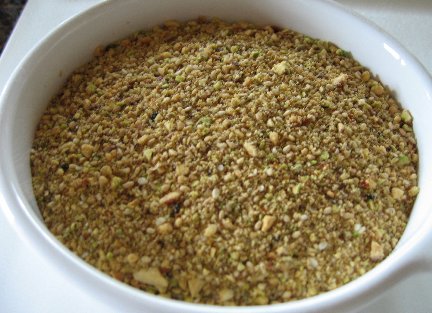 Dukkah (nuts, seeds, and spice dip)
Dukkah is a delicious blend of nuts, seeds, and spices.  It is based on a traditional Middle Eastern recipe.  I first discovered this great mixture while on vacation in Western Australia (WA).  It has become a popular seasoning in Australia and can easily be purchased there, but why buy it when you can easily make your own.  The traditional way to serve Dukkah is with extra-virgin oil and bread.  First you dunk a piece of bread in the olive oil and then in the Dukkah.  I served this at a large wine tasting party, and it was a big hit!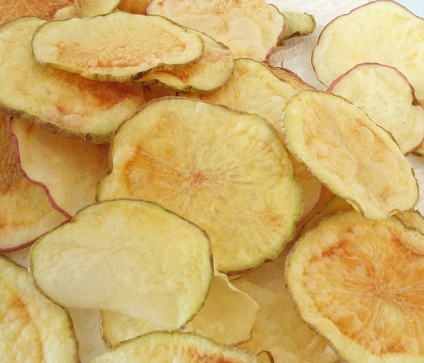 Microwave Potato Chips
Make your own potato chips using your microwave.  A tasty and easy alternative to store-bought potato chips.  Use non-stick cooking spray and make these delicious potato chips low calorie and non-fat.
Sazerac's Spiced Holiday Nuts
My friend and neighbor, Laurie Grace, makes this wonderful spiced nut mix every Christmas has gifts for her friends.  I like to use them to top off my salad greens.
Comments and Reviews