Learn To Make Vietnamese Spring Rolls
How about some Spring Rolls, also known as Summer Rolls?  They are a cool, easy, and an efficient process that yields a delectable prize.  
Did you know that these rolls are actually egg rolls that are not fried?  Because they are not fried, they are very low in fat and calories!  Not only are these rolls tasty, but they are also healthy.  These are good as a starter or a main course.
Please do not be afraid of making your own Vietnamese Rolls.  They are very easy to make if you follow the guidelines suggested in this article.  Secrets of great making these rolls are to use the freshest ingredients available, to moisten the rice-paper wrappers until they are pliable but not too wet, and to roll the bundles tightly.  The beauty of spring rolls is that you can you just about any ingredients you like.  Rice wrappers and bottled dipping sauces are readily available in Asian markets and the Asian section of most supermarkets.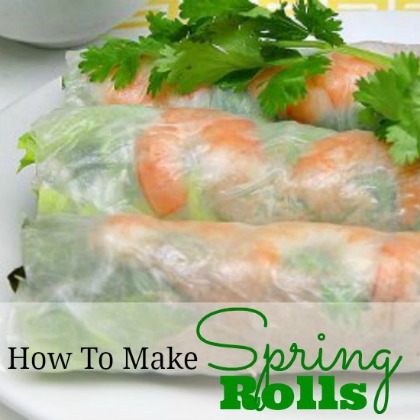 Spring Rolls Recipe:
Keyword:
Spring Roll Dipping Sauce Recipes, Spring Rolls Recipe
Ingredients
1

pound

shrimp,

prawns, lobster, or crab meat, cooked

Cellophane noodles

(Bean thread noodles)*

1

tablespoon

seasoned rice vinegar

Red or

Boston lettuce leaves

(leaves separated, rinsed, dried, and tough ribs discarded)

Mint

leaves, washed, dried, and coarsely chopped

Basil

leaves, washed, dried, and coarsely chopped

Cilantro

leaves, washed, dried, and coarsely chopped

Carrots,

coarsely shredded

Spring Roll Wrappers

(rice paper rounds), 8 1/2-inches in diameter**
Instructions
If using shrimp or prawns, sliced them in half lengthwise.

Cover bean thread noodles with boiling water and let soak 15 minutes; drain well in a sieve or colander. Pat dry between paper towels and toss with rice vinegar. Cover and refrigerate until ready to use.

NOTE: Have all your ingredients, washed and prepped before rolling.

Spring Roll Wrapper or Rice Paper Wrappers come out of the package hard and inedible, and they must be soaked in water before using.

Fill a pie plate or bowl with lukewarm water. Immerse rice paper in warm water for 10 seconds to soften them up just until soft but still flexible and slightly firm and not fully folding on itself. Work with one rice paper at a time, being gentle as they break easily when brittle. Remove from water and place rice paper on a kitchen towel and let rest approximately 30 seconds until it's more pliable.

Arrange one piece of lettuce on bottom half of soaked rice paper, folding or tearing to fit and leaving a 1-inch border along edge. Top with some of the seafood, noodles, mint, basil, cilantro, and carrot (don't overfill). Make sure the ingredients are not clumped together in the center, but evenly distributed from one end to the other. Note: The fillings may be placed on the rice paper in any order your desire.

Pressing down on the filling with your fingers (pressing down on the ingredients is particularly important because it tightens the roll), fold the bottom end of the sheet (side nearest you) over the top of the fillings and roll into a cylindrical shape halfway.

Fold the left and right sides inward and complete rolling the remaining half (If rice paper is too dry to seal, moisten unsealed edges with a little more hot water). Transfer summer roll to a plate, seam-side down, and cover with dampened paper towels. Make additional roll in the same manner.

Making Ahead of Time: Spring rolls can be made a day ahead. Cover them with a damp paper towel, then wrap well in plastic wrap, and refrigerate. Refrigerating firms and toughens the wrappers and noodles slightly (if they are a little dry, wipe them gently with a damp cloth).

Bring rolls to room temperature before halving and serving. To serve, halve rolls on the diagonal and place the rolls upright on your serving platter. Serve with your favorite dipping sauces (see recipe ideas below).

For an appetizer, serve one or two halves per person. As a main course, serve at least six halves per person.
Recipe Notes
* Bean thread noodles are the thin clear noodles made from ground mung beans or (the cheaper version) mung bean flour.  Because of their appearance, they are also called transparent or cellophane noodles.  Look for bean thread noodles online, in the ethnic or pasta section of natural food stores, or in specialty or Asian markets.  Store them, unopened, in a cool, dry cupboard for six to eight months.

** Spring Roll Wrappers or Rice Paper Wrapper can be found online and near the fried noodles in Asian markets.  When shopping for rice paper wrappers, be sure to look for all-rice wrappers, and not the thin wrappers made with tapioca starch or the thick wheat flour wrappers.  
These rice paper wrappers will keep in your cupboard indefinitely.  Spring roll rice paper wrappers are available in various sizes.  Sizes can range from a small bite sized rolls to larger, longer rolls.  Select the size that works best for you.
As they are fragile, keep them flat and handle them gently.
Dipping Sauce Recipes Ideas:
Hoisin-Chili Sauce Recipe:
3/4 cup prepared hoisin sauce
1/4 cup minced onion
3 tablespoons rice vinegar
2 tablespoons water
2 to 3 teaspoons Asian Red Chili Paste
2 tablespoons minced salted roasted peanuts
In a medium saucepan over medium-high heat, combine Hoisin sauce, onion, rice vinegar, and water; heat and stir approximately 3 minutes until mixture comes to a boil.  Remove from heat and stir in chili paste.  Let sauce cool at least 30 minutes.  Just before serving, stir in peanuts.
Curried Mayonnaise Sauce Recipe:
1/2 cup mayonnaise
1 teaspoon fresh lime juice
1/4 teaspoon water
2 teaspoon curry paste (or to taste)
In a bowl, whisk together mayonnaise, lime juice, water, and curry paste.  Refrigerate until ready to serve.
Garlic-Lime Sauce Recipe:
1/4 cup sugar
1/4 cup hot water
1 red serranto chile pepper, seeded and finely chopped
2 cloves garlic, minced
1/3 cup fresh lime juice
1/4 cup fish sauce
In a medium bowl, combine sugar and hot water; stir to dissolve the sugar.  Whisk in chile pepper, garlic, lime juice, and fish sauce.  Serve at room temperature.
Strawberry Sauce Recipe:
2 tablespoons extra-virgin olive oil
1 tablespoons sesame oil
3 tablespoons rice vinegar
1 clove garlic, minced
1 teaspoon soy sauce
1 teaspoon strawberry preserves
1/2 teaspoon freshly grated ginger root
1/4 teaspoon crushed red pepper
In a large bowl, whisk together olive oil, sesame oil, rice vinegar, garlic, soy sauce, strawberry preserves, ginger, and red pepper.  Serve at room temperature.
Spicy Peanut Sauce Recipe:
Bunch fresh cilantro leaves
1 cup smooth peanut butter
1 tablespoons sesame oil
1/2 cup soy sauce
2 1/2 tablespoons sugar
3 cloves garlic, minced
1 tablespoons hot chili sauce
1 tablespoons rice vinegar
In a food processor or blender, place the cilantro leaves, peanut butter, sesame oil, soy sauce, sugar, garlic, chili sauce, and rice vinegar.  Process until smooth. Serve at room temperature.
Lemon Vinaigrette Sauce Recipe:
Juice of one lemon
Juice of one lime
Juice of one orange
2 tablespoons rice vinegar
1 teaspoon freshly grated ginger
1/2 cup extra-virgin olive oil
1 shallot, minced
In a large bowl, whisk together lemon juice, lime juice, orange juice, rice vinegar, and ginger.  Allow mixture to sit fifteen minutes; strain out the ginger and any citrus seeds.  Add the shallots and slowly whisk in the olive oil.  Season to taste with salt and pepper.  Serve at room temperature.
Comments and Reviews