Sandwich wraps with Asparagus and Avocado are fabulous and also low-fat and low calorie!  Serve these sandwich wraps for lunch or at a party on the appetizer buffet.  They are easy-to-make and are sure to impress your guests.  Use different tortillas for a variety of colors to make a nice display.  You can also choose to use low-fat or multi-grain tortillas for healthier options.  I love the fresh taste that the lime and cilantro bring out in this sandwich.
My neighbor, Roxanne Sienkiewicz of Beaverton, Oregon made this wonderful Asparagus and Avocado Wraps for our Gourmet Dinner Group.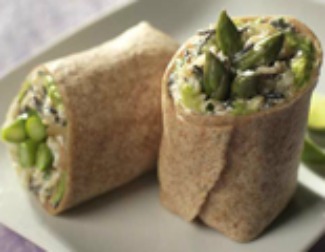 For more great Low Fat Recipes, Low Calorie Recipes, Low Carbohydrate recipes, and Diabetic Recipes, check out my Diet Recipe Index.  Also check out my Nutritional Chart for fat grams, carbohydrate grams, and calories for all your favorite foods.
Sandwich Wraps with Asparagus and Avocado Recipe:
Keyword:
Sandwich Wraps with Asparagus and Avocado
Ingredients
24

spears

asparagus

1

ripe

avocado,

pitted and peeled

1

tablespoon

lime juice,

fresh squeezed

1

clove

garlic,

minced

1 1/2

cups

long-grain white rice,

cooked and cold

3

tablespoons

yogurt,

plain, nonfat

3

(10-inches in diameter)

whole wheat tortillas

1/3

cup

cilantro

leaves, fresh

2

tablespoons

red onion,

chopped
Instructions
In a medium-sized saucepan over high heat, bring 2 inches water to a boil. Place the asparagus in a steamer basket, cover, and steam until just tender, approximately 5 minutes. Remove the asparagus and immediately rinse in cold water to stop the cooking process. Drain thoroughly.

In a small bowl, mash the avocado, lime juice, and garlic into a coarse puree; set aside.

In another small bowl, stir together the rice and yogurt to mix well; set aside.

Heat a large dry frying pan (not one with a nonstick surface) over medium heat. One at a time, heat the tortillas in the hot pan until softened, approximately 20 seconds per side.

Lay the tortillas flat on a clean work surface. Spread the avocado mixture equally among the tortillas. Top each with an equal amount of the rice mixture, asparagus, cilantro, and onion. Fold in both sides and the bottom of each tortilla up over the filling; then roll to close.

If made in advance, cover with plastic wrap and refrigerate for up to 1 hour. Return to room temperature before serving.

To serve, cut each wrap in half crosswise.
Nutrition Facts
Sandwich Wraps with Asparagus and Avocado Recipe:
Amount Per Serving
Calories 193
Calories from Fat 50
% Daily Value*
Fat 5.6g9%
* Percent Daily Values are based on a 2000 calorie diet.
Source:  Recipe originally from The Mayo Clinic's Williams-Sonoma Cookbook by John Phillip Carroll, published by TimeLife Books.  Photo from Mission Foodservice.
Comments and Reviews