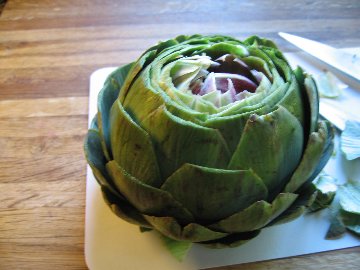 During artichoke season, fresh artichokes are a must have.  Lots of delicious and easy-to-make artichoke recipes from simple to gourmet.  Learn how to purchase, prepare, and eat artichokes, plus interesting and delicious recipes.
Learn about the History and Legends of Artichokes
Check out How to purchase, store, prepare, cook, and eat artichokes (with photos).
Artichoke Recipes:
Artichoke and Goat Cheese Bruschetta
Recipe by Betty Rosbottom, author of Big Book of Backyard Cooking.  Betty says, "The prep work took less than 20 minutes.  An hour before the party, I mounded the artichoke onto toasted baguette slices and added a sprinkle of crumbled goat cheese."
Artichoke Benedict
Not the traditional way, but a very beautiful way to serve Eggs Benedict.
Artichoke Hearts with Crab
So good! Adding the crab brings the artichoke heart to a new dimension!
Artichoke Mushroom Cannelloni Lasagna
This dish is wonderful served as a pasta course or first course.  It is simple to do because you can make most of it ahead of time.
Artichoke Tea Sandwiches
The tea sandwich takes on a more satisfying dimension with the addition of artichokes.  Even children love these sandwiches!
Baby Artichokes
This recipe was shared with me by Peggy Bucholz of Tucson, Arizona.  Peggy served these delightful baby artichokes with an outstanding prime rib dinner.
Cream of Artichoke Soup – Creme D' Artichauts
In this smooth and mellow soup, only the tender hearts of the artichokes are used.
How To Cook Whole Artichokes
When fresh artichokes are in season, I could eat them everyday.  This simple preparation is my favorite way to serve them.  Artichokes are beautiful to look at and also make an impressive starter for your dinner party. Instead of butter for dipping, I use an mayonnaise and mustard dip.
Fettuccine with Baby Artichokes
A delightful and tasty way to use baby artichokes!
Grilled Baby Artichokes
Grilled baby artichokes are always a winner at our house.  Baby artichokes actually are not immature in the sense of baby carrots or miniature pattypan squash; they are fully grown versions of regular artichokes, but are no more than 1 to 2 inches in diameter.  Although they still need to be trimmed, true baby artichokes have barely developed chokes, which can be eaten, and a greater proportion of edible light green leaves.
Grilled Garlic Artichokes
I love artichokes, so I was excited to discover a healthier way to flavor them without a mayonnaise-based dip or clarified butter.  These artichokes are brushed with blend of olive oil, lemon juice, crushed garlic, salt and pepper.  So simple and so much healthier.  I have never left most of the stem on before.  I was happy to discover the stems contained more of the best part of the artichoke heart.  I plan to throw these on the grill more often!
Italian Stuffed Artichokes
Each artichoke will be a full and complete meal in itself.  It's not necessary to serve with any thing else.
Lemon Artichoke Dip
This unusual and delicious Lemon Artichoke Dip, using the whole lemon (yes, skin, pith, juice, and pulp), will totally surprise you with its bright, tangy flavor.  Until you try this fantastic and interesting dip, you won't believe how healthy and delicious it is.
Miniature Artichoke Tarts
This is a great make-ahead appetizer, especially when making large amounts of appetizers for a large party.  These tarts also make a great breakfast entree.  For a breakfast entree, I would re-warm them in the microwave.
Shaved Artichoke and Parmesan Salad
I slightly adapted this recipe from the New York Cookbook by Molly O'Neill.  This salad can be served as a first course, or served with cold lamb, beef, or seafood.
Sombrero Artichokes
Make a meal of this delicious stuffed artichoke.
Stuffed Artichokes with Crab Salad
This is a very easy meal to prepare and very delicious!  This is one of the meals that I like to serve on a hot summer evening.
Stuffed Artichokes with Smoked Salmon Salad
This is a very easy meal to prepare.  I created this recipe when I had extra homemade smoked salmon that I needed to use.
Stuffed Grilled Artichokes
A very simple and delicious way to grill fresh artichokes.
Thai Beef Salad with Artichokes
This salad is absolutely delicious with the marinated flank steak.
Warm Potato and Artichoke Salad with Bacon Dressing
From the recipe files of Robert Hammond, chef and owner of The Kitchen at Honeyman Creek Farm in Warren, Oregon.
Comments and Reviews