Steak Diane is a classical meat dish that to properly be served must be prepared at table side.  The presentation of preparing this meat dish is a great way to impress your guests.  Normally Steak Diane would be prepared table side by a Captain in a grand hotel dining room.  Because this dish comes together quite fast, it is recommend having all ingredients chopped and measured out before starting to cook.  Thin tenderloin steak are sauteed with shallots, thyme, mustard, mushrooms, and cream.
History:  Steak Diane was very popular in the 1950's and early 1960's, especially in New York city in upscale restaurants prepared table side with its theatrics arising from the flambéing of the cognac used to make the sauce.  It was supposedly named after the Roman goddess, Diana or Diane.  Diana was the Goddess of the Hunt and also Goddess of the Moon.  Steak Diane was originally a way of serving venison.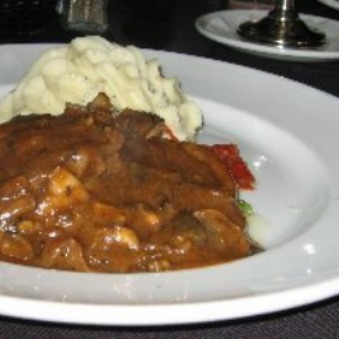 Steak Diane Recipe:
Keyword:
Steak Diane Recipe
Ingredients
4

(3-ounce) center-cut

Beef Tenderloin

(Filet Mignon) medallions, trimmed of all fat and chilled

4

tablespoons

butter,

divided

Salt

and pepper to taste

1

teaspoon

Worcestershire sauce

2

tablespoons

green onions

or shallots, finely-chopped

1/8

teaspoon

garlic,

minced

1/4

cup

mushroom caps,

sliced in 1/8-inch thick slices

1

tablespoon

lemon juice,

fresh-squeezed

1

teaspoon

dry mustard powder 

1/2

teaspoon

thyme

leaves, fresh

1/4

cup

heavy cream

1

ounce (2 tablespoons)

brandy

or cognac

1

tablespoon

parsley

leaves, fresh, chopped

1

tablespoon

chives,

fresh, chopped

1/2

teaspoon

salt

(or to taste)

Black pepper,

freshly-ground, to taste
Instructions
Working with one piece of steak at a time, place each between two pieces of plastic wrap. Working from the center to the edges, gently pound each piece of steak with a meat mallet to 1/2-inch thick.

In a small frying pan (8- or 10-inch) over medium heat, heat 1 tablespoon butter for 1 minute. Add the pounded tenderloin steaks, sprinkle with a little salt and pepper; increase heat to medium-high and sautexactly 2 minutes on each side. Remove them to a plate and chill in the refrigerator for 5 minutes.

In a large frying pan over medium heat, melt remaining 3 tablespoons butter; stir in Worcestershire sauce. Place the shallots or green onions, garlic, and mushrooms in the center of the pan with the tenderloin steaks around the edges. Using a spoon, stir and toss the mushroom mixture approximately 2 minutes. Add lemon juice, salt. and pepper. Turn the steaks and add the thyme, chopped parsley, and dried mustard powder.

Now cook the steaks to the doneness you like. Note: You may want to slightly undercook the steaks prior to adding the cream and brandy so that the reduction process of making the sauce doesn't overcook them. Your steaks are done when the internal temperature registers 120 to 130 degrees F. on your instant-read meat thermometer:

What constitutes rare and medium-rare cooked meat? To satisfy government home economists, the Beef Council says rare beef means an internal temperature of 140 degrees F. Well, that is ok if you like well-done and dry meat. If you like moist, rosy meat (like I do), rare begins when the internal temperature registers 120 degrees F. and starts to become medium rare at 125 or 130 degrees F. To cook your meat properly, you must purchase and use a good instant-read digital meat thermometer.

Leave the cooked steak in the frying pan; add the heavy cream and chives.

Tilt the pan slightly, and pour the brandy or cognac into the front edge of the pan; turn the heat to high and let the flame (or if electric, light with a match) catch the brandy's vapors and ignite it.

Swirl slightly, turn off the heat and let the flame go out.

Place steak medallions on individual serving plates and top with the sauce from the pan.
Source:  Recipe adapted from a recipe by Chef John J. Vyhnanek from his Good Cooking web site.

I get many readers asking what cooking/meat thermometer that I prefer and use in my cooking and baking. I, personally, use the Thermapen Thermometer. Originally designed for professional use, the Super-Fast Thermapen Thermometer is used by chefs all over the world.  I only endorse a few products, on my web site, that I like and use regularly.
You can learn more or buy yours at: Super-Fast Thermapen Thermometer.
Sponsored Content
Additional Outstanding Steak Recipes:
Beef Tenderloin Steaks Stuffed with Morels
Cabernet-Cherry Filet Mignon
Cabernet Filet Mignon
Chipotle Grilled Filets
Grilled Beef Tenderloin in Cabernet Sauce
Grilled Filet Mignon or T-Bone Steaks
Peppered Top Sirloin Steak
Individual Beef Wellingtons witn Peppercorn Sauce
Comments and Reviews