"When I was a little girl, my mama used to make the best lace hoecake cornbread in the world.  It was perfectly golden, thin, and crunchy with just the slightest hint of a thicker texture in the middle…and delicious; a true Southern staple that's just perfect with lima beans, greens, soup, etc.  She can still make it just that good!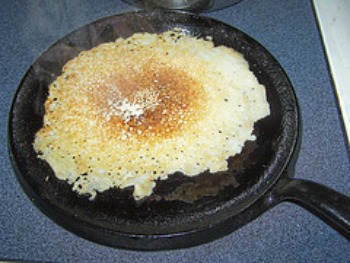 Now, I have tried for at least the last twenty years to master the art of Lace Hoe Cake Cornbread cookery – but until last week, I have NEVER been able to get it right.  My family has suffered through 'burned on the outside-raw on the inside' greasy, limp lace cornbread quite a few times, and I'll admit I got discouraged.  I just could not get it thin and crunchy enough.  I have never had much trouble with other stuff, and my family considers me an extremely competent cook…which is a good thing since they don't have too many alternatives!  My mama cooks her cornbread by 'feel', and she doesn't really measure anything.  I do that with a lot of my cooking too, so I am not complaining…but it made my attempts at lace cornbread, um, less than desirable!
Anyway, last week (after a long hiatus) I was determined to try again (you know, the childhood memory thing), and I meant I was going to get it right.  So, I found Paula Deen's recipe for lace hoecake cornbread and used her measurements.  The only thing I did not do was the 'inverting the cornbread over onto the wet plate thing.'  Once my cast iron griddle was good and hot and well-greased,  I did not have any trouble with flipping the cornbread just using a spatula.  Finally, success!  I used my grandma's cast iron griddle – I love it!"
This recipe, comments, and photo are courtesy of Amy O'Quinn and her website, Ponderings from Picket Fence Cottage.
Check out Linda's Bread Making Hints:  Secrets to using the bread machine, About yeast in bread making, Sourdough Starter, and Quick Breads.
More great Bread Recipes for your bread making.
Lace Hoe Cake Cornbread Recipe:
Keyword:
Lace Hoe Cake Cornbread Recipe
Ingredients
2

cups

plain enriched white cornmeal,

sifted

2 1/2

cups

water

1

teaspoon

salt

1 1/2

tablespoons

vegetable oil
Instructions
In a large bowl, mix together the cornmeal, water, and salt; allow mixture to sit for a few minutes. Spray a flat cast-iron griddle with a non-stick cooking spray and then drizzle with vegetable oil.

Heat cast iron skillet over medium heat. Pour about 3 (2-ounce) ladles full of the batter on the skillet. The batter will sizzle and have a lacy appearance. NOTE: If the batter gets too thick add a bit of water.

When the edges of the hoe cake are slightly brown, place a wet glass plate over the top. With a dishcloth, grab the handle of the pan, flip the pan and hoecake onto the plate. Slide the hoe cake off the plate back in the pan to cook the other side, and cook until golden brown.

Stir the batter and add additional vegetable oil to the pan before making your next hoe cake.
Comments and Reviews