Mincemeat Nut Bread is great for your holiday planning as it is a quick and easy bread to make that is so delicious.  If you love mincemeat as I do, you will love this wonderful quick bread.
Mincemeat is, very simply, a mixture of fruits and spices that are cooked with or without minced meat and generally doused with brandy, rum, or whiskey. It improves and becomes more moist as the weeks pass, so allow it to mature for at least four weeks before using.  Check out my Mom's recipe for homemade mincemeat.
You can use any kind of mincemeat, purchased or homemade, to make this outstanding Mincemeat Nut Bread and then serve with butter or cream cheese.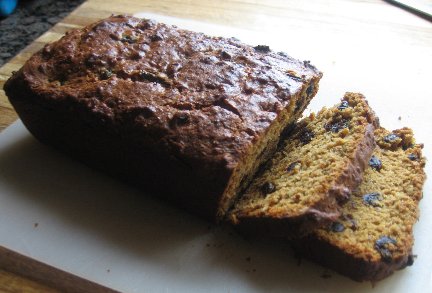 Check out Linda's Bread Making Hints: Secrets to using the bread machine, About yeast in bread making, Sourdough Starter, and Quick Breads.
Check out all of Linda's great Bread Recipes for your bread making.
Mincemeat Nut Bread Recipe:
Keyword:
Mincemeat Nut Bread Recipe
Ingredients
2

cups all-purpose

flour

1 1/2

teaspoons

baking powder

1/2

teaspoon

baking soda

1/2

teaspoon

salt

2

eggs,

slightly beaten

3/4

cup granulated

sugar

1/4

cup

butter,

melted and cooled

1

teaspoon

pure vanilla extract

1 1/3

cups

mincemeat,

prepared

1/2

cup

walnuts

or pecans, chopped

Powdered sugar

(confectioner's sugar)
Instructions
Preheat oven to 350 degrees F. Place oven rack in center of the oven. Grease a 9x5-inch loaf pan. HINT: I like to place a piece of parchment paper on the bottoms of the loaf pans. I then grease the tops of them. This helps in removing the bread later.

In a large bowl, sift together flour, baking powder, baking soda, and salt; set aside.

In a medium bowl, cream eggs, sugar, butter, and vanilla extract until light and fluffy. Fold in mincemeat and walnuts or pecans. Pour egg mixture into flour mixture; stir until dry ingredients are moistened (Do not over mix).

NOTE: Bake all quick breads as soon as the ingredients are assembled. Since high temperatures are often called for, it is best to bake them in the center of the oven, as the heat in the top third of the oven will be too intense.

Pour batter into prepared loaf pan and bake 55 to 60 minutes or until a toothpick inserted in the center comes out clean. NOTE: Be sure and poke the toothpick already to the center of the loaf. Remove from oven and cool on a wire rack 10 minutes; remove from pan. Cool completely before slicing. A good check is to use an instant digital thermometer to test your bread. The internal temperature of the bread should be approximately 200 degrees F. when done. Remove from oven.

Sprinkle top with powdered sugar.

I get many readers asking what cooking/meat thermometer that I prefer and use in my cooking and baking. I, personally, use the Thermapen Thermometer. Originally designed for professional use, the Super-Fast Thermapen Thermometer is used by chefs all over the world.  I only endorse a few products, on my web site, that I like and use regularly.
You can learn more or buy yours at: Super-Fast Thermapen Thermometer.
Sponsored Content
---
Making Muffins from a Quick Bread Recipe
Same recipe – same baking time – different shape
Choose a recipe that makes about 4 cups of batter.  Most quick bread recipe make approximately 4 cups of batter which will make approximately 12 muffins.
If your quick bread recipe makes two loaves, the entire recipe should yield about 8 cups of batter, from which you can make either two dozen muffins, or one loaf and 12 muffins.A typical muffin uses about 1/4 cup of batter.  Fill each well in your muffin pan about 3/4 to nearly full.  Tip: A #16 ice cream scoop will give the perfect amount of dough for each muffin.
Oven temperature and time can be flexible.
Bake the muffins for approximately 20 to 25 minutes in a 400 degree F. oven or approximately 25 to 30 minutes at 375 degree F.  Rotate muffin tin from front to back halfway through the baking time.   A good check for doneness is to use an instant digital thermometer to test your muffins (this is what I do).  The internal temperature of the muffin should be at 200 degrees F.
Remove from oven and as soon as they have cooled enough to handle, remove the muffins from pan and place on a wire rack to finish cooling (if desired).
Comments and Reviews