Alsatian Bacon and Onion Pizza
Tarte Flambee is to the Northern region of France what pizza is to southern Italy.  Known as flammekueche in Alsatian and flammkuchen in German, Tarte Flambee is incredibly simple to make.  Originally this flat bread was made to test the heat inside the wood-fired ovens.  If the temperature was at its peak, the tart would bake it in 1 or 2 minutes.
This recipe calls for rolling the bread dough out as thin as a crepe.  Traditionally the dough is rolled into the shape of a rectangle, giving the flat bread appearance.  The dough is then covered with creme fraiche, onions, and prosciutto or bacon.  Cooking the flat bread on a pizza stone at a high temperature, preferably a wood-fired oven, produces slight blistering to the crust making a nice crisp texture.  You love this easy-to-make flat bread recipe that you can make in your bread machine!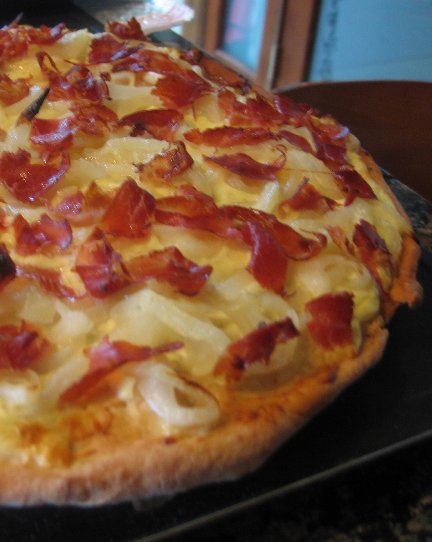 Bread Making Hints: Secrets to using the bread machine, About yeast in bread making, Sourdough Starter, and Quick Breads.
More great Pizza and Pizza Dough Recipes and Bread Recipes for your bread making.
Tarte Flambee – Alsatian Bacon and Onion Pizza Recipe:
Ingredients:
Perfect Thin Crust Pizza Dough (see recipe below)
Onion Topping Sauce (see recipe below)
2 to 3 ounces thinly-sliced Prosciutto di Parma
Instructions:
Prepare Perfect Thin Crust Pizza Dough according to recipe below.  Prepare Onion Topping Sauce according to recipe below.
When ready to assemble, preheat the oven and Pizza Stone or tiles to 450 degrees F.  Place oven rack in middle of the oven.
Spread the Topping Sauce mixture evenly over the surface of the precooked pizza dough.  Be sure to scatter the sauteed sliced onions evenly over the topping. Tear the prosciutto into irregular shreds and scatter over the top of the topping.
Bake the Tarte Flambee in the center of the oven until the crust is golden brown, the topping mixture is set, and the prosciutto pieces have become crisp, approximately 15 to 20 minutes.
Remove your pizza from the oven and allow to cool for 5 minutes before transferring to a serving pan. This cooling down step allows the crust to stay crisp and the topping to set. Once cool, cut your pizza into slice and serve.
Makes 2 (14-inch) pizzas or 1 (24-inch) pizza.
Perfect Thin Crust Pizza Dough:
3/4 to 1 cup warm water (110 degrees F.)
1 tablespoon extra-virgin oil
1 teaspoon coarse salt
1 1/2 teaspoons granulated sugar
3 cups bread flour
2 teaspoons instant active dry yeast
Add all the ingredients in the bread pan of your Bread Machine.  Process according to manufacturer's instructions for a dough setting.  It should form a nice elastic ball. If you think the dough is too moist, add additional flour (a tablespoon at a time).  The same is true if the dough is looking dry and gnarly. Add warm water (a tablespoon at a time).
When dough cycle has finished, remove dough from pan and place into a lightly oiled bowl.  Cover the bowl tightly with plastic wrap and let the dough do a slow rise for 24 hours in the refrigerator before using.  Do not skip this step.
When ready to use, remove from refrigerator and allow the dough to come to room temperature, approximately 1 to 2 hours.
Meanwhile preheat the oven and Pizza Stone or tiles to 450 degrees F.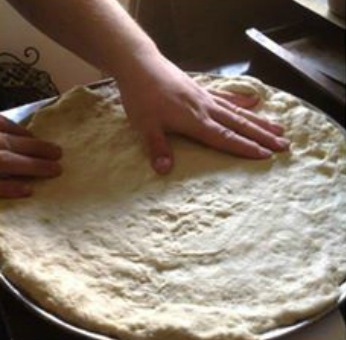 Turn the dough out onto a large surface and dust the pizza dough with flour.  Pick up the dough and, keeping both hands together, grasp it lightly at the top of the edge.  Letting gravity do the work, start rotating the dough as though you are turning the steering wheel of a car and do not stop until you have gone all the way around.  This will stretch the dough without the risk of thinning out the center too much.  Using your rolling pin, roll and stretch the dough out very thin to form a 24-inch or larger circle.
Place the dough on the Pizza Peel.
The dough must be docked.  Thin pizza crusts usually need to be well docked to help control blistering and bubble formation during baking.  This just means to prick it all over the middle part (not the edges) so that it doesn't inflate.  Either use a Dough Docker or use a fork to prick the dough thoroughly.
Precook the pizza crust for approximately 4 minutes before adding any toppings.  After precooking, remove the partially baked crust from the oven and pop any large air pockets with a fork.  Let crust cool before topping (this will produce a crispy and chewy crust).
Onion Topping Sauce:
3 tablespoons butter
1 to 2 large sweet onions, thinly sliced into rings*
2 ounces creamy white goat cheese, softened or at room temperature
1/3 cup Ricotta Cheese or large curd cottage cheese
1/4 cup creme fraiche or sour cream
1 large egg
Coarse salt
White pepper
1/4 to 1/2 teaspoon freshly grate nutmeg
*  This is a good place to use your mandoline to slice the onions thinly.  You can also slice the onions with a sharp knife.
In a large frying pan over low heat, melt butter.  Add the sliced onion rings and slowly saute stirring occasionally, until they are soft and just beginning to color, approximately 20 to 25 minutes.  Remove from heat and set aside.
In a medium-size bowl, beat together the goat cheese, ricotta cheese or cottage cheese, creme fraiche or sour cream, egg, salt, pepper, and nutmeg; set aside.
Comments and Reviews