Cherry Gem Cookies are colorful cookies go well with the Christmas season!
They look so tempting to eat and always get me into the Christmas spirit.  It is as if this Cherry Gem cookies recipe came direct from Mrs. Claus herself!
I adapted this recipe to use shortbread cookie dough and I prefer almond extract to compliment the cherries.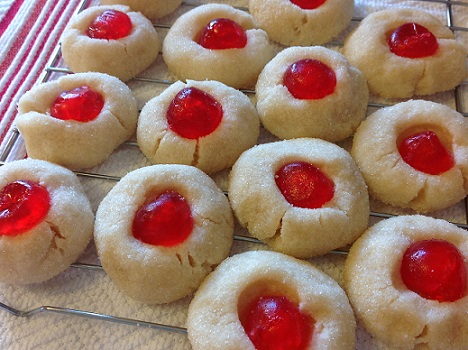 More favorite Cookie Recipes and Secrets To Making Perfect Cookies.  Also learn How To Have A Successful Holiday Cookie Exchange or Cookie Swap.
Please check out my Afternoon Tea Menu (with recipes) which includes these delicious cookies.
Cherry Gem Cookies Recipe:
Keyword:
Cherry Gem Cookies Recipe
Instructions
Preheat oven to 350 degrees F. Line cookie sheets with silicone baking mats or aluminum foil to prevent cookies from sticking.

Pour 1/2 cup granulated sugar into a small bowl; set aside.

Cut candied cherries in half so you have enough for 3 dozen cookies; set aside.

In a large bowl, mix butter until creamy. Either use your electric mixer or beat by hand. Gradually add 2/3 cup sugar; beating until light and fluffy.

Stir in almond extract. Gradually add flour to mixture, beating well after each addition.

Roll dough into 1-inch balls. Next roll the balls into sugar.

Place 1-inch apart on baking sheet. Use your thumb to make indentation into center of each cookie ball. Edges may slightly crack, you can leave as is or push the edges back together. Press the candied cherry half into the indentation.

Bake cookies for 10 to 12 minutes or until edges are lightly browned. Remove from oven and let cool on the baking sheet before moving cookies to wire rack to completely cool. Cookies may crumble if you move while still hot.
Recipe Notes
* Make sure to use candied cherries which are meant for baking and not maraschino cherries.
** You must use butter in this recipe.  The secret of a great shortbread cookie is butter or it just won't taste like shortbread!
Source:  Original recipe idea came from Taste of Home, published as Sugared Cherry Jewels in 1999 issue of Best of Country Cookies.
You Might Also Like:
Candy Cane Kiss Cookies
Another great cookie for the peppermint lovers out!  These shortbread cookies have candy cane pieces mixed in the dough and the center is topped with a Hershey's Candy Cane Kiss.  This cookie is both festive and fun to eat.
Thumbprint Cookies
I love thumbprint cookies! In this recipe I'm using a basic shortbread cookie dough and filling the cookie with homemade Raspberry and Blackberry jam that my daughters preserved during the summertime.  Use your favorite jam for the filling.
Cherry Bon Bon Cookies
These cookies are so good that you will think you are eating candy.
Some people will call these candy – but candy or cookie they are a wonderful!  These cookies have always been a holiday favorite of mine.
Comments and Reviews