Carne Adovada is a versatile dish and has been common in much of Santa Fe's history. The name actually means cured or pickled meat.  In days long past, the slaughtering of an animal only came at certain times of the year.  This meat would have to be kept somehow for later use.  With refrigeration and other means of food preparation and storage, this custom has changed, but the Carne Adovada remains a popular dish.  The name is used to describe a meat, usually pork, that has been stewed in a red sauce.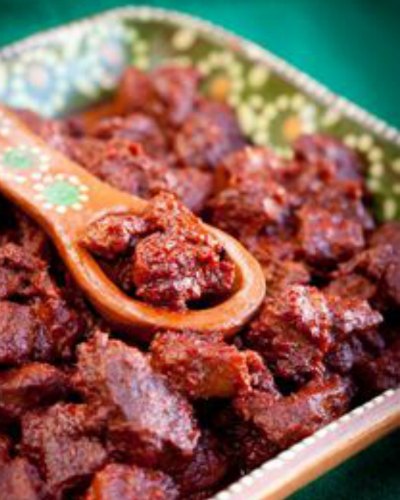 Carne Adovada is a ranch house-type food, meaning it can be kept cooking on the stove to feed hungry visitors as they arrive.  It can be kept ready for several days by simply adding more water and sauce to the pot and keeping the meat moist and hot.  Carne Adovada is not a spur of the moment meal as it takes 24 hours or more to marinate.  I should emphasize the "more" because at least 48 hours is needed to make this dish how it should really be made.  You will not regret the extra day of marinating if you have the time.
Carne Adovada can be quite plain on its own, and should be served in a way that highlights the wonderful spicy goodness.  Adovada is one of the best ways to prepare meat for a tamale stuffing.  This increases its versatile nature . Stuffing it into a tortilla, either wheat or or corn, and adding it to a meal is a wonderful finishing touch.
This recipe, comments, and photos are courtesy of Cynthia Detterick-Pineda of Andrews, TX. Photo credit: Platter of Carne Adovada from Santa Fe School of Cooking
Check out Tamales – Making Homemade Tamales.
Red Chile Pork Stew Recipe - Carne Adovada:
Keyword:
Carne Adovada Recipe, Red Chile Pork Stew Recipe
Ingredients
24

dry

red chile peppers*

1

tablespoon

salt

4 to 6

garlic

cloves, peeled and chopped

1

tablespoon

oregano leaves,

chopped

2

large

onions,

1 roughly chopped and 1 onion sliced

1

teaspoon granulated

sugar

1

teaspoon

apple cider vinegar

3 to 5

cups

water

4 to 5

pounds

boneless pork shoulder,

fat trimmed and meat cut into 3/4-inch cubes
Instructions
Remove stems and seeds of the red chilies and put to soak in a large pot of water for several hours.

When the chilies are soft, blend them in a blender with the garlic cloves, oregano leaves, the chopped onion, sugar, and vinegar with enough water that the mixture is only slightly thickened (it should cling to the end of a spoon). It is best to start out with only a small amount of water (1/2 to 3/4 cup) adding more as the mixture blends to a smooth consistency.

In a large pot or a large casserole dish, pour the chile sauce over the pork cubes. Layer the sliced onion on top.

Cover loosely with plastic wrap and refrigerate for at minimum of 24 hours (48 hours will make it better, but 24 will work). If you don't have 24 hours for marinating, then you can vacuum seal it and chill it for 24 hours and it is as good if not better.

Once the meat has marinated, place it in a slow cooker or heavy pot along with the marinade.

Slow Cooker - Using your slow cooker, cook on low for a minimum of 12 hours. This can be kept going by adding additional water as the meat mixture begins to look "dry". The completed sauce should be rich and thick, not watery. You can let it simmer all day in your crock pot.

Stovetop - Using a large pot on the stove, cover and simmer gently until the meat is very tender, approximately 2 to 4 hours. The completed sauce should be rich and thick, not watery. It also can be brought to a boil on the stove then transferred to a 350 degree oven and baked, covered, for 2 hours.

Variation: For those of you out there who love to barbeque, this meat can also be cooked in that manner, but will not be able to keep as with the above method. To do this, place the meat in an aluminum pan (preferably disposable), and cover tightly with heavy aluminum foil. Place the meat close to the coals and allow to cook until done (160 degrees F.).
Recipe Notes
* These dried chile peppers can be found already dried in packaged in bags in the ethnic food section and/or produce section of most supermarkets.
 
Comments and Reviews