Baked Eggs – Shirred Eggs – Oeufs En Cocotte
People love these baked eggs as they are both comforting and sophisticated.  The eggs come out looking beautiful in their individual ramekins and are easy to serve.  In France, this basic methods of baked eggs is called oeufs en cocotte which means "eggs in ramekins."
For individual servings of baked eggs, use baking dishes (ramekins, custard cups, individual souffle dishes, or small oval bakers) that just fit the eggs plus the flavoring, food, or liquid.  You can bake eggs nestled in other foods such as rice, vegetables or sauces.  These foods should be heated before the eggs are added for faster and more even cooking.  Make indentations in the heated food with the back of a spoon, about 2-inch diameter.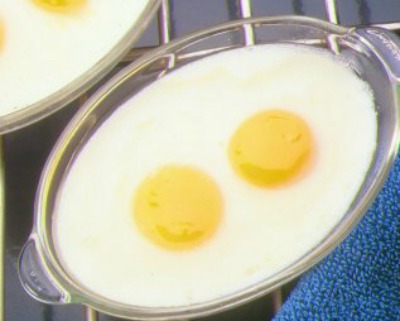 How To Make Baked (Shirred) Eggs: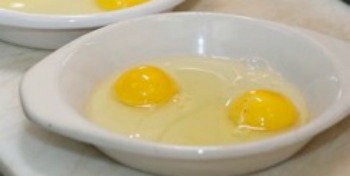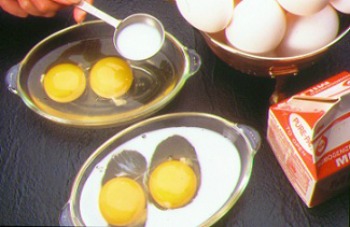 Preheat oven to 325 degrees F.  Place oven rack in middle of your oven.
For each serving needed, lightly butter an individual oven-proof baking dish or ramekin.
Break 1 or 2 eggs (being careful not to break the yolk) into each baking dish.  The number of eggs used will depend on size of your baking dish or dishes.
Season with salt and pepper.
Spoon 1 tablespoon milk or cream over eggs (skim milk, low-fat milk, half and half, or light cream may be substituted).  Spooning a liquid over the eggs can help prevent drying out.  Do Not stir.
Bake in preheated oven approximately 12 to 14 minutes, depending on number of servings being baked.  Check the eggs after about 10 minutes baking time.  Rotate the dishes if the eggs are not cooking evenly.  When done, the whites should be completely set and the yolks beginning to thicken but not hard.  Remember the eggs will continue to cook after being removed from the oven.
Remove from oven and serve immediately.
Baked Egg Topping Options:
Top eggs with desired amount of one or more of the following toppings before baking:
Light cream
Salsa
Shredded cheese (parmesan, cheddar, mozzarella, etc.)
Chopped ham, cooked and diced bacon, chopped prosciutto
Minced fresh chives, rosemary, or any minced fresh herbs
Bread crumbs
Chopped tomato
Cooked spinach
Recipe ideas for baking eggs:
Learn all about Eggs and how to cook them, and for more great brunch ideas.  Also check out my Brunch Recipes and Egg Dish Recipes.
Baked Eggs and Mushrooms in Ham Crisps
Crusty Dinner Rolls with Baked Eggs and Herbs
Eggs Baked in Tomato Sauce (Eggs in Purgatory)
Yam Hash Browns with Baked Eggs
Additional Egg Cooking Techniques:
Boiling Eggs
How To Correctly Cook Hard-Cooked (Hard-Boiled) Eggs.  According to the American Egg Board, the terms "hard-boiled" and "soft-boiled" eggs are really misnomers, because boiling eggs makes them tough and rubbery.  Instead, these eggs should be "hard-" or "soft-cooked" in hot (still) water.
Coddled Eggs
Coddled eggs are made by very briefly immersing an egg in the shell in boiling water (to cook in water just below the boiling point) to slightly cook or coddle them.
Deviled Eggs
Deviled eggs have their roots in ancient Roman recipes . In the 17th century, this was a common way to prepare eggs. they were not called "deviled" until the 18th Century in England.
Fried Eggs – Perfect Fried Egg
Here are the absolute best fried eggs.  This method is adapted from the ultra-meticulous French chef Fernand Point (1897-1955).  This technique makes one spectacular fried egg and demonstrates that simplicity and purity often yield the best dishes of all.
Microwave Eggs
How to microwave poached eggs, fried eggs, scrambled eggs, and boiled eggs.
Poached Eggs
The best eggs for poaching are the freshest eggs you can find.  If eggs are more than a week old, the whites thin out.  Whites of fresh eggs will gather compactly around the yolk, making a rounder, neater shape.
Scrambled Eggs/Omelets
Scrambled eggs make a delicious and quick meal, but there is a little science to getting them just right.  The secret to successfully scrambling eggs is slow cooking.
Comments and Reviews