Categories:
Chicken Soup
Passover
Soups and Stews HIstory
Tea Travels™ Savories
Chicken Matzo Ball Soup Recipe – Chicken Dumpling Soup
Chicken Matzo Ball Soup is considered Jewish comfort food with the popular nickname of "Jewish Penicillin" because it is the soup that can cure anything!  Just ask any Jewish Mother, and they will tell you their recipe is the best version which of course is made with love.  Chicken matzo ball soup also happens to be the traditional soup served during the Passover Seder holiday.  The matzo ball dumplings in the soup represent the unleavened bread that the Israelites ate during the eight days journey when they escaped slavery from ancient Egypt.  Ellen Easton shares this recipe as part of her Passover Seder dinner menu.
Recipe by Reva Paul © and Photo by Ellen Easton © All Rights Reserved
Check out more of Ellen Easton's Tea Travels™ articles and recipes.
Learn about the History of English High Tea and more delicious Afternoon Tea Recipes.
History of Matzo Balls:
Matzo balls are also known as knoedel or knoedela which was a European tradition that Germans, Austrians, Alsatains, and the Polish used in their soups.  These dumplings were made from the leftover crumbs of matzo bread.  In the 1930's, the Manischewitz company in the United states, which produces and sells kosher foods, began packaging and selling them as "Alsatain Feathery Balls."  It is believed that Jewish vaudville comedians started dubbing them as "Matzo Balls."  The texture of the matzo balls can be light as a feather and float on top of the soup or more dense causing them to sink down the soup.  Many refer the matzo balls as either "floaters" or "sinkers" and the topic is of much debate on which is preferred.
Chicken Matzo Ball Soup Recipe:
Chicken Matzo Ball Soup Recipe
Chicken Broth: Prep - 20 mins Cook Time: 2 hours
Ingredients:
Soup Ingredients:
6 cups (1-1/2 quarts) water*
1⁄2 cup celery, chopped
1⁄2 cup carrots, sliced
One medium onion, chopped
One skinless whole chicken breast (about 2 pounds) or 5 or 6 chicken tenders
1 teaspoon Reva Paul's seasoning mix (see recipe below)**
1 tablespoon of curly Parsley, finely chopped
Matzo Balls Ingredients:
2 large eggs, slightly beaten
2 tablespoons vegetable oil
1/2 cup Manischewitz® Matzo Meal
1 teaspoon of Reva Paul's seasoning mix (see recipe below)**
2 tablespoons curly Parsley, finely chopped
2 tablespoons Manischewitz® broth or soup broth***
* Can substitute chicken broth. See below for Traditional Jewish Chicken Broth recipe
** Reva Paul's Seasoning Mix:
2-1⁄2 tablespoons onion powder
2-1⁄2 tablespoons garlic powder
1 teaspoon salt
1 teaspoon pepper
Place all ingredients in a bowl and mix together. Store in a container, preferably with a dual shaker with an easy to spoon out top. Store in a cool, dry place until ready to use.
*** Can substitute water
Instructions:
In a large pot over medium heat, add the celery, carrots, onion, chicken, seasoning mix, and parsley. Stir together and bring to a boil. Reduce the heat to medium-low and let simmer for 30 minutes.
When the chicken turns white, remove from the pot; dice or shred into small bite size pieces and place chicken back into the pot. Keep on a low heat.
Matzo Ball Preparation:
In a small bowl beat eggs; add oil, Manischewitz® Matzo Meal, Reva Paul's seasoning mix, and chopped parsley. Gently blend together. Add broth or water and mix until uniform. Cover mixture and chill in the refrigerator for about 20 minutes to 1 hour (the mixture will thicken up). Remove chilled matzo ball batter from refrigerator. Moisten hands with olive oil. Place a sheet of wax paper on the counter top surface for your work area. On wax paper form batter into matzo balls, approximately 1 inch in diameter. (No need to make the mazto balls bigger as they will expand while cooking)
Matzo Ball Freezing Tip: You can freeze the cooked matzo balls for later use. Place the matzo balls on a cookie sheet and place in the freezer uncovered for one hour. After the matzo balls are individually frozen, you can then place them in a resealable freezer bag to store in the freezer for up to 6 months and they will not stick together. When ready to use, let the matzo balls thaw to room temperature before adding to the soup stock.
Reheat soup mixture over medium heat until boiling. Drop matzo balls into pot of boiling soup. Cover with a lid and reduce heat back down to medium-low. Let simmer until matzo balls are thoroughly cooked, about 30 to 40 minutes. (Do not open lid to disturb the matzo balls or soup during this time) Serve soup while warm.
Serves 6
Traditional Jewish Chicken Broth:
1 whole chicken (3 to 5 pounds)*
4 quarts cold water
4 large carrots, cut into 3-inch chunks
4 to 5 celery stalks, cut into 3-inch stalks
1 large onion, quartered (with skin on)**
1 parsnip, quartered (optional)
1 teaspoon black peppercorns
1 teaspoon kosher salt
2 to 3 whole cloves (optional)
2 bay leaves
1 small bunch of fresh parsley (with stems on)
1 small bunch of fresh dill (with stems on) *Optional
* It is important in Jewish traditional chicken broth to leave the skin on the chicken while simmering in water. Much of the rich flavor and golden color comes from the chicken skin.
** Leaving the onion skin on while simmering the stock will also contribute to a lovely golden color.
Clear out both openings of the chicken and remove any giblets. Pat dry the chicken with a paper towel and place in a large stock pot. Fill the pot with cold water until the chicken is covered by about an inch of water. Place the stockpot of chicken on the stove over medium-high heat. When the water comes to a boil, turn the heat down to medium-low to let simmer. During the first part of the simmering process, you will see foam rise to the top of the water and clump together. Use a large spoon to skim off the foam and discard. Once all the foam has stop producing, add back hot water to the pot so the chicken is covered by at least an inch again.
Add the carrots, celery, onion, parsnip, peppercorns, kosher salt, cloves, bay leaves, parsley and dill to the pot of chicken stock. Cover with a lid, but allow some venting and let the stock cook at a steady simmer. If it starts to boil too hard, the broth results will be cloudy. (steady bubbles coming up with steam, but not a rolling boil). Let the stock cook for 1 1/2 to 2 hours until the chicken meat is cooked and tender. You may have to occasionally add more water to keep the chicken covered.
When the chicken is done cooking, turn off the heat. Use large tongs to transfer the chicken and vegetables to a cutting board and let cool.
Pour the stock from the pot through a strainer into another large pot or large bowl. Discard any remaining herbs, spices and onion chunks. This will give you a nice clear golden chicken broth for your Chicken Matzo Ball Soup. Season with kosher salt and pepper to taste. If desired, you can let the broth cool down and skim off any fat at the surface and discard or save and refrigerate for other cooking uses.
When the chicken is cooled, pull the meat off the bones and shred. Discard the chicken carcass and skin. Chop up the carrots and celery into smaller bite-sized pieces. Return the shredded chicken and chopped vegetables to the pot of chicken broth. Note: If you don't like your vegetables too soft, you can discard the carrots and celery from the stock and add freshly chopped carrots and celery at the same time as the shredded chicken. Note: If you do not prefer really soft vegetables in your soup, you can discard all the vegetables from your stock, and chop up fresh carrots, celery and parsnip and add to the soup at the same time as the shredded chicken.
Follow the instructions for preparing the Matzo balls (doubling the recipe) and reheating the soup before serving.
Serves 6 to 8
https://whatscookingamerica.net/elleneaston/chickenmatzoballsoup.htm
---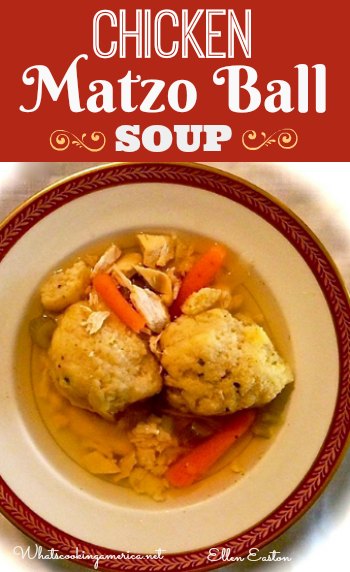 TEA TRAVELS™ – Wishing You Happy TEA TRAVELS!™  Tea is the luxury everyone can afford!™ and Good $ense for $uccess are the trademarked property of Ellen Easton/ RED WAGON PRESS
Ellen Easton, author of Afternoon Tea~Tips, Terms and Traditions (RED WAGON PRESS), a lifestyle and etiquette industry leader, keynote speaker and product spokesperson, is a hospitality, design, and retail consultant whose clients have included The Waldorf=Astoria, Plaza Hotels, and Bergdorf Goodman.  Easton's family traces their tea roots to the early 1800s, when ancestors first introduced tea plants from India and China to the Colony of Ceylon, thus building one of the largest and best cultivated tea estates on the island.

Purchase Ellen Easton's Tea Books:
Each 5 x 7 book is $20 postpaid Continental USA only.  Wholesale and fundraising accounts welcome.  Include name, address, zip code, and phone number for shipping.  All Sales Final. Check or MO order payable to:  RED WAGON PRESS, 45 East 89th Street, STE. 20A, New York, NY 10128-1256.  All inquires to [email protected]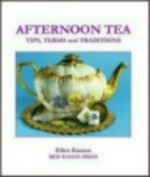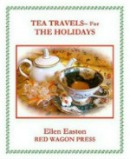 AFTERNOON TEA…TIPS, TERMS and TRADITIONS
72 pages of how to's, 27 photos, history, etiquette and FAQ about afternoon tea, serving styles and more.
TEA TRAVELS™ – FOR THE HOLIDAYS
64 pages, 21 color photos. A complete holiday menu includes 25 easy to prepare recipes; theme teas, decorating & gift ideas; invitation template and secret sources.
Comments and Reviews