'THE OFFICIAL DOWNTON ABBEY COOKBOOK'
©By Annie Gray with Foreward By Gareth Neame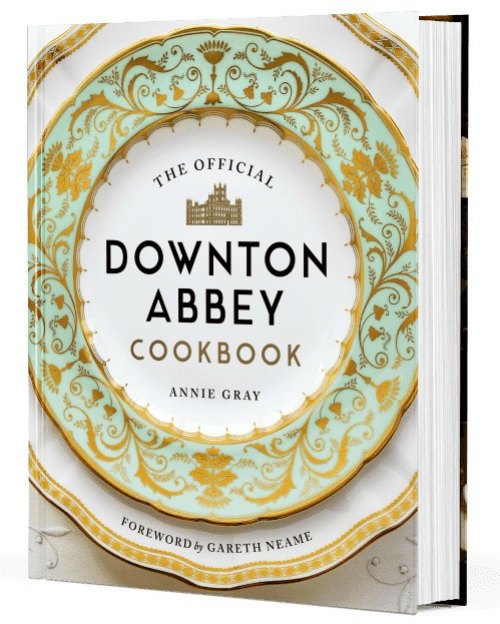 Order The Official Downton Abbey Cookbook

Julian Fellowes, the creator, executive producer of Downton Abbey and the Academy Award™ winner for best screenplay for Gosford Park, is the writer with the gift that keeps on giving. Thankfully for the legions of devoted fans the end of the award-winning PBS TV show was not the end of Downton Abbey. September 2019 brings forth the new feature film and the Official Downton Abbey Cookbook.
Be sure to check out Ellen Easton's articles Teatime at Highclere Castle- The Real Downton Abbey, 'At Home at Highclere – Entertaining AT THE REAL DOWNTON ABBEY' Book Review and enjoy more of Ellen Easton's Tea Travels™ articles and recipes.
Learn about the History of English High Tea and more delicious Afternoon Tea Recipes.
Ellen Easton's Interview with Julian Fellowes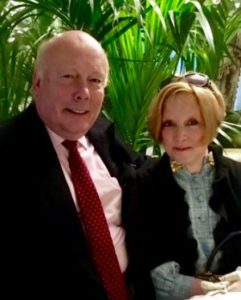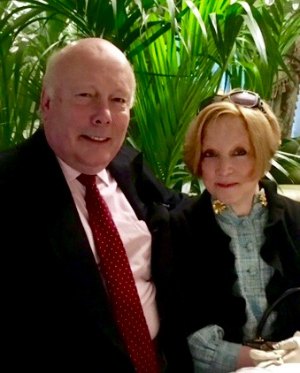 Ellen Easton had the pleasure of having afternoon tea in New York City with Julian Fellowes and was especially fascinated to learn of the details that went into the dining and afternoon tea segments of the productions:
Under the guidance of Alastair Bruce, a force of information in his own right, the cast was transported back into a time where the rigid rules of civility were the mainstay for both the privileged and serving classes of British culture.
Whether an afternoon tea or a more elaborate affair, the home cook and party planner alike will find over 100 sumptuous photographs, delicious recipes and tips by food historian Annie Gray to create your own Downton Abbey experience.
"Adapted from original recipes of the period, replicated as seen or alluded to on screen, or typical of the time, all of the recipes reflect the influences found on the Downton Abbey tables. Food historian Annie Gray gives a rich and fascinating insight into the background of the dishes that were popular between 1912 and 1926, when Downton Abbey is set —a period of tremendous change and conflict, as well as culinary development."
The Downton Abbey Cookbook also includes a special section on hosting Downton-themed dinner parties and presents stills from across the TV series as well as the latest film. Notes on the etiquette and customs of the times, quotes from the characters, and descriptions of the scenes in which the foods appear provide vivid context for the dishes.
The recipes are grouped by occasion, which include breakfast; luncheons and suppers; afternoon tea and garden parties; picnics, shoots and race meets; festivities; upstairs dinner; downstairs dinner; downstairs supper and tea; and the still room.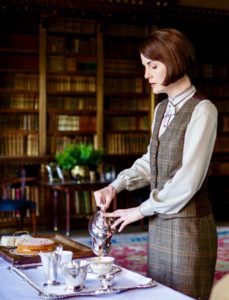 From the upstairs menu: Cornish Pasties, Sausage Rolls, Oysters au Gratin, Chicken Vol-au-Vents, Cucumber Soup, Soul a la Florentine, Salmon Mousse, Quail and Watercress, Charlotte Russe, Madeleines.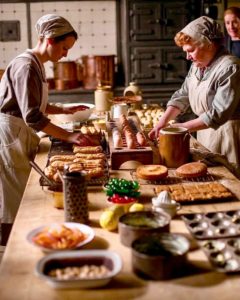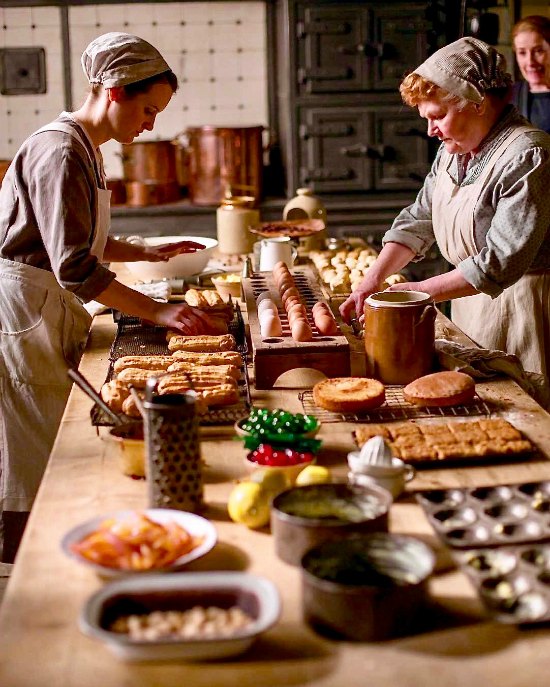 From the downstairs menu: Toad-in-the-Hole, Beef Stew with Dumplings, Steak and Kidney Pie, Cauliflower Cheese, Rice Pudding, Jam and Custard Tarts, Gingerbread Cake, Summer Pudding, Digestive Biscuits.
With these and more historic recipes—compelling to a contemporary palate and easy to replicate in today's kitchens—savor the rich traditions and flavors of 'Downton Abbey without end'.
The Official Downton Abbey Cookbook is available now
Order your copy for additional savings on Amazon.
Recipe Previews
Cucumber Soup, Cornish Pasties and Madeleine recipes from The Official Downton Abbey Cookbook below: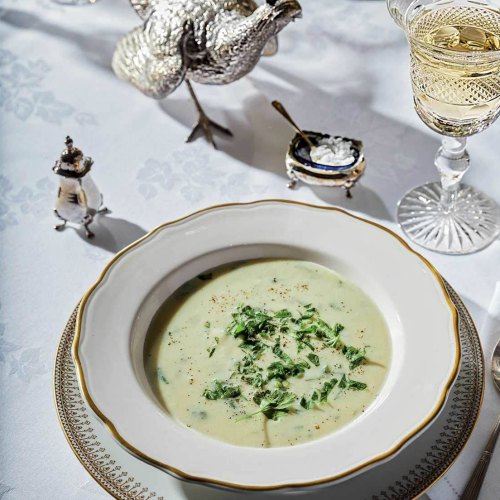 Cucumber Soup Recipe
Large houses like Downton relied upon their kitchen gardens to supply most of their fruit and vegetable requirements. With enough money, almost anything could be produced, and in the Victorian era, the rich prided themselves on eating out-of-season produce, forced or retarded through skillful garden management. By the twentieth century, as land rents fell and many aristocrats struggled to maintain their estates, the acres of greenhouses were increasingly left to rot, and the boilers that had once heated the hothouses were abandoned. Some were turned into commercial market gardens, while others simply became less ambitious. But as any gardener knows, vegetable gardens left to their own devices produce a glut of produce, and skilled cooks need recipes to deal with that. The original recipe for this soup appeared in Eliza Acton's Modern Cookery for Private Families, one of the best-sellers of the nineteenth century and remaining in print for over sixty years. Cooks who, like Mrs. Patmore, learned their art in the Victorian period would have known it well.
Ingredients
4

cucumbers

peeled and sliced 1 inch (2.5 cm) thick

1

shallot

finely sliced

2 1/2

cups (6 ml)

chicken stock

2

teaspoons

salt

1/2

teaspoon

cayenne pepper

1

tablespoon

rice flour

1

cup (240 ml)

heavy cream

1

bunch

fresh flat-leaf parsley

large stems discarded
Instructions
Combine the cucumbers, shallot, stock, salt and cayenne in a large saucepan and bring to a boil over high heat. Reduce the heat to a simmer, cover partially, and cook until the cucumbers are tender, about 45 minutes.

Remove from the heat and let cook slightly. Working in batches, transfer to a blender and puree until smooth. Return the soup to the pan and heat over medium-low heat. In a small bowl, stir the rice flour into the cream to dissolve it, and then stir the cream mixture into the soup. Keeping the soup at a gentle simmer, stir it continuously until it thickens, which will take about 10 minutes.

Just before serving, mince the parsley and stir it into the soup. Ladle the soup into bowls and serve hot.
Recipe Notes
Cucumbers are rarely served hot today but were popular as a cooked ingredient in the past. They were stuffed, stewed, and, as here, made into soups. The same is true of lettuce. Modern Cucumber soups are generally served cold, and this one works as a cold soup as well. This quantity of cayenne makes a fairly mild soup, so taste the soup and add a little more if you like your food a bit spicy.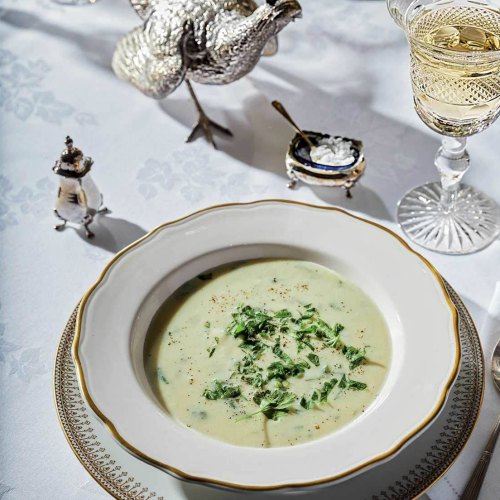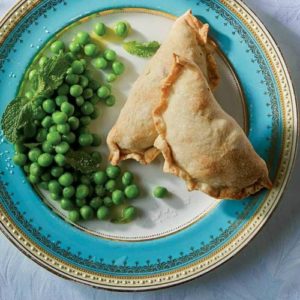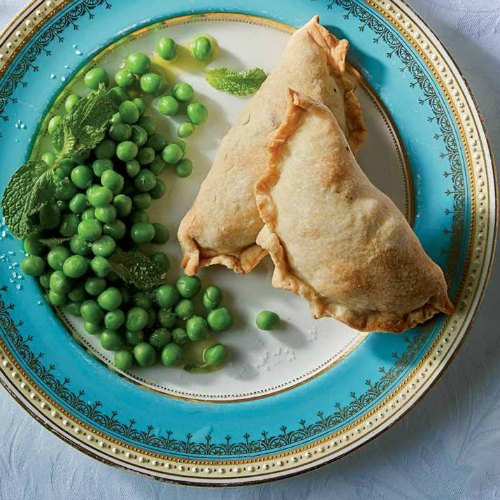 Cornish Pasties
Cornish pasties are a food about which many myths circulate. The modern version generally contains beef, potato, and onions, with a rich, fat-based pastry, and has been given protected status. However, pasties have medieval origins and were widespread in the United Kingdom until the nineteenth century. Early pasties could contain any number of things, and most had very little meat, as it was so expensive. The Cornish pasty as we now know it emerged in London in the late nineteenth century and was more middle class than its vegetable-based country cousin. It spread rapidly throughout Britain and abroad, to the extent that earlier versions were almost forgotten. However, during the First World War, some authors revived pasties, as they were practical to make, could be filled with all sorts of ingredients, and were suitable for both elegant luncheons and marching off to the front, depending on their size, filling, and the chunkiness of their pastry. These are of the former type.
Ingredients
For the Filling
2

small

apples, such as Granny Smith or Cox's Orange Pippin

peeled, halved, cored, and cut into 1/2 inch (12-mm) cubes

7

ounces (200 g)

boneless pork shoulder

trimmed of excess fat and cut into 1/2 inch (12-mm) cubes

1/4

lb (115 g)

bacon

minced

1

tablespoon

mushroom ketchup or Worcestershire sauce

1

teaspoon

dried sage, or 1 tablespoon minced fresh sage

Salt and black pepper
Instructions
To make the pastry, combine the flour, salt, and suet in a large bowl and quickly mix with your fingertips until the mixture resembles course crumbs. Using a pastry blender or fork, mix in the water a bit at a time until the dough can be formed into a ball. Divide the dough in half and pat each half into a disk. Wrap each disk in plastic wrap and refrigerate while you make the filling.

To make the filling, combine the apples, pork, bacon, ketchup, and sage in a bowl, season with salt and pepper, and mix well.

Preheat the oven to 375 degrees F (190 degrees C). Line 2 sheet pans with parchment paper.

Flour a work surface generously. Roll out 1 disk about 1/8 inch (3 mm) thick. Using a saucer as a guide, cut out 6 circles, each about 6 inches (15 cm) in diameter. (If needed, gather the scraps and re-roll until you have 6 circles.) Divide half of the filling evenly among the circles, spooning in onto half of each circle and leaving 1/2 inch (12 mm) uncovered around the edge. Dampen the edge of each circle with water, fold the circles in half, and press down on the edge to seal. Crimp the edges with a fork or with your fingers. Prick the tops several times with a fork to vent and arrange on a prepared sheet pan. Repeat with the remaining pastry and filling.

Bake until barely golden on top and a thermometer inserted into the center of pasty registers 165 degrees F (74 degrees C), about 20 minutes. Serve the pasties warm or at room temperature.
Recipe Notes
You can use almost any filling in these, but you do need a balance between meat and vegetables. Other Downton-era possibilities include squab (pigeon) and rutabaga (swede), chicken and mushrooms, and of course, beef and potato. The crust is good for sweet pasties, too: mincemeat works well (see Mincemeat pie recipe), as does apple, especially with a little dried fruit and some spice added.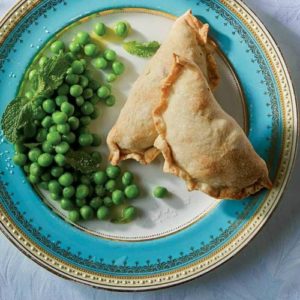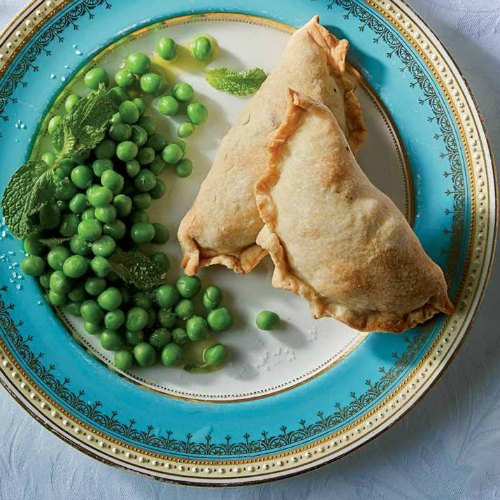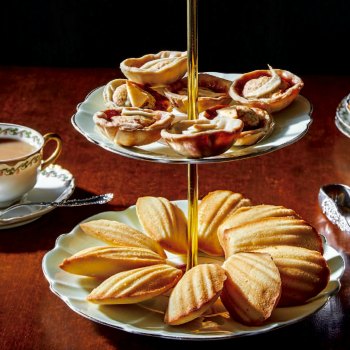 Madeleines
A classic of French cookery, madeleines are delicate sponge cakes traditionally made in a special pan with shell-shaped molds. Families such as the Crawleys, seasoned travelers to France as they are, would have known them well. They're served in season 1, when Matthew is still coming to terms with having a valet to serve him and helps himself to them, much to Molesley's chagrin. Quick and easy to make, they were perfect for delicate, feminine afternoon teas but were also suitable for late-night snacking, and often filled the biscuit jars kept by Mary, Edith, and Sybil's beds.
Anna: Have you had any breakfast?
Daisy: Not a crumb.
Anna: Here.
She takes the biscuit jar beside the bed and hands it to Daisy.
Gwen: You can't take her biscuits
Anna: She never eats them. None of them do. They're just thrown away and changed every evening.
Daisy: Thanks. She won't mind anyway. She's nice, Lady Sybil.
- Season 1. Episode 5
Ingredients
6

tablespoons (90 g)

unsalted butter

melted and cooled, plus room-temperature butter for the molds

6

tablespoons (80 g)

superfine sugar

plus more for the molds

2/3

cup (80 g)

flour

1/4

teaspoon

orange flower water

Grated zest and juice of 1/2 small lemon

2

eggs

separated

Pinch of salt

Confectioners' sugar

for serving
Instructions
Preheat the oven to 350 degrees F (180 degrees C). Butter 12 madeleine molds. Dust them with superfine sugar, tapping out the excess.

Put the melted butter, superfine sugar, and flour into a bowl and stir to mix well. Add the orange flower water and lemon zest and juice and again mix well. Stir in the egg yolks until blended.

In a separate bowl, combine the egg whites and salt. Whisk by hand or with a handheld mixer on medium speed until stiff peaks form. Gently fold the egg whites into the batter just until no white steaks remain. Divide the batter evenly among the prepared molds.

Bake until very lightly browned at the edges, 10-12 minutes. Let cool in the molds on a wire rack for 5 minutes, then turn out of the molds onto the rack and let cool completely. Sift the confectioners" sugar over the madeleines just before serving.
Recipe Notes
If you don't have madeleine molds, standard muffin cups will work. In the Edwardian period,you could also get English madeleines, which were made in dariole molds (shaped like small flowerpots) and were often hallowed out, filled with jam, the tops put back on and then iced. This recipe will also work for those, with or without the jam filling.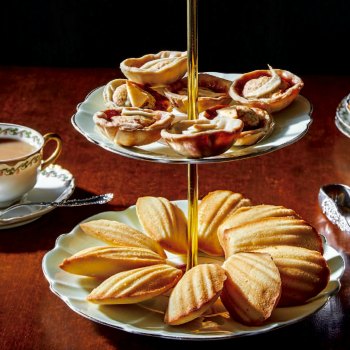 TEA TRAVELS™ – Wishing You Happy TEA TRAVELS!™  Tea is the luxury everyone can afford!™ and Good $ense for $uccess are the trademarked property of Ellen Easton/ RED WAGON PRESS
Ellen Easton, author of Afternoon Tea~Tips, Terms and Traditions (RED WAGON PRESS), a lifestyle and etiquette industry leader, keynote speaker and product spokesperson, is a hospitality, design, and retail consultant whose clients have included The Waldorf=Astoria, Plaza Hotels, and Bergdorf Goodman.  Easton's family traces their tea roots to the early 1800s, when ancestors first introduced tea plants from India and China to the Colony of Ceylon, thus building one of the largest and best cultivated tea estates on the island.

Purchase Ellen Easton's Tea Books:
Each 5 x 7 book is $20 postpaid Continental USA only.  Wholesale and fundraising accounts welcome.  Include name, address, zip code, and phone number for shipping.  All Sales Final. Check or MO order payable to:  RED WAGON PRESS, 45 East 89th Street, STE. 20A, New York, NY 10128-1256.  All inquires to teatravels@aol.com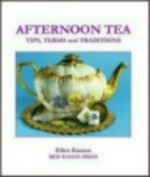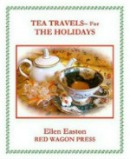 AFTERNOON TEA…TIPS, TERMS and TRADITIONS
72 pages of how to's, 27 photos, history, etiquette and FAQ about afternoon tea, serving styles and more.
TEA TRAVELS™ – FOR THE HOLIDAYS
64 pages, 21 color photos. A complete holiday menu includes 25 easy to prepare recipes; theme teas, decorating & gift ideas; invitation template and secret sources

Comments and Reviews