Tea Travels!™… The Romance of Victorian Tea
Photos and Menu by Ellen Easton ©2020  – All Rights Reserved
Check out more of Ellen Easton's Tea Travels™ articles and recipes.
Learn about the History of English High Tea and more delicious Afternoon Tea Recipes.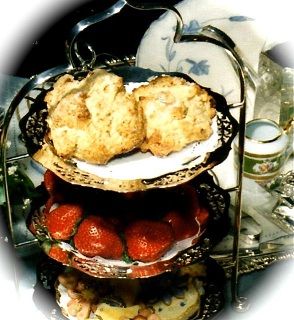 Victorian Tea Menu
Sandwiches and Savories: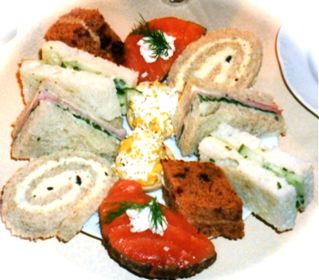 Smoked Salmon with Dill Butter on Dark Bread, garnished with Dill (open face half moon sandwich)
Ham and Chopped Watercress with Basil Butter on Rye Bread (finger sandwich)
Thinly Sliced Cucumber & Chopped Mint with Mint Butter on White Bread (open face round sandwich)
Chopped Egg and Diced Black Olives on Whole Wheat Bread (pinwheel sandwich)
Cinnamon Cream Cheese on Date Nut-Raisin Bread (triangle sandwich)
Chicken Curry Salad with Shredded Coconut (in a mini tart shell)
Scones and Breads: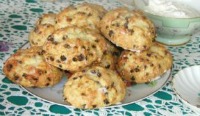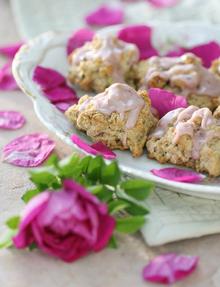 Enhancers:
Flavored Butters (Fruit, Herb & Spice)
Raspberry Preserves, Orange Marmalade, and/or Rose Petal Jam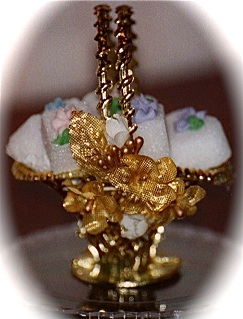 Reva Paul's Victorian Sugar Basket
Candied Ginger Bits, Sliced Lemon, Honey, Decorated Sugar Cubes
Sweets: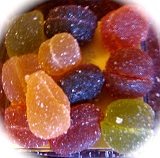 Pate de Fruit
Jellied Orange Triangle (Pate de Fruit)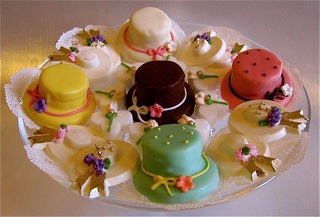 Lemon Pound Cake Sweet Hats
Winter Chocolate Grape Truffles or Summer Chocolate-Dipped Strawberries
Mini Coffee Eclair or Cream Puffs
Fourth Course:
Served in a champagne or martini glass
English Trifle with Heart-Shaped Hazelnut Shortbread Cookies
or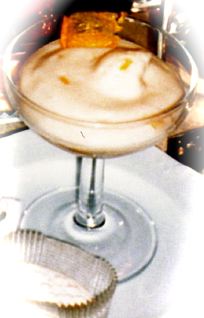 Tea-Infused Orange Cream Pudding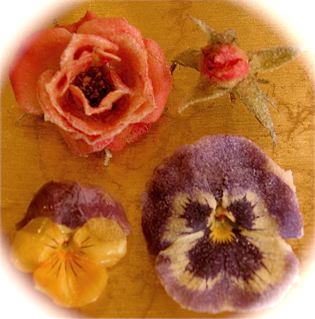 Crystallized/Candied Edible Flowers
Crystallized/Candied flowers make beautiful decorations for desserts and can last up to one year.
Not only do they taste amazing, but they add an elegant, romantic, and delicious touch to virtually every dessert.
---
TEA TRAVELS™ – Wishing You Happy TEA TRAVELS!™  Tea is the luxury everyone can afford!™ and Good $ense for $uccess are the trademarked property of Ellen Easton/ RED WAGON PRESS
Ellen Easton, author of Afternoon Tea~Tips, Terms and Traditions (RED WAGON PRESS), a lifestyle and etiquette industry leader, keynote speaker and product spokesperson, is a hospitality, design, and retail consultant whose clients have included The Waldorf=Astoria and Plaza Hotels.  Easton's family traces their tea roots to the early 1800s, when ancestors first introduced tea plants from India and China to the Colony of Ceylon, thus building one of the largest and best cultivated teas estates on the island.

Purchase Ellen Easton's Tea Books:
Each 5 x 7 book is $20 postpaid Continental USA only.  Wholesale and fundraising accounts welcome.  Include name, address, zip code, and phone number for shipping.  Check or MO order payable to:  RED WAGON PRESS, 45 East 89th Street, STE. 20A, New York, NY 10128-1256.  All inquires to teatravels@aol.com
AFTERNOON TEA…TIPS, TERMS and TRADITIONS
72 pages of how to's, 27 photos, history, etiquette and FAQ about afternoon tea, serving styles and more. "Tea is the luxury everyone can afford!™"

TEA TRAVELS™ – FOR THE HOLIDAYS
64 pages, 21 color photos. A complete holiday menu includes 25 easy to prepare recipes; theme teas, decorating & gift ideas; invitation template and secret sources.
Comments and Reviews