Whitefish Recipe Collection
Halibut – Cod – Red Snapper – Sea Bass – Tilapia
This Whitefish Recipe Collection features delicious seafood dishes made with halibut, cod, red snapper, sea bass and tilapia.  Whitefish is a great healthy alternative for many of the other proteins we enjoy.  Learn to cook the perfect, flaky fish every time and experiment with our favorite recipes found in this whitefish recipe collection.
How To Select, Buy, and Cook Fish
Meat and Fish Internal Temperature Cooking Chart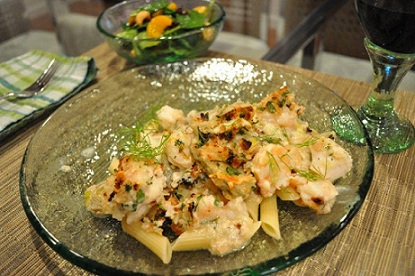 Creamy Seafood Casserole
This makes a wonderful casserole for company with its rich, creamy goodness in every bite!  The additions of fennel, leek, garlic, and fresh herbs add a delightful depth of flavors to the dish.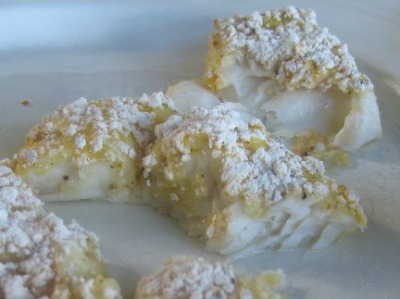 Fish 'N' Chips
I adapted this wonderful recipe is from the cookbook Canyon Ranch Cooking: Bringing the Spa Home, by Canyon Ranch, Inc. and Jeanne Jones, 1998.  I made this recipe for my husband, and he loved it!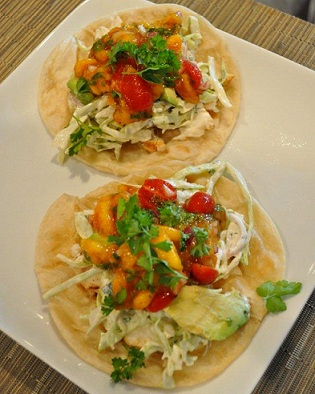 Fish Tacos
These fish tacos were delicious. We loved the mango tomato salsa.  The white sauce tossed with the cabbage very tasty.
Grilled Fish with Baby Potatoes and Asparagus
This dish offers fresh and bright flavors, that is easy and quick to prepare.
Grilled Halibut with Fennel Sauce
I've been a halibut lover for years, and this recipe is a winner! The marinade enhanced the flavor of the halibut without overpowering it.
Grilled Halibut with Jicama Salsa
I've adapted this wonderful recipe is from Seattle & King County Public Health.
Grilled Halibut with Lime-Mustard Sauce
I created this great halibut recipe to use on my barbecue. The Lime-Mustard Marinade enhanced the flavor of the halibut without overpowering it.
Halibut with Capers, Olives, and Tomatoes
This recipe is from the Epicurious web site as featured in Bon Appit magazine, April 2004.  Recipe by Mark Taylor, West Hartford, CT.
Halibut with Hazelnut Crust
Grilled Halibut with Hazelnut Crust makes a quick and easy dinner to serve your family as it is so easy to make and so delicious.  Halibut is a rich flavorful fish.  The hazelnut crust is a unique contrast and adds a complex texture and taste to this dish.
Halibut with Lemon-Basil Vinaigrette
Very Light and Tasty!  This lemon-basil vinaigrette would be good on any fish of your choice. This is a perfect light dinner to serve your family, plus it also makes a great company meal.  It is amazingly easy to prepare.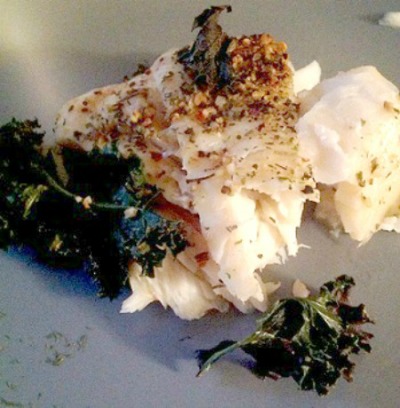 Herb-Crusted Halibut with Toasted Kale Chips
This is a quick and easy halibut recipe that also includes delicious roasted kale leaves.  Give it a try – you won't be disappointed!
Pancetta Wrapped Roast Halibut
Look for a large halibut fillet at least 1-inch thick; anything thinner is liable to overcook before the pancetta crisps. You may have pancetta left over, but some of the pieces may rip while wrapping the fish and you can use the extras. Serve with roasted potatoes and a green salad.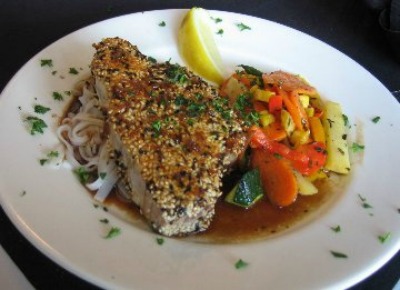 Pepper Crusted Halibut with Chile-Mint Sauce
Pepper Crusted Halibut with Chile-Mint Sauce is an exciting new way to delight and please your senses.  When fresh halibut is available in the market, this is one of my "go to" recipes to make every year.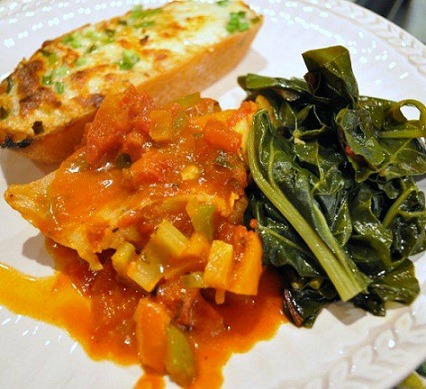 Red Snapper Victoria
This light and lovely seafood dish comes together quickly and makes a beautiful presentation.  Served with the Victoria Cheese Bread makes it really special.  It is a family favorite.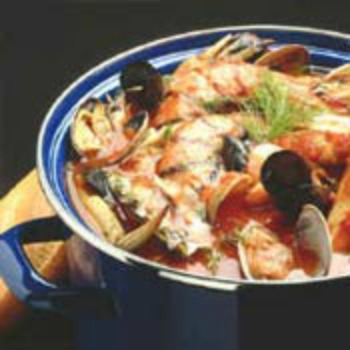 San Francisco Cioppino
Cioppino (pronounced chuh-PEE-no) is considered San Francisco's signature dish, and no trip to this West Coast city would be complete without a bowlful. Because of the versatility of the ingredients, there are numerous recipes for it.  Cioppino can be prepared with a dozen kinds of fish and shellfish It all depends on the day's catch of your personal choice.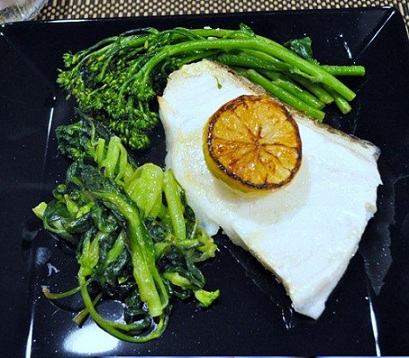 Sea Bass with Broccolini on Himalayan Salt Block
The Himalayan salt block will impart savory salt flavor when used to cook foods. The blocks can be used for hot or cold/room temperature dishes. The amount of salt imparted to the food seems to depend on the moisture of the food; the more moisture, the more saltiness absorbed.
Comments and Reviews