Creamy Brussels Sprouts with Lemon is a wonderful dish that is sure to make a Brussels sprouts lover out of you!  Creamy with a lovely flavor that gives a burst of sunshine to your meal.  A delicious and unique way of preparing Brussels sprouts.  Excellent served with Grilled Pork Tenderloin with Plum Sauce.  When purchasing brussels sprounts, look for a fresh, bright-green color, tight fitting outer leaves, firm body, and free from blemishes.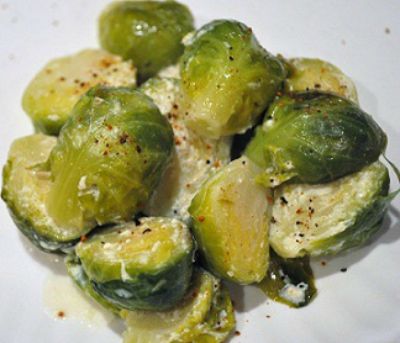 This delicious Creamy Brussels Sprouts recipe, comments, and photos were shared with me by Karen Calanchini, Food Stylist and Photographer, of Redding, CA.
Creamy Brussels Sprouts with Lemon Recipe:
Keyword:
Creamy Brussels Sprouts with Lemon Recipe
Servings
:
4
to 6 servings
Instructions
Cut the stems from the Brussels Sprouts, halve each one lengthwise, and remove any blemished leaves. Cut out any large cores. Slice each in half.

In a heavy Dutch oven, melt the butter. Add the prepared Brussels Sprouts and salt; saute until they just begin to brown, approximately 5 minutes.

Stir in the half and half cream, cover with a lid, and reduce heat to a low simmer. Cook until the sprouts are soft but still hold together, approximately 30 minutes.

Remove the lid, stir in the lemon juice and cook, uncovered, for an additional 2 to 3 minutes to further reduce the cream to a glaze. Sprinkle the black pepper and cayenne pepper over the top.

Remove from heat and serve hot.
You Might Also Like:
Cream-Braised Brussels Sprouts
Your family and guests will definitely love these Brussels Sprouts.  So good and so easy to make.
Hashed Brussels Sprouts with Poppy Seeds and Lemon
This simple recipe has converted lots of sworn Brussels-sprout haters into devoted connoisseurs.  They have turned the sprouts into comfort food by 'hashing' and stir-frying them with poppy seeds.
Grilled Brussels Sprouts
This technique of cooking brussels sprouts is so good – even your children will love them!
Comments and Reviews