These delicious Greek Potatoes with Lemon and Oregano are a staple in Greek households.  What is interesting about these roasted potatoes, is that the potatoes are partially covered with a liquid – in this case water is used.
Greek Potatoes with Lemons and Oregano recipe and photos were shared with me by Karen Calanchini, Food Stylist and Photographer, of Redding, CA.
Learn about Potato Hints, Tips, and Information, Sweet Potato Tips, History of Potatoes.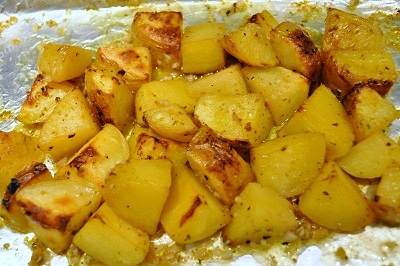 Greek Potatoes with Lemons and Oregano Recipe:
Keyword:
Greek Potatoes with Lemons and Oregano Recipe
Servings
:
4
to 6 servings
Instructions
Preheat oven to 400 degrees F. Line a large baking pan with non-stick aluminum foil or spray with a non-stick spray.

Wash potatoes and cut into large chunks, quarters, or wedges (your choice).

Put the prepared potatoes, garlic, olive oil, lemon juice, water, oregano, salt, and pepper into the prepared baking pan; toss well to coat and then spread out in a single layer. The garlic will drop into the water/oil solution and its flavor will permeate the potatoes, and this way, it also will not burn.

Bake for 40 minutes until a nice golden-brown crust has formed on the potatoes. Carefully turn the potatoes to prevent them from sticking and to brown them evenly. Season lightly with a bit more salt and pepper and just a light sprinkling of additional oregano.

When the potatoes are done, remove from oven, and serve.
Comments and Reviews