Coffee Spiced Lamb with Minted Coffee Sauce Recipe is courtesy of Chef Mark Tafoya, chef/owner of ReMARKable Palate Personal Chef Service in New York, NY.  This recipe was adapted from the cookbook called "The Wine Lover's Cookbook – Great Recipes For The Perfect Glass of Wine," by Sid Goldstein.
Chef Mark says, "This lamb and mint combination are a classic pairing.  I wanted to showcase this wonderful combination in a more provocative way, so I adapted a favorite recipe to punch up the spiciness.  The fennel used in the marinade adds brightness and the coffee used in both the marinade and sauce adds a burst of unexpected richness to the flavor profile of this dish.  As with all coffee recipes, I recommend using the highest-quality coffee beans you can find, grinding them just before use (you can use the same type of beans for both the grounds and liquid espresso)."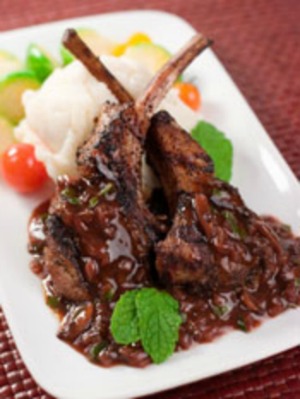 Photo by Kelly Cline
Learn How To Cook Perfect Boneless Leg of Lamb.
Please check out my Coffee- and Spice-Rubbed Lamb dinner menu which includes this Coffee Spiced Lamb with Minted Coffee Sauce.

Coffee Spiced Lamb with Minted Coffee Sauce Recipe:
Keyword:
Coffee Spiced Lamb with Minted Coffee Sauce Recipe
Ingredients
Lamb:
8

double-thick

lamb chops
Coffee Marinade:
2

teaspoons

garlic,

finely chopped

1

tablespoon

dark roast coffee beans,

finely ground

1/4

cup

oliv oil

1/2

cup

Pinot Noir wine

1/2

teaspoon whole

peppercorns,

mixed

1/2

teaspoon

fennel

seeds

1/2

teaspoon

cumin

seeds

1/2

teaspoon

mustard

seeds

1/2

teaspoon

coriander

seeds

2

teaspoons

thyme,

fresh, chopped

1/2

teaspoon

coarse salt
Mushroom Sauce:
1

cup

chanterelle mushrooms

(or best variety available), sliced

1

large

shallot,

minced

1

tablespoon

butter

1

tablespoon

olive oil

1 1/2

cups

Pinot Noir wine

2

tablespoons

mint

leaves, fresh, chopped

2

cups

chicken stock

(use lamb stock if available)

1/4

cup

espresso coffee,

freshly brewed

1/2

teaspoon

honey

1

tablespoon

cornstarch

diced with 1 tablespoon cold water

1 1/2

tablespoons

butter,

room temperature

Kosher salt

and freshly-ground black pepper to taste
Instructions
Coffee Spiced Lamb with Minted Coffee Sauce Instructions:
Prepare Coffee Marinade (see instructions below).

Place lamb in large non-reactive dish and cover with the prepared Coffee Marinade, rubbing the marinade onto the meat. NOTE: I like to use large re-sealable plastic bags for the marinating. Cover and refrigerate for approximately 3 to 4 hours.

Prepare Mushroom Sauce(see instructions below); set aside.

When ready to cook, remove from refrigerator 1 hour before grilling to bring to room temperature.

When ready to grill, preheat barbecue grill to medium-high heat (350 degrees F). Remove lamb from the marinade and wipe off most of the marinade. Place lamb on the hot grill and cook lamb for 7 to 8 minutes per side or until medium-rare and an internal thermometer registers 125 degrees F. (use a meat thermometer to test for doneness). Remove from grill and tent with foil, allowing meat to rest for 5 to 10 minutes before serving.

To serve, place two (2) lamb chops per serving on individual serving plates, with bones crossing. Spoon prepared warm Mushroom Sauce over the lamb chops, and garnish with a sprig of mint.
Coffee Marinade Instructions:
In a large bowl or jar, combine the garlic, coffee beans, olive oil, and wine; set aside.

Grind the dried spices in a spice grinder, coffee grinder, or mini grinder, allowing the spices to settle before removing the lid. Mix with the rest of the prepared marinade ingredients.
Mushroom Sauce Instructions:
Saute the mushrooms and shallots in butter and olive oil over medium-high heat until shallots are translucent and mushrooms have given off their liquid. Add the wine and bring to a boil; boil for 2 minutes. Stir in mint, chicken stock, espresso coffee, and honey: reduce the sauce by half.

Stir in cornstarch mixture bit by bit to thicken sauce to desired consistency. Remove from heat and add butter.

Adjust seasoning (salt and pepper) to taste. Keep the sauce warm until service.
Recipe Notes
Chef's Note:  This dish would go well with a side of Perfect Mashed Potatoes and steamed baby vegetables.  Mound the potatoes in the center of the plate with the lamb leaning against them and spoon sauce over the chops.  Place vegetables opposite lamb and garnish the plate with a sprig of mint.

I get many readers asking what cooking/meat thermometer that I prefer and use in my cooking and baking. I, personally, use the Thermapen Thermometer. Originally designed for professional use, the Super-Fast Thermapen Thermometer is used by chefs all over the world.  I only endorse a few products, on my web site, that I like and use regularly.
You can learn more or buy yours at: Super-Fast Thermapen Thermometer.
Sponsored Content
Comments and Reviews