Organization Tips for the Kitchen Pantry
There is nothing worse than cooking and reaching for something in your pantry that you are sure you have and coming up empty-handed.  No matter if you are a seasoned chef or starting your first apartment, it is great to have a checklist for staple items you should have on hand.
You may have some other items you consider staples, such as salad dressing or barbecue sauce, but those items can be made if you have these staples.
Pantry storage tips:
Get a turntable for the bottles of oils, vinegars, and such.  You can easily spin it to find what you need.  Open bags of flour and sugar invite pests plus spill and make a mess.  Use a gallon zippered plastic bag or a jar to contain them.  Bags of food staples, like rice, beans, and cornmeal are seldom used up in just one recipe.  Use food storage containers, bags, or even rubber bands to contain them.  Have extra staples?  Check out our tip for Managing Extra Staples
Bottles on Turntable –
It's easy to find and use these bottles stored over the stove hood because of the turntable spins.

Contain Flour and Sugar –
Contain your open flour and sugar to keep them fresh, free from pests and from spilling in your pantry.

Rice in Canister –
Close opened bags with rubber bands.  Store like items, such as these rice bags, together for easy inventory.

Olive oil
Vegetable oil
Cooking spray
Balsamic vinegar
Apple cider vinegar
hite wine vinegar
Soy sauce
Honey
Hot sauce
Worcestershire
Cooking sherry
Broth or bouillon
Canned milk (evaporated)
Peanut butter
Tomatoes, diced
Tomato, paste
Tomato, sauce
Bread crumbs
Rice
Pasta
Dry beans
Oats
Cornmeal
Sugar
Brown sugar
Powdered sugar
Baking powder
Baking soda
Flour
Cornstarch
In the Fridge:
Mustard
Ketchup
Lemon juice
Parmesan cheese
Milk
Butter
Eggs
Spices:
Spice storage tips:  Store spices so that you can easily find them.  Use a stacking turntable, a stacker-shelf, or drawer organizer to help you find them.  Learn more about storing spices at our Spicy Ideas article.  There are a lot more spices available than this basic list but this will get you started.  You can add additional spices as recipes call for them.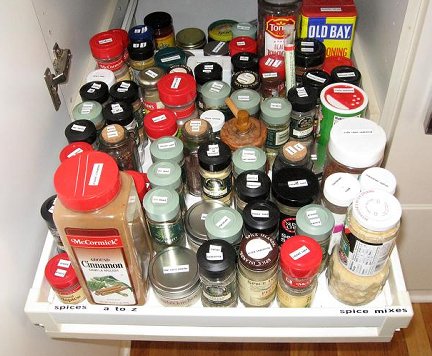 Basil
Bay leaves
Cayenne
Chili powder
Cinnamon
Cumin
Dry onion
Garlic powder
Ginger
Oregano
Paprika
Pepper
Rosemary
Salt
Thyme
Vanilla extract
---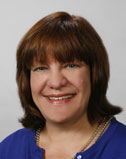 Author Lea Schneider, a columnist for What's Cooking America, is a freelance writer and organizational expert whose organizing ideas have been published in many magazines including Woman's Day, Better Homes and Gardens Kitchen and Bath Ideas, Family Circle, Parents Magazine, as well as numerous newspapers and websites.   She is a member of the Association of Food Journalists.
Getting organized is all about living simpler and making things easier.  The bonus is it often leads to saving money.  Lea Schneider's kitchen organizing columns tell you how to organize the many things that relate to kitchens, menus, meals, and special food events.
Check out all of Lea Schneider's helpful home and kitchen columns at Organizing Kitchens, Pantries, Menus and Meals.
Comments and Reviews