Miniature Tourtieres – Tourtieres are a meat pie originating in Quebec, Canadian around the 1600s.  It is usually make with minced pork and/or veal or beef.  It is a traditional dish served at Christmas and New Year's Eve celebrations.  From researching recipes, I found that the meat in the tourtieres can range from pork, chicken, or beef, to lamb, veal, or even duck.  It is said, "There are as many recipes for tourtiere as there are cooks in Quebec."
History:  There is some debate about the origin of the name of the dish.  Some believe that the dish is named after the now extinct passenger pigeons, called "tourtes," that were cooked into the original pies.  Others argue that the pie is named after the deep ceramic baking dish that families used to create the pies.  It is, however, agreed that by 1611, the word tourtière had come to refer to the pastry containing meat or fish that was cooked in this medium-deep, round or rectangular dish. – by The History of Tourtière.
This delicious hors d'oeuvre recipe and dinner menu were generously shared with my by Linda Sandberg of Newberg, OR.  Linda belongs to a Gourmet Dinner Group that delights in making wonderful foods that they share together.  Check out Prime Rib (Standing Rib Roast) Christmas Dinner which includes this recipe.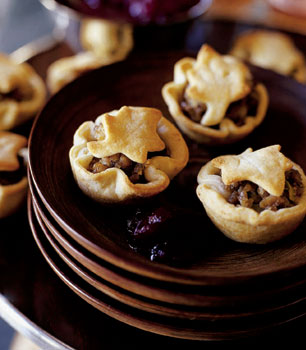 Photo by Quentin Bacon.
Miniature Tourtieres - Canadian Pork Pies Recipe:
Keyword:
Canadian Pork Pies Recipe, Miniature Tourties Recipe
Servings
:
24
hors d'oeuvres
Ingredients
Miniature Tourtieres:
1

pound

lean ground pork

1

medium

onion,

finely chopped (approximately 3/4 cup)

1

garlic

clove, minced

1/2

teaspoon

savory,

dried and crumbled

1/2

teaspoon

salt

1/4

teaspoon

allspice,

ground

1/4

teaspoon

black pepper

3

tablespoon all-purpose

flour
Instructions
Miniature Tourtieres Instructions:
In a 12-inch nonstick skillet over moderate heat, cook the ground pork with the onions, garlic, savory, salt, allspice, and pepper, stirring frequently and breaking up lumps with a fork, until pork is no longer pink, approximately 5 to 7 minutes. Sprinkle with flour and cook, stirring, until thickened, 3 to 4 minutes.

Remove from stove and let filling cool completely. NOTE: Pork Filling can be made one (1) day ahead and chilled, covered. Bring to room temperature before using.

Make the Pastry (see below) while the Pork Filling cools. Put oven rack in middle position and preheat oven to 425 degrees F.

Turn out dough onto a lightly-floured surface and gently knead 10 to 12 times. Roll out dough on lightly-floured surface with a floured rolling pin into a rough 18-inch round (1/8 inch thick), dusting with just enough additional flour to keep dough from sticking. Cut out 24 rounds with a 3-inch cutter and 24 leaves with leaf-shaped cutter (you can use any cookie cutter design that you desire). Make decorative lines on leaves with tip of a sharp paring knife.

Fit each round into a muffin cup and fill with a rounded tablespoon of filling. Arrange leaves on filling.

Bake pies until crusts are golden, 15 to 17 minutes. Lift pies out of muffin cups and transfer to a rack. Cool to warm, about 15 minutes.

Prepare Ahead of Time: Pies can be assembled and baked 6 hours ahead and cooled, uncovered, then chilled, uncovered. Either serve at room temperature or reheat in a preheated 250 degrees F. oven until warm, about 15 minutes.

Freezing: Freeze pork pies, uncovered, in single layer on baking sheets. Do not thaw before reheating. To reheat, preheat oven to 425 degrees F. Bake frozen tourties in a single layer on a baking sheet for about 20 minutes or until sizzling.
Pastry Instructions:
In a large bowl, whisk together flour, baking powder, and salt. Blend in shortening and butter with a pastry blender or your fingertips until mixture resembles coarse meal. Add milk and stir with a fork just until a dough forms.
Source:  Recipe slightly adapted from Gourmet Magazine, December 2003 and the Epicurious.com website.  Photo by Quentin Bacon.
Comments and Reviews