Prosciutto and Parmesan Stuffed Mushrooms are so easy to make.  You can prepare all of the ingredients ahead of time for these stuffed mushrooms and refrigerate them until you need to put them in the oven just before your event. This way they come out hot and mouth-watering just in time for your guests.  A restaurant-worthy appetizer that all your guests will enjoy and are sure to be a hit at your next gathering as they are a fabulous appetizer for any occasion.
This delicious mushrooms appetizer recipe and dinner menu were generously shared with my by Linda Sandberg of Newberg, OR.  Linda belongs to a Gourmet Dinner Group that delights in making wonderful foods that they share together.  Check out A Night of Comfort Dinner menu which includes this wonderful mushroom appetizer recipe.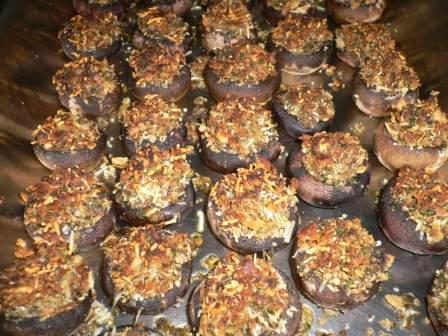 Prosciutto and Parmesan Stuffed Mushrooms Recipe:
Keyword:
Prosciutto and Parmesan Stuffed Mushrooms Recipe
Ingredients
24

large 1 1/2 to 2-inch wide

mushrooms,

cleaned and stemmed

4

tablespoons

olive oil,

divided

1

large clove

garlic,

minced

1/2

cup

onion,

finely chopped

1/2

cup (3 ounces)

Prosciutto di Parma,

finely chopped

1/4

cup fine

bread crumbs,

dried

3

tablespoon fresh

parsley

leaves, minced

3/4

cup

Parmesan Cheese

(Parmigiano-Reggiano), finely chopped, divided

1

large

egg,

lightly beaten

1/4

teaspoon

salt

1/4

teaspoon

black pepper,

freshly ground
Instructions
Preheat oven to 400 degrees F. Place oven rack in middle of the oven. Lightly grease a shallow baking dish or baking sheet with sides (large enough to hold the mushroom caps in one layer).

To remove stems from mushrooms, hold each mushroom stem side up in the palm of one hand and use the other hand to push stem gently sideways until it pops out. If any stem remains in the cap, gently scoop it out with a small spoon. Trim off and discard bottoms of stems and then finely chop the stems.

In a large frying pan over medium heat, heat 2 tablespoon olive oil. Add chopped mushroom stems, garlic, and onion. Cook stirring, until the stems are very tender, approximately 8 minutes; remove from heat and transfer to a large bowl.

Add the prosciutto, bread crumbs, parsley, 1/2 cup parmesan cheese, egg, salt, and pepper; stir to combine well.

Spoon the filling among the mushroom caps, mounding it slightly. Arrange the stuffed mushroom in one layer on the prepared baking dish. Sprinkle mushrooms with remaining 1/4 cup Parmesan cheese and drizzle with the remaining 2 tablespoon olive oil.

Bake until the mushroom caps are tender, approximately 20 minutes. Remove from oven and serve immediately.

Makes 24 stuffed mushrooms.
This Prosciutto and Parmesan Stuffed Mushrooms' recipe is by Ruth Reichl and her cookbook, The Gourmet Cookbook.
Comments and Reviews