Prime Rib Roast Christmas Dinner Menu
Five-Course Dinner – Menu and Recipes
This Christmas Prime Rib Dinner Menu is always very special treat to serve your family on Christmas Day.  This is a delicious version of the classic prime rib roast that is crusted with a delicious rosemary-thyme crust.  This menu and recipes were generously shared with my by Linda Sandberg of Newberg, OR.  Linda belongs to a Gourmet Dinner Group that delights in wonderful food that they share together.
First Course – Appetizers:

Crostini with Burrata Cheese, Pink Pepper, and Arugula
Burrata cheese is an ultra-cream fresh incredible Italian mozzarella chesse that shines on its own.  Burrata is made from mozzarella and cream. the outer shell is solid mozzarella while the inside contains both mozzarella and cream. Burrata actually mean "buttery" in Italian.

Miniature Tourtieres – Canadian Pork Pies
A Tourtières is a meat pie originating in Quebec, Canadian.  It is usually make with minced pork and/or veal or beef.  It is a traditional dish served at Christmas and New Year's Eve celebrations.

Second Course – Salad: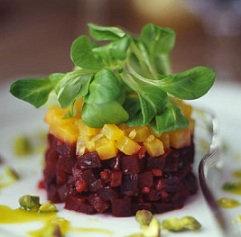 Sweet roasted beets are the centerpiece of this very colorful and delicious salt.  I like to roast my beet in the oven as it is so easy to do.  This fantastic salad is molded in a cookie cutter.
Third Course – Soup:
Oyster Soup with Frizzled Leeks
This soup is similar to the Classic Vichyssoise Soup (leek and potato soup).  What makes this soup different, is that it is combined with creamy oyster stew to become the perfect start to your Christmas dinner.  
You can use fresh or bottled oysters, but only use small oysters, 1 to 1/2 inches in diameter in this recipe.  Larger ones will make the flavor too briny.
Fourth Course – Main Entree and Sides:
Standing Rib Roast with Rosemary-Thyme Crust

A delicious version of the classic prime rib roast that is crusted with a delicious rosemary-thyme crust.
Definition of Prime Rib:  A tender cut of beef taken from the rib primal.  A Prime Rib Roast is also often referred to as Standing Rib Roast.  It is very tender, flavorful, and usually expensive.
Also check out how to cook the perfect Classic Prime Rib (Standing Rib Roast).
Green Beans with Balsamic-Shallot Butter
A delicious take on the classic green bean recipe that is easy to make and delicious.
Potato Gratin with Gruyere and Creme Fraiche
It is a very rich side dish for your special meal.  This Potato Gratin only requires four ingredients and go together very easy. It is hard to mess up with this small amount of ingredients.
Fifth Course – Dessert:
Inside-Out German Chocolate Cake
This is a very decadent chocolate cake that is so good!
Finale:
This course can either be served at your dining table after clearing the dishes or in the living room.
A good way to end a meal is with a (decaf) latte.  Learn how to make a perfect cup of Coffee.
---
Dinner Party Tips:
How to cook the perfect Classic Prime Rib (Standing Rib Roast)
Check out Dining Etiquette Guide – Restaurant and Dinner Party Manners and Etiquette.<
Check out all of Linda's wonderful Dinner Party Menus (includes recipes)
Appetizer Recipes – (Hors d' oeuvres, Starters, Amuse-Bouche,and Snacks)
Appetizer Hints – How many appetizers to make for your party?
Food Safety Pages. Check them out!
Buffet and Party Safety
Also includes what to do if your guests have been delayed at least an hour
Golden Rules of Food Safety
IF IN DOUBT, THROW IT OUT!  If you have any question in your mind about the freshness or safety of eating a food product, throw it out.  It is better to be safe than sorry!
Picnic Safety Tips
There is nothing more American than the picnic.  Picnics can take on many forms, such as the community picnic, friends and neighbors, tailgate parties, or ball games.  There is also one sure thing at every picnic-lots of good food.  The important point is to have safe and healthy food, not food that can cause food borne illness.  Always prepare and store food properly.
Summer Safety Tips
Summer is the time for barbecues and picnics.  The biggest party crasher at summer picnic and buffets is food borne bacteria.  You can't see them and you can't taste them, but you sure can feel them if illness occurs hours or days later.
Comments and Reviews