Pretty in Pink Afternoon Tea Menu
by Lisa Jaworski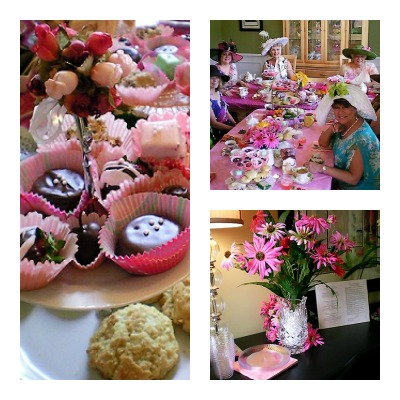 Summer is the perfect time of year to enjoy an afternoon tea with your friends and this Summer Afternoon Tea was a wonderful event!
I sent out invitations that I had made, and I included a tea bag in each invitation.  There were eight of us all together.  We all wore dresses and hats which made it extra fun.  I strung Christmas pearls and seashells all over the table and used any pink candies I could find, like Dove chocolate and raspberry candies.  I made the cherry lemonade in keeping with the pink theme.  For the table, I just bought pretty fabric and put it over the table.  I also used tea pots for the flower bouquets and put the lids on the table for more decoration.  Votive candles were lit as well.
Learn about the History of English High Tea and more delicious Afternoon Tea and High Tea Recipes.
Tea Sandwiches:

Turkey with Mayo on Sourdough Bread
Onion Sandwiches
Onion on Wheat Berry Bread with parsley edges
Deluxe Chicken Salad Sandwiches
Served on 7-Grain Bread
Scones:

Served with Clotted Cream and Raspberry Jam
Pastries: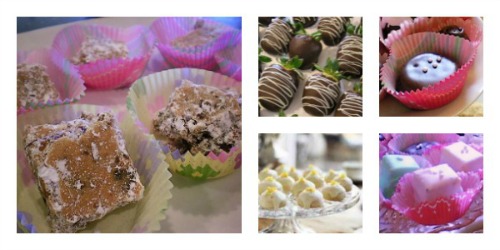 Chocolate Dipped Strawberries
Simple Petit Fours with Raspberry Jam Filling
Chocolate Peanut Butter S'more Cookies
Beverages:
Comments and Reviews