Grilled Rack of Lamb with Pinot Noir Wine Marinade Dinner
This is a no-fuss rack of lamb dinner that is so good!  Most of the entrees can be made ahead of time and refrigerated.  You will love this dinner.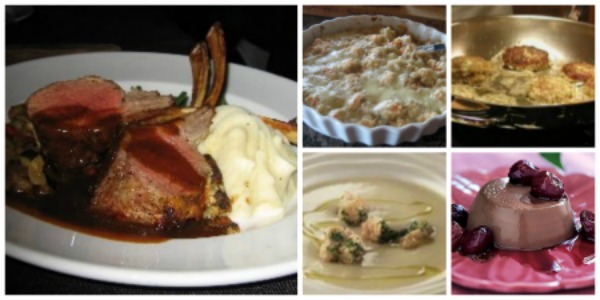 1st Course – Appetizer:
(served on the deck or in the living room)
Shrimp Appetizer Supreme
These are fabulous! Sure to impress your guests. This is one of my "fall back to" appetizer recipes.
served with
French Bread Baguette
Either make your own bread with this very easy recipe or purchase your bread.
2nd Course:
Northwest Mini Crab Cakes with Orange Sauce
Fresh and Light Crab Cakes are not only delectable but easy to make.  These wonderful crab cakes make an ideal starter course which is light and airy and every bit as good as any crab cakes we've ever tasted.
3rd Course – Soup:
Poached Garlic Soup
This soup recipe is a definite "10." Your guests will never believe how much garlic there is in this soup. After the garlic has been cooked slowly for a certain length of time, it loses its harsh rawness and becomes delicate and refined. This will be one of your favorite soup recipes.
4th Course – Main Entree and Side:
Grilled Rack of Lamb with Pinot Noir Marinade
A very easy and delicious grilled rack of lamb. The Pinot Noir wine tenderizes the lamb.
Asparagus Parmigiano
This is my favorite way to prepare and serve fresh asparagus. It is so simple and so good!
5th Course – Palate Cleanser:
Pinot Gris-Prickly Pear Sorbet
The inspiration for this very unusual and wonderful sorbet came to me when planning a gourmet dinner and wine tasting.  I needed a new sorbet to impress everyone.  The sorbet also need to be wine friendly.  This sorbet has a delicate undertone of prickly pear.  According to my husband, he gives this sorbet a rating of 10+.
6th Course – Dessert:
Chocolate Panna Cotta with Port-Balsamic Cherries
These softly set and creamy Italian puddings are so silky-smooth they slip down beautifully at the end of a meal.  Flavored with coffee and served with a chocolate cream adds a new look to this popular Italian dessert.  They are also perfect for dinner parties because they can be made a day or two in advance and kept refrigerated until ready to be served.
Finale:
This course can either be served at your dining table after clearing the dishes or in the living room.  A good way to end a meal is with a (decaf) latte.  Learn how to make a perfect cup of Coffee
---
Check out Dining Etiquette Guide – Restaurant and Dinner Party Manners and Etiquette.
Check out all of Linda's wonderful Dinner Party Menus (includes recipes).
Appetizer Recipes – (Hors d' oeuvres, Starters, Amuse-Bouche,and Snacks).
Appetizer Hints– How many appetizers to make for your party?
Food Safety Pages – Check them out!
Golden Rules of Food Safety
IF IN DOUBT, THROW IT OUT!  If you have any question in your mind about the freshness or safety of eating a food product, throw it out.  It is better to be safe than sorry!
Picnic Safety Tips
There is nothing more American than the picnic.  Picnics can take on many forms, such as the community picnic, friends and neighbors, tailgate parties, or ball games.  There is also one sure thing at every picnic-lots of good food.  The important point is to have safe and healthy food, not food that can cause food borne illness.  Always prepare and store food properly.
Summer Safety Tips
Summer is the time for barbecues and picnics.  The biggest party crasher at summer picnic and buffets is food borne bacteria.  You can not see them and you can not taste them, but you sure can feel them if illness occurs hours or days later.
Comments and Reviews