Cabernet Filet Mignon Steak Dinner Menu
Cabernet Filet Mignon Steak Dinner is definitely a Man's Dinner or Gentleman's Dinner.   What man does not like steak?  My husband was in "steak heaven" with this simple and easy steak dinner menu!  This Cabernet Filet Mignon Steak Dinner would also make a great Father's Day treat.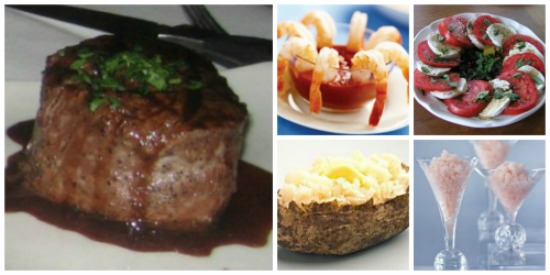 1st Course – Appetizers:
Serve this course either in your living room or on your deck or patio (depends on the weather).  Some times I even serve this course in the kitchen while I am cooking.
Artichoke and Goat Cheese Bruschetta
An hour before the party, I mounded the artichoke puree onto toasted baguette slices and added a sprinkle of crumbled goat cheese.
Crostini with White Truffle Oil and Olive Paste
Served with crackers or bread.  This is so good that you will find yourself licking your fingers to catch every essence of the truffle.
2nd Course – Seafood:
Serve this course at your dining room table.
Shrimp Cocktail
What could be easier and more delightful than a shrimp cocktail to start off your meal?
3rd Course – Salad:
Caesar Salad
My all-time favorite salad is the Caesar Salad. To many, including myself, this is the King of salads.
or
Insalata Caprese
Insalata Caprese is one of the simplest and most delicious of salads.  It requires only the right ingredients and the right season.  This is basically a summer dish and it should be made only with local vine-ripened tomatoes that are red, juicy and flavorful.
4th Course – Palate Cleanser:
Grapefruit Star Anise Granita
This refreshing pink grapefruit granita is an ice with a hint of spice.  So refreshing!
5th Course – Main Entree and Sides:
Cabernet Filet Mignon
You can either cook the steak by Pan-Searing or a very easy technique called Sear-Roasting.  The filet mignon is a stylish cut taken from the heart of the beef tenderloin that has outstanding taste as well as texture.  They are the most tender steaks you can buy.  Learn How To Cook the Perfect Steak
Perfect Baked Potato
The perfect baked potato has crisp golden skin on the outside and is pure white and fluffy on the inside.
Asparagus Parmigiano
This is my favorite way to prepare and serve fresh asparagus. It is so simple and so good!
6th Course – Dessert:
Molten Chocolate Cakes
A rich chocolate cakes that have a pocket of chocolate sauce inside.  This is served with warm Black Cherry Sauce.
Finale:
This course can either be served at your dining table after clearing the dishes or in the living room. A good way to end a meal is with a (decaf) latte.  Learn how to make a perfect cup of Coffee
---
Check out Dining Etiquette Guide – Restaurant and Dinner Party Manners and Etiquette.
Check out all of Linda's wonderful Dinner Party Menus (includes recipes)
Appetizer Recipes (Hors d' oeuvres, Starters, Amuse-Bouche,and Snacks)
Appetizer Hints – How many appetizers to make for your party?
Food Safety Pages – Check them out!
Buffet and Party Safety
Also includes what to do if your guests have been delayed at least an hour
Golden Rules of Food Safety
IF IN DOUBT, THROW IT OUT! If you have any question in your mind about the freshness or safety of eating a food product, throw it out.  It is better to be safe than sorry!
Picnic Safety Tips
There is nothing more American than the picnic.  Picnics can take on many forms, such as the community picnic, friends and neighbors, tailgate parties, or ball games.  There is also one sure thing at every picnic-lots of good food.  The important point is to have safe and healthy food, not food that can cause food borne illness.  Always prepare and store food properly.
Summer Safety Tips
Summer is the time for barbecues and picnics.  The biggest party crasher at summer picnic and buffets is food borne bacteria.  You can not see them and you can not taste them, but you sure can feel them if illness occurs hours or days later.
Comments and Reviews