Spanish Paella Dinner – Menu and Recipes
Spanish Paella Dinner Menu was based on the delicious foods we enjoyed in the cities of Andalusia Spain.  Read about our travels and culinary adventures through Andalusia, Spain:  Travels in Andalusia, Spain. This Spanish Paella Dinner Menu is the perfect way to treat your friends and family to a gorgeous Spanish-inspired dinner party in the sun.

Spanish Sangria: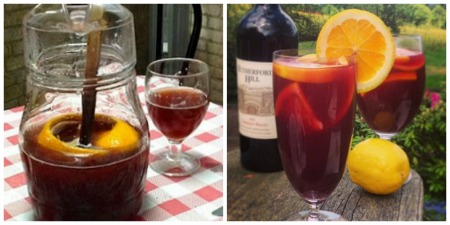 Fresh fruit and wine combine to create the perfect beverage for warm summer get-togethers.  Sangria is a refreshing drink that is simple to make and yet elegant enough for any occasion.  Depending on the ingredients used, sangria can be a light thirst-quencher or a potent cocktail that can set heads spinning.  Adjust the amounts of liquor according to mood and your guests.
First, there is no such thing as traditional or authentic sangria.  You can always spot the tourists in a bar in southern Spain, as they are the ones drinking sangria. To the Spanish, sangria is a party drink and is there for one reason – to get you drunk very cheaply.  Thus, sangria is aimed almost exclusively at tourists and is charge appropriately.  Sangria is served throughout Spain in the summer months.  In the northern areas, it is considered a summer drink.  In the eastern and southern areas of Spain, the drink is served all year.  Sangria recipes are not complicated and they vary from place to place, depending on what is on hand and what people prefer. There is no science to making sangria – just do what tastes best!
Pepe's Secret Spanish Sangria Recipe – I really like this version of sangria as it is very smooth and delicious tasting!  We also made a video of Pepe's sangria lesson that you can watch here:  Pepe's Secret Spanish Sangria
Red Wine Sangria – All ingredients listed in the recipe are estimates.  Add or subtract according to your taste.  One of the things that makes sangria so wonderful is its flexibility.  Depending on the ingredients used, sangria can be a light thirst-quencher or a potent cocktail that can set heads spinning.  Adjust the amounts of liquor according to mood and the guests.
First Course – Tapas Ideas:
Tapas are Spanish-style small bites. They are great for a relaxed and informal dinner party.  According to how many dinner guests you will be serving, will determine how many tapas to serve.  Serve enough for everyone to be able to sample each tapa.  Remember that tapas are to be considered appetizers and not a main course.
Spanish Potato Omelet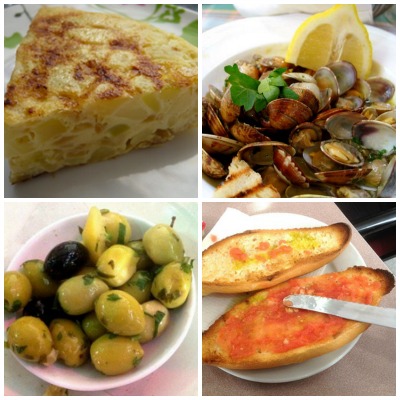 (Tortilla Espanola)
The Spanish omelets is, without a doubt, Spain's most commonly served dish.  It is a favorite appetizer served in Spanish cafes and bars.  It can also be eaten at breakfast or as a light supper.
Spanish-Style Steamed Clams
What could be easier to make and more delicious than steamed clams with butter?  I can't think of anything else!
Andalusian Marinated Green Olives – Fragrant with herbs and spices, these olive are fantastic!  Olives are a typical appetizer and partner particularly well with a glass of chilled dry sherry, which also comes from Andalusia.
Spanish Tomato Toast (Pan con Tomate)
This simple but delightful combination of toasted bread and tomatoes is a classic Catalan tapa served before the meal.  In every village and restaurant in Spain, they make this simple tapa.
Fried Eggplant with Molasses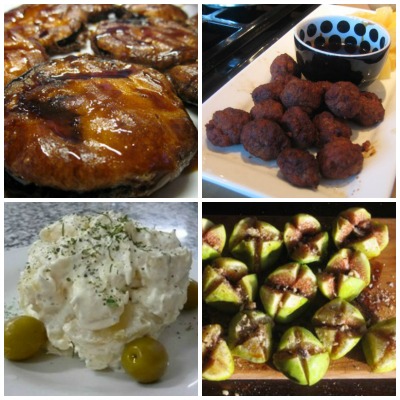 (Berenjena Frita con Miel de Cana)
This Fried Eggplant with Molasses Tapa recipe is from Andalucia (southern Spain).  The combination of savory and sweet in this tapa recipe is sensational!
Spanish Mini Meatballs in Saffron Sauce (Albondigitas al azafran)
These tiny meatballs in a wonderful sauce of saffron with a last minute punch of garlic will surely enhance your tapa party.  Everyone loves these meatballs and will beg you to make more "next" time.

Spanish Potatoes in Garlic Mayonnaise (Patatas Alioli)
Spanish Potatoes in Garlic Mayonnaise is another very popular Tapa at bars in Spain.  This tapa is often served compliments of the house when you order a drink.

Fresh Figs with Fleur de Sel, Aged Balsamic, and Hazelnuts
The syrupy twang of good aged balsamic vinegar and the gently floral flavor of fleur de sel meld with the juicy interior of the opened figs . And the toasted hazelnuts layer a faint autumnal smokiness over the whole thing.

Second Course – Soup:
Spanish Gazpacho Soup (Serve in a small dish or cup)
A light, cool, refreshing soup from Spain.  The Spanish call Gazpacho "salad."  However, to an American it is a soup.  Spanish Gazpacho is a cold tomato-based raw vegetable soup, originating in the southern region of Andalusia in Spain.
Third Course – Main Entree:
Spanish Mixed Paella (Paella de Mar y Monta) or Shrimp Paella
A good bottle of wine, salad, and bread are all you need to make a terrific dinner with this wonderful Seafood Paella.  Paella is the perfect party dish because it is a one-pot meal, and because it feeds a crowd.  Paella is meant to show off the rice itself and to highlight a few special ingredients.  These can be vegetables, fish, shellfish or meat.
The amounts of the ingredients are relative and it does not matter if you use more of one and less of another or chose not to use some at all.  The vital thing is the preparation of the rice so that it comes out loose.
Fourth Course – Desserts:
Spanish Orange Flan (Flan an de Narajanan)
A very light and tasty custard to end the meal.  Flan may be prepared in a large flan dish or in individual ramekins.
Churros with Chocolate (Churros con Chocolate)
Churros are coil-shaped, fritter-like pastries that are eaten plain or covered with cinnamon and sugar. When prepared, they should be crisp and have a lovely golden-brown color, crunchy on the outside and soft on the inside. If you have never tried a fresh and crispy churro that has been dipped in thick hot cocoa, then you certainly have not experienced one the great foods of Spain.
Finale:
A good way to end a meal is with a (decaf) latte or a perfect cup of coffee.
Coffee – How to make a perfect cup of coffee
How To Use a French Press – coffee press, plunger press and/or press coffee
---
Food Safety Pages – Check them out!
Buffet and Party Safety
Also includes what to do if your guests have been delayed at least an hour
Golden Rules of Food Safety
IF IN DOUBT, THROW IT OUT!  If you have any question in your mind about the freshness or safety of eating a food product, throw it out.  It is better to be safe than sorry!
Summer Safety Tips
Summer is the time for barbecues and picnics.  The biggest party crasher at summer picnic and buffets is food borne bacteria.  You can not see them and you can't taste them, but you sure can feel them if illness occurs hours or days later.
Check out all of Linda's wonderful Dinner Party Menus (includes recipes)
Check out Dining Etiquette Guide – Restaurant and Dinner Party Manners and Etiquette.
Appetizer Recipes (Hors d' oeuvres, Starters, Amuse-Bouche, and Snacks)
Appetizer Hints
How many appetizers to make for your party?Check out more of Linda's delicious Fish and Seafood Recipes
Comments and Reviews