Enjoy this wonderful and unusual Garlic and Rosemary White Pizza.  The recipe and comments are shared with by Eva Gronseth of Norway.  I adapted her dough recipe to use in the bread machine.
"This Garlic and Rosemary White Pizza recipe is the first recipe that is my own creation.  Spent last night in my kitchen, and this is the result.  Tried both rosemary and basil (you can use both, but they should not be mixed).  This White Pizza was taste-tested on three of my neighbors – all thought it was GREAT!    I never did that before.  I mean, I usually add or subtract ingredients in regular recipes, but this one is mine from scratch.  I do not mean to brag, but I am SO proud of this White Pizza.  I hope you will enjoy while I climb back to earth from seventh heaven."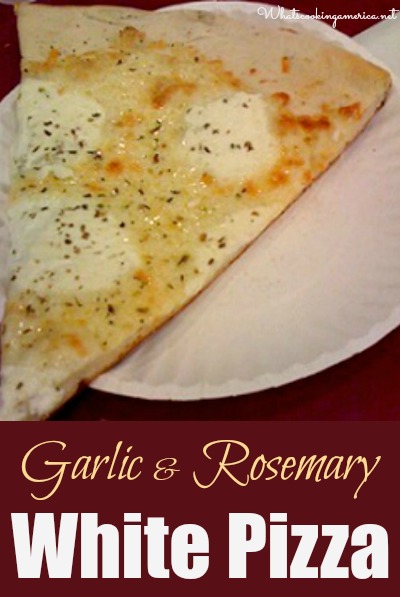 More great Pizza and Pizza Dough Recipes and Bread Recipes for your bread making.
Check out our Hints and Tips for Making Perfect Pizza.
Garlic & Rosemary White Pizza Recipe:
Keyword:
Garlic & Rosemary White Pizza Recipe
Servings
:
1
large pizza or 16 servings
Ingredients
Topping:
4 to 6

tablespoons

mayonnaise

1

medium

onion,

cut in half and sliced thin

6

cloves

garlic,

finely chopped

Salt

and pepper to taste

1

tablespoon fresh

rosemary

or basil leaves, chopped

1/2

cup

parmesan cheese,

freshly grated

1/2

pound fresh

mozzarella cheese,

sliced
Instructions
Add all the Pizza Dough Ingredients in the bread pan of Bread Machine. Process according to manufacturer's instructions for a dough setting.

Meanwhile preheat the Pizza Stone or tiles to 450 degrees F. for 30 minutes. Prepare your toppings (see below).

When the bread machine has completed the dough cycle, remove the dough from the pan to a lightly oiled surface. Knead the dough several times and form the dough into an oval; cover with a towel and let rest for 10 minutes.

Note: Dough may be refrigerated at this point and stored until ready to use. To store each batch of dough, spray a plastic bag with nonstick spray and place the dough in it. Store no longer than 7 to 10 days, or if frozen for up to 2 months. If refrigerated or frozen prior to use, allow the portions to come to room temperature before they are rolled out.

Roll and stretch the dough into a 14-inch circle. Place the dough on the prepared Pizza Peel. Brush the dough with some olive oil. Use a knife and spread mayonnaise over the top of the dough. Layer sliced onion over the mayonnaise; sprinkle garlic, salt, pepper and rosemary or basil over the top. Sprinkle parmesan cheese over pizza; layer sliced mozzarella over top.

Place on hot pizza stone or baking tiles and bake for 15 or until crust is golden brown on the bottom and the top is bubbly.

Makes 1 large pizza or 16 servings.
Source:  Photo courtesy of The Pizza Review.
Comments and Reviews