Fondant Icing – Decorating with Fondant Icing
Questions and Answers
Get all of your Fondant Icing questions answered by Cake Decorating expert Peggy Weaver!
Also check out:  Decorating Wedding Cakes
---
Adding color to fondant icing:
QUESTION:
How to get icing a true black – I am working on a project that requires black icing.  I have tried using brown first then adding black, but it looked more army green than anything.  Sometimes there is a purple look to it.  Can you please tell me how to get icing a true jet black.
ANSWER:
The only way to get truly black fondant is to buy it.  You cannot get the chemicals for home use that the pre-made makers can get.  If you try to add enough food color gel to make the fondant truly black, you get the whole batch out of balance and usually end up with a gooey mess.  You can do it with a small batch that is big enough for eyes and noses but to cover a whole cake for a beginning decorator is more than just troublesome.

QUESTION:
When is the best time to add color to the fondant?  I am self-taught but never tried fondant before. I have seen a striped cake which looks like the stripes are added to a white under layer.  Will I need some other type of icing to adhere the cuts?
ANSWER:
The stripes are added by dampening, CAREFULLY, the bottom layer of fondant and then pressing the strip into place. Hold for a moment or two.  To get a good bonding of the pieces.
What you are doing with this technique is to very slightly melt the sugar in the lower layer of fondant, and then when you place the top stripe on, the 2 layers will bond together because of the "melted sugar".
Be careful to not make your moistened area larger than the fondant piece.  If you do the melted sugar area will very likely show up as a shiny, slick looking area that it not easily corrected, if at all.
QUESTION:
I am so glad I found your website!  It has been very helpful, as I am making my little girl's birthday cake this year; and yes, I am using your home-made fondant recipe to make a Miss Spider design on top.  I was wondering though; instead of coloring the fondant during the kneading process, to prepare for putting it on the cake, is it possible to mix the food coloring and apply it with a brush?  I know that a lot of bakers do this with special products and regular fondant so I wanted to see if I could do that.  I appreciate any comments you have, and thank you again!
ANSWER:
I would not use the brush technique.  I heard folks complain that the fondant gets sticky and stays sticky even for as long as a week.  You can purchase food color spray and do the coloring that way.  The spray colors are available at many party shops and of course on the internet.  Be careful with the spray though.  It is slightly oily and has quite often has an overspray that colors everything within 5 feet.  If you can, do it outside when there is no breeze and put something under the area to be sprayed.
I do not know a color brushing technique except for putting gold on a cake.  Many folks do use an Airbrush with food colors to apply color in just certain areas and to get a shading effect.
QUESTION: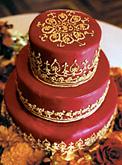 Your tips on decorating with fondant are fabulous!  I have found several of them very usefull in a few months, my husband's parent's are celebrating their 40th anniversary.  I found a picture of this fabulous red cake, but am quite unsure on how to best get the result I want.
Do you recommend tinting the fondant using a paste food coloring, such asWilton's no-taste red or do you suppose it would be better to use some type of air-brush product instead?  I really want the deep, crimson red shown in the picture.  What would you do?
Also, I am not certain about using the metallic gold for piping.  I have read the only way to get it to set right is to use cheap, white alcohol of some type.  I have never done metallic frosting.  After the cake is completed, I do not want it to taste blah. What do you suggest?  Thanks so much!
ANSWER:
Option 1:  To get the very red fondant icing you start with a pink colored icing, that way you have less of a distance to go it terms of coloring.
Option 2:  Use Wilton's No Taste Red
Option 3:  Use Bakers' Preferred™ Gel Paste colors in JARS. I heard that this brand is about the strongest you can get for a Strong Red color.  I haven't used this brand so I don't have personal experience.  I DO prefer the Gel colors though.  I usually use Americolor and I've been very pleased with their results.
NOTE: You might need a TINY bit of black added to your red to get a Ruby Red type of color.
Make your fondant and color it a week in advance.  That way you have time to check your color and it has overnight to "ripen".  If you do not care for the shade you will still have time to correct it.  I personally think the airbrush would be a pain in the neck for this project.
Now for the Gold decorations:
I would first make a batch of Buttercream icing (white) and practice your piping design.  It looks like they used a #2 tip to do the detail work.  Get very familiar and doing the gold work before touching the cake.
I have struggled with the gold painting but alt I think I have finely gotten to the point of as ling satisfied with my results.  I make a gold colored icing and then paint it with the metallic gold paint.  For me it is the easiest way to get the job done.  If you miss a spot with the gold,  it is not nearly as noticeable.
The gold buttercream recipe I use is:  10 Parts Lemon Yellow + 3 Parts Orange + 1 Part Red.
I use a combination of corn syrup and a quality Vodka (and sometimes Everclear) with the Super Gold Luster Dust.  No real recipe because I've had different results on different days but it is possible that the weather/humidity or the user has something to do with it.  LOL
Practice before you try it on the cake. Remember to practice painting on a surface that is in the vertical position like you have on the cake sides. That way you'll know is advance what you are up against. This cake is not hard to do, just time consuming.
QUESTION:
I am making a three-tier heart shaped cake for a valentine's formal event. I am delighted to have run across your MMF recipe (because Wilton fondant has no taste) and was wondering if it is difficult to dye the MMF? I am planning on covering the hearts in red fondant; will it be difficult to color the MMF red?  Will it leave a bitter taste.
ANSWER:
If you are making a bright color, I'd advise you use plastic gloves and cover your counter before kneading.
As to the bitter taste, Wilton makes a No Taste Red that is pretty good.
Make up the colored fondant a week before, double wrap thoroughly, and store in the refrigerator.  After a day or two, check the color, and if it's not intense enough, add more red and knead again.  Check the next day and see if you are happy with the results.
QUESTION:
I am making my daughter's 1st birthday cake in about a month.  I want to decorate the cake with different colors of fondant flowers.  However, I have never used Fondant before, and am not sure exactly how to add the coloring to the icing or how much to add.  I plan to use cool whip for the icing to give it a light and fluffy taste.  I read in another q/a of yours to color the fondant a week before decorating so you can make sure that I have the color I want. How far ahead of time should I roll and shape the flowers?
ANSWER:
I'll take your questions one at a time:
First thing to do….. If you are using bright colors like red or electric blue, cover your work area and have a pair of gloves for your hands.  You do not want to look like a Lobster or Smurf after your project.
Take a portion of the fondant and roll it into a cigar shape.  I dip a couple of toothpicks into the food coloring gel and then smear the gel on the fondant and gently fold over a few times.  Start with a little bit of color, fold, and knead until all of the color is mixed in.  Repeat if necessary until you get the color you want.
I plan to use cool whip for the icing to give it a light and fluffy taste.
I have never tried using fondant with Cool Whip.  If you are going to try to stick the fondant flowers on the Whip, you should try a practice run.
I read in another q/a of yours to color the fondant a week before decorating so you can make sure that I have the color I want.
Regarding making a colored fondant a week early, that was for a very specific color of red.  I suggested the pre-making so that they would have the time to tweak the color shade if needed.  If you are just making random colors that make you feel good, make them any time you want. Remember to seal each color well and separately.
How far ahead of time should I roll and shape the flowers?
That depends.  What type of flowers are you making.  Do you want your flowers to be soft or hard?  Also what size?  Let me know.
QUESTION:
I have been experimenting with fondant for my cakes, how do I make white fondant into a whiter one and have a professional finish?  Thanks very much.
ANSWER:
I think that "white" is a point of personal reference.  One person will like only a bridal white and other like it to be the color of cream.  I do not  think you can do much to change the color of a pre-made fondant.  If you do, you can change the ingredient makeup and make a fondant that will not ever get firm or can turn brittle and crack.
If you are making a fondant, use the best quality ingredients that you can get.  They generally are whiter because of a bleaching step.  If you want to try it, when you make your fondant you could try to use White Food Coloring.  I have never use it so I have a lack of knowledge about what the results would be.
All fondants should have a professional finish on them though without you having to stress it.  If it is a bit shiny, you could use the tiniest amount of cornstarch when you are hand buffing the finish.
QUESTION:
Your site has been very helpful!  I was wondering if you have any suggestions for making black fondant?
ANSWER:
I like to have a few days to make the black fondant:
Day 1 –  I make the white on the first day and I make it on the dry side. Then add the black food coloring jell. I then let it sit overnight.
Day 2 – I add more color and then add powdered sugar if necessary.
Day 3 – I will make the decoration, I do a last color correct.
---
Making fondant flowers:
QUESTION:
I just have a quick question.  I was planning on making fondant roses on a bridal cake but I was wondering how far in advance to make the flowers so that they don't sag or fall on the day I was serving the cake.
ANSWER:
Here is a bit of information that might help you.  The information is courtesy of a lovely lady named Sew Sweet.
Some decorators are adding Fixodent denture adhesive, the powdered kind only, at a ratio of about 1 tsp. of Fixodent powder to about a cup or a hardball sized mound of fondant.  (This sound strange but it is food safe.  After all many folks use this product in their mouth for their dentures).  Many decorators that have tried it are happy with the results.
I find that fondant items need a long drying time.  Plan a least a week for most flowers, and more if you live in humid areas. If the item is going to be eaten, you might want to try a slightly dry marshmallow fondant, (use a teaspoon less water) and see if it holds up for what you have in mind. If it isn't going to be eaten then you can go with the Fixodent hardening method.
QUESTION:
I made my first fondant cake and it turned out great.  I sprinkled a little confection sugar over it to hide any flaws.  My daisy like flowers were dried in mini cupcake tins so they would stand up 3-D.  But the next morning most had laid down flat. What did I do wrong?
Do they have to dry more than a couple hours?  I thinned my buttercream icing with a little water so I could write on the cake and pipe in my flower centers.  Did the water from that make my flowers droop?  The cake will still look good for the party…more of a layered look instead of 3-D, but I am still a little disappointed.  I used the prepackaged Wilton's fondant. This photo is before they fell.
ANSWER:
You already know what went (and I use this word loosely) wrong. – Moisture.
When you make 3D flowers, you need to have them bone dry. That usually takes a week or more. In this case, let them sit at least 1 day in the little muffin pan. The next day you take them out and let them air dry on a baking rack so the back side of the flower can also dry. If the weather is the least bit humid, you could might 1 or 2 more days. When you piped the extra moist buttercream in the center, you sabotaged yourself.
Fondant can be hard to make flowers with. You have to roll it a bit thicker and it has shortening in it which makes getting it dry, harder. You also need to plan well in advance your project so that you have the drying time for your decorations. I like to make the doodads and flowers at least 1 week in advance and then store them in an airtight container until needed.
Now you know the reason that many professional decorators prefer to use gumpaste for their decorations. If is rolled much thinner so you have a faster drying time.  It can have a delicate appearance and if you want to, much easier to color with Petal Dust.
QUESTION:
Could you please help me? I am teaching myself to make fondant flowers – so far they look good. However, I am then painting them with the paste food coloring – this makes the flowers gooey – the ones I painted almost a week ago are still tacky to the touch.  I don't know if they will ever dry.  I am taking them out of town to a birthday.  Is there some other way I should be painting these??
ANSWER:
I need to know something, are you really using fondant or Gumpaste?  The two different mediums are used in twp different ways.
Fondant can make successful flowers if the flowers or leaves are flat.  Like flat Daisies.  Fondant flowers, because it is made with something like Crisco (a grease), can very easily go limp and drip from the atmosphere or if it is touching anything moist on the cake.
If you want a very 3D, realistic flower, you need to use gumpaste because it dries harder and can be easily colored.  This is the best choice for flowers by far!
Think of it this way, both oil and gas are made from petroleum but the each are used for a different thing and in a different way.
QUESTIONS & ANSWERS (Peg's answers in blue):
I'll state the particular problems I'm having.
(1)  First, I was using the paste colors to paint the flowers – that softened the fondant petals, then they wouldn't dry and remain a sticky mess.
That is because when you add liquid to fondant, it will melt the sugar and make a sticky mess.
(2) THEN someone said to use the dry food coloring mixing it with either lemon extract, vodka or lemon juice.
Are you trying to do decorative work on the flowers? Like a flower that has just a purple tip but the rest of the flower is white?  I've never heard of dry food coloring used with the lemon, or vodka.  I personally use Petal Dust with Everclear or occasionally vodka for coloring.
(3)  That seems to work much better EXCEPT for the fact that the dry colors are not as vibrant as the paste.  Do you find this to be true?
I believe this is true, but if a method doesn't work, you need to drop it and move on to another method. That is why Petal Dust is used.  It remains very strong in the color intensity.
(4)  What method would you suggest to 'glue' petals together? I have made a rather big iris (each petal maybe 3 inches to 4 inches).  They need to be assembled to top the cake – how would I go about this, if you know?
Typically you use a tiny drop of simple syrup. This will slightly dissolve the sugars on both sides and when they dry they are "sugar welded" together.
I suggest that you get a book on flower making.  You will be very happy that you did. My favorite book is by Scott Clark Woolley and also his products.
If you want to get veiners and cutters, you should look at his site.  The tools are about the same price as other companies but you will save money by being organized and purchasing as much as you can from the same vendor.  If you start purchasing products in different places from different veiners your money will go out the door very fast because you will end up with items you do not need just to get what you do need for a project.
I cannot tell you how many cutters I purchased from one company, and veiners from another company.  Then they didn't fit together and I had to go to a third vendor.  In other words, wasted money!
QUESTION:
Hi, I made your recipe for marshmallow fondant and it turned out great. Can you tell me if it's possible to make flowers like daisies from the fondant?
ANSWER:
Marcia, that depends. You can make flowers that lay flat (like a cookie) very easily. If you are wanting to make lifelike type flowers, you will need to make them with gumpaste. Gumpaste dries stiff so that it will hold a 3D shape.
---
Using fondant decorations:
QUESTION:
Can you use the MM fondant for shaping figures and objects?  Just curious.
ANSWER:
I wouldn't use fondant for 3D figures, (pigs, cows, clowns). Gum paste is the great to use, fondant mixed together with gumpaste is softer than the gum paste so the shape could start collapsing and will also take days, and up to a week to dry. Marzipan is most often the medium of choice by European pastry chefs. The figures in the White House Gingerbread House are done with Marzipan because it is so easy to use and the results are very predictable.
Fondant works well for cutouts that you can "glue" on to the cake. Things such as leaves, palm trees, flat flowers, silhouettes etc. You might be able to use the fondant for very small 3D things such as tiny apples, pears, ropes, grapes, tiny baby booties, etc.
QUESTION: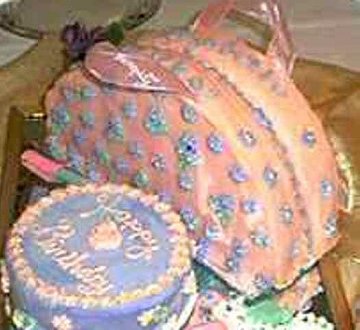 I am making a very simple Purse Cake and a very small round cake for my daughters birthday on Sunday. I plan on making the cake Saturday morning and decorating it Sunday morning. I want to frost the Purse Cake by using the Buttercream icing and put on it fondant flowers and leaves. On the small cake, I think the MM fondant with Butter cream scrolls. Will the flowers stick to the Buttercream icing or do I need to use Royal Icing to adhere them to the cake? I attached a photo of the two cakes that I am going to make for Sunday. Any information would be a blessing.
ANSWER:
I'll take your questions one at a time.
(1)  I am making a very simple Purse Cake and a very small round cake for  my daughters birthday on Sunday. I plan on making the cake Saturday morning and decorating it Sunday  morning.  I  want to  Frost the  Purse cake  by using  the Buttercream icing  and put on it fondant flowers and leaves.
Be careful with the fondant decorations. I would suggest that you make the decorations at least 2 days before you plan to decorate.  The fondant flowers and leaves need to completely dry before attaching them to the cake otherwise they can droop, sag and slide.  If decorations are too heavy, you will need to place a pick in the flowers before they dry so that you can poke the pick into the cake to help hold the weight.
(2)  On the  small cake, I think the MM fondant with Butter cream scrolls. Will the  flowers stick  to the Buttercream icing or do I need to use Royal Icing to adhere them to the cake?
Royal icing will be completely useless in this particular situation. Royal is easily affected by any sort of oil or grease.  I've seen it break into puddles of sugary mess.  If you need to, just a tiny dab of fresh Buttercream will do the trick for you.
Just a thought, if you are going to use little flowers like this very often, get a package of gum paste. You can pre-make the flowers in white, completely dry, and store in a sealed jar.  When you need them, they are ready to go. A quick dip in food coloring and you are all ready to go. I've been know to have jars of the flowers in different sizes on my shelf for a fast use.
QUESTION:
I tried to attach gold dusted fondant round balls around the perimeter of a cake covered in white fondant. I used buttercream (shortening recipe no butter) to attach the balls. Some of the balls stayed on the cake and other didn't. Could you make a suggestion as to what I might use to get the balls to stay attached to the cake.
ANSWER:
I need to define something first. Some folks take their thoroughly dried fondant beads/pearls and put them in a jar with the gold dust and give the jar a shake. Others attach the beads/pearls to the cake and then paint them with a mixture of Lemon Juice Extract and Gold Dust.
I hope I'm assuming correctly that you used the jar and shake method.
Make sure the fondant beads/pears are thoroughly dry other wise you can get a mold situation. Then put the dry beads into the jar and do the Gold Dust shake thing. Don't use an excessive amount of Dust though. Use just enough to get the job done. I usually do 2 or 3 light dustings. If there is too much powder on the bead/pearl you will have to try to brush off the excess.
When you need to attach the beads/pearls run a thick generous rope of buttercream icing (I like to use a #6 tip for a 1/2 inch size bead/pearl) around the bottom of the cake and gently push the bead into the buttercream.Because the buttercream is fresh and not crusted, it will cause an adhesion between the bead and the buttercream and your bead should be stuck. You may see a tiny bit of buttercream but just leave it be. No one else will notice.
QUESTION:
Hello – I'm a budding cake decorator and am preparing to work with fondant, but I have a question about fondant and royal icing. I searched through many questions regarding how to attach decorations to fondant – and as far as I can tell, you should use a little buttercream icing to do this (not royal icing). Is this correct? I noticed some other comments on your website mentioning that they were attaching their daisies/decorations with royal icing. thanks for your help!
ANSWER:
I have a few options when I place decorations on fondant:
If the decoration is gumpaste like a little flower, I'll use a dot of buttercream to apply it.  If the flower is large and heavy, I would also use a toothpick to help hold the weight.
If the decoration is a flat decoration such as a dot, I use a tiny drop of water.
Most of the time, I avoid using the Royal Icing just because I don't usually have a batch sitting around.  I'd have to make it up and then figure out a use so that I would use up the leftovers.  I'm just too lazy for that.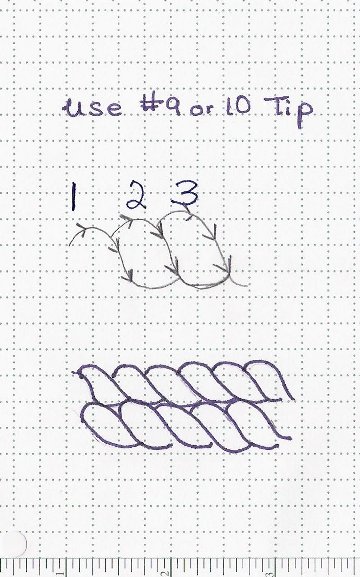 QUESTION:
How do you make a rope border?  I know you use a star tip, but I cannot figure it out! Thank you for your time and your website is wonderful!
ANSWER:
I use a plain tip size 9 or 10.  BUT…….you can use many different tips. Use the same technique and get different, lovely ropes.
Look at the drawing about how to do a rope. You will make a lazy S motion to make the rope.  the size of the cake determines the size of your rope. For most 8 or 9 inch cakes my border is about a inch tall.I hope this helps.
QUESTION:
I have been reading your website, and from it I believe you must be the best person to ask my question.  I want to make the Star Wars character Yoda for my son's birthday cake.  I am planning on using my Wilton stand up teddy bear pan, but instead of making it into a bear, I am going to decorate it like Yoda.  My question is how to make the ears. Yoda has big pointy ears that stick out far from his head.  I thought maybe I should us fondant, but from your website, I gather that is not a good idea.  Do you have any other suggestions?  I would greatly appreciate it.  My son is nuts over Star Wars, and he would be thrilled if I can pull this off.  Thanks for your time.
ANSWER:
I'm not positive about the answer to this one. I have not indulged in cake sculpting so I have a lack of knowledge here.  Just using my brain though, I'd say that using the fondant for the ears is the way to go.  There would, of course, need to be a stick in the ears to poke into the cake to hold them on to the head.
Roland Winbeckler is a genius in this technique. You might want to pick up his book Cake Sculpture and Sculptured Figure Piping.  It costs about $13 and is a wealth of knowledge.
QUESTION:
I am making an edible nativity scene for my mother in law and I was wondering if I could use fondant for the people.
ANSWER:
I wouldn't use fondant for this project. The MM Fondant is quite pliable and will absorb moisture in the atmosphere. I think in a short time your pieces would turn wimpy.  Stick to using a recipe for Gingerbread houses and your Nativity could last for years if you wrap and package it carefully.
QUESTION: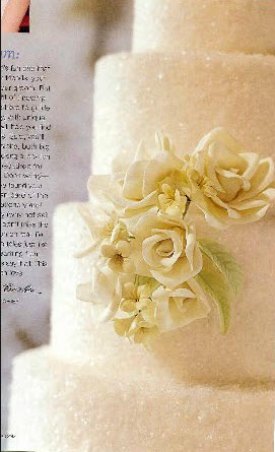 I'm wondering if you could PLEASE help me, as I have grown quite discouraged already with working with fondant. I followed your recipe for MMF, and I guess it came out okay. I can say that it tastes really yummy! However, when attempting to make a loop bow from the instructions at the website, cakecentral, it called for me to roll fondant, cut strips, and then hang the strips over a one inch dowel. It said to use water to "glue" the ends together to form a loop that would dry, and the next day be adhered using royal icing. However, when I cut the strips and hung them over the dowel they stretched and fell apart. Needless to say, trying to glue them together didn't go any better. Every time I touched one that wasn't already ruined, it would also fall apart and really didn't seem to "glue" together at all.
Do you have any suggestions?  Did I roll the loops too thin? I don't have a past machine to help me with the thickness of it. Is my MMF crummy? Please advise and know how much I appreciate in advance your beneficial advice!
ANSWER:
I think for making the loop bows you might need to use the Wilton Fondant instead of the marshmallow fondant. The MMF is very stretchy and stays fairly moist.  If the atmosphere is moist, the even doubles the stretching and drying problem.
If you want to try the MMF again, roll the fondant thicker and try drying the loops on their side instead of hanging. That way gravity isn't working against you so much.
QUESTION:
Which is better to use – fondant or marzipan? I am making an autumn harvest basket cake for a fall festival, I would like to make edible leaves and various fruit and veggie shapes. What would you suggest?  I live in a small town, so marzipan is not readily available in my area. I have tried to make marzipan, it was sticky and some people liked the almond flavor, while others did not.  I've used ready-made fondant, but only in small rolled portions. I have found I can order marzipan online, unless you have a great recipe I may use.  And then there is gum paste. The cake is to be auctioned, so I want it to taste as delicious as it will look. I'm just not confident as to which medium would be the best for this cake. Your guidance will be most helpful.
ANSWER:
I'll take your questions one at a time:
(1)  Which is better to use – fondant or marzipan.
I would use Chocolate for the leaves and Marzipan for the molded fruits and veggies.  Use different size cutters and 2 or 3 different types of chocolate for various sized leaves.  Mold the veggies from the Marzipan with your fingers or use molds that you can purchase.
(2)  I live in a small town, so marzipan is not readily available in my area.  I have tried to make marzipan, it was sticky and some people liked the almond flavor, while others did not.
Marzipan is a great medium for molding but, as with all things, some folks like it and some folks don't.  ince you want to auction this cake for the highest price possible,I'd go ahead and make it as beautiful as possible.  For the cake to be beautiful, you must be comfortable working with the products.
(3)  I've used ready-made fondant, but only in small rolled portions.  I have found I can order marzipan online, unless you have a great recipe I may use.
Here is a recipe that I have used:
Marzipan
I believe that this recipe came from a 2001 Country Women Magazine.
1 Cup almond paste
2 tablespoons white Karo syrup
1/2 cup marshmallow cream
2 cups (more or less) powdered sugar
Combine the first three ingredients and begin working in the powdered sugar. As it becomes to thick to stir begin kneading in the rest of the sugar until you have a workable dough.
I find this dough to be a little strong on almond flavor. Mixing it with fondant made the dough whiter and also the flavor was much more to my liking.

You can mold this dough using the silicone molds or candy molds. Just chill the item before trying to remove it from the mold.i.e. houses and nuts.

Free hand modeling can be done by simply adding more powdered sugar to the dough until it is firm but not dry.

Any cutter you have on hand can be used for cutting out leaves, stars, lettering and etc.
(4)  The cake is to be auctioned, so I want it to taste as delicious as it will look.  I'm just not confident as to which medium would be the best for this cake.  Your guidance will be most helpful.
Gumpaste is a beautiful product to work with and the results can be stunning but you cannot eat gumpaste. I'd avoid it for this project.
---
Attaching fondant decorations:
QUESTION:
First of all, I love your web pages. I have decorated cakes since I was a teenager, but have never attempted a fondant.
My daughter's 3rd birthday (well, first with us since we adopted her at 2) is coming up soon, and I want to do a fondant cake for her. Your recipe for MMF is very clear, but I do have one question. I'm going to cover the cake in the fondant, then decorate with fondant cowboy boots and hats cut from colored fondant.How do I affix them to the sides of the covered cake? Do I use dabs of buttercream, or would it be better to use royal icing? I have no clue, and haven't been able to find an answer. My apologies if this has been asked and I missed it.Thank you in advance for your help. You're a lifesaver.
ANSWER:
To attach the cutout fondant cowboy boot and hats, just put a small drop or two of water on the cutout and gently rub it around the shape. Press the shape on to the cake sides and try not to move it around to much. Hold it for a moment so the every thing "welds" together. That's how easy it is. What this technique does, is to dissolve the sugar in both the cake covering and the cowboy decorations and causing them to bond.
---
Repairing a tear in fondant:
QUESTION:
The Wilton fondant I used tore in one spot and I was unable to repair that- how would I repair a tear in the MM fondant?
ANSWER:
You'll like this answer. In all the times I've made the MMF I've never had a tear. Be safe though and be careful of long fingernails.  You can of course, punch holes in the fondant and mark it.  I usually roll MMF somewhere between 3 to 5 millimeters (a little thicker than an 1/8 inch) but I have seen folks use it thin enough to read through.
QUESTION:
For the Wilton one, I was decorating the top with fresh roses and gardenias so I just stuck a couple into the tear to disguise it and act as an accent to the cake- it actually came out looking very pretty, but obviously, I'd rather have a smooth base all over. It seems that handling the MM fondant might be easier than the Wilton one which was quite stiff.
ANSWER:
MMF is has a very good stretch to it.  I think you will be pleased.
Covering a chocolate cake with fondant icing:
QUESTION:
I'm making a Chocolate cake for my step mom and I want to use fondant. The cake is a dense chocolate cake (so delish; came from Germany in about 1920 with my spouse's grandmother). The cake is quite heavy but not as heavy as fruit cake – will this fondant work with it?
ANSWER:
Sorry I cannot answer that question with an absolute. I don't know how the food chemistries will work out.  That is because I personally have not used the recipe or had the results reported to me about your recipe. That is why either doing tried and true recipes (in total, cake and icings) are the way to go. You need to do a trial cake.
The cake you describe is firm enough, so I don't not think that will be a problem. The problem that I do foresee is that the chocolate cake might show through to the fondant. That would cause the fondant to get a murky, muddy look to it.
Make sure that you put under the fondant a thick -inch layer of the buttercream icing that I recommend.  That is one of the best ways to prevent the bleed through.
https://whatscookingamerica.net/PegW/ButtercreamIcing.htm
---
Cutting a fondant covered cake:
QUESTION:
I tried the recipe and I loved it. I'm making my cake for my Quincenera and my frosting experience has never been good. I wasn't too sure about how it would come out or taste, but I liked it, and my friends from school liked it. My question is, how would you cut through the fondant? Is it hard, do I have to dip it in anything weird, or use an unusual knife. thanks for the help.
ANSWER:
Congratulations on your Special Birthday. Among all the things you have to plan, you are going to make a cake also?  Fantastic!  Your family should be very proud of you.
I like to cut my fondant covered cakes with a serrated knife. The fondant won't be hard but the outside should have a dry feel to it that is called crusting.  The surface crusting helps with keeping the cake moister inside.
One thing I like to do so to have a stack of cheap napkins close to where I do the cutting of the cake.  If the fondant and the buttercream clump up on the knife, you wipe the excess away so that all of your slices are even and pretty. Then just throw the napkin away and save effort on the cleanup.
---
How Long Does Fondant Last?
QUESTION:
I am making my friend's wedding cake! My first and I am using fondant. How early can I put the fondant on the cakes? It is a 4-tiered cake. The wedding is on a Saturday and I was hoping to put the fondant on the cakes as early as Wednesday. Would that work?  I should mention that I can't do it the day of the wedding..since I am also in it!
ANSWER:
Cakes go Stale and Bad. That is why you need to make the cake no more than two (2) days before the wedding.  Sorry,  that is Mother Nature and I cannot help that.
If you make the cakes on a Tuesday, cover with fondant on Wednesday (they should settle overnight for the best results) and serve on Saturday – you have a 5-day old cake that is being served. To me that is a stale cake. The choice is of course, yours.
QUESTION:
I'm going to bake the birthday cake and decorate it with the fondant on Thursday, to serve on Friday evening. And I will be baking the bridal shower cake on Friday to be decorated on Saturday morning and served Saturday afternoon. Does the MM fondant take a long time to set?
ANSWER:
Simply for my convenience, I make the MMF days before I need it but you can make it and use it immediately if you wish. It stays soft and pliable on the cake and of course it helps hold the moisture in the cake.
---
Fondant Settling, Stiffening and/or Sticking to Itself:
QUESTION: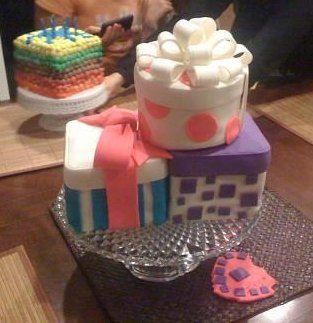 Does the MM fondant from your site stiffen like regular fondant when left out?
The photo is of the last fondant cake I made back in January. If you look closely, the cake settled overnight. I would love any advice you can give so that does not happen again.
ANSWER:
It will stiffen to a degree but nearly as much as the pre-made fondant. To help prevent problems I just add about a tablespoon more of Crisco. I also moisten the cake layers with a flavor wash.
Fondants will try to absorb moisture if they can. If the cake is dense, but very moist, the fondant can absorb some moisture from the buttercream which will absorb moisture from the cake. I almost always use about 1/4 to 1/3 cup (depending on the size of the cake diameter) of simple syrup on my cakes because I do make dense cakes and they have a tendency to be perceived to be dryer than the soft delicate sponge cakes.
As to the settling problem. Make sure the cake is of a dense variety and you can also avoid the problem by baking, cooling, washing, and crumb coating one day then letting the cake sit overnight so that the settling problems works itself out. The next day do the buttercream, fondant covering, and decorating – No settling that way. Also make sure that the fondant is placed on fresh buttercream, no crusting over. That way the two surfaces can "bind together". The sugar molecules actually do blend together and create one surface. Not two surfaces touching one another.
QUESTION:
I have a problem with fondant sticking to itself. What do your do? Is there a fondant adhesive?
ANSWER:
I find that a drop of water and holding the spot for a few moments, does the trick. Some folks make a simple syrup and paint the pieces with a brush. To me, simple is better.
QUESTION:
Hi, I was reading on the MM Fondant and thought it sounded doable. I have never decorated a cake before but am willing to try.  I will be having my baby shower in December and wanted to do the cake myself. I want to make a few cakes on top of each other that look like gift boxes. My first concern is can the Marshmallow fondant work with these cakes? My second concern is, I want to make a red velvet cake, what should I use to help the fondant stick to the cake?
ANSWER:
Congratulations on your new baby to be.
You certainly can try to make a stacked cake as your first cake but it will be quite  involved.  I advise that you go to theWilton site and read about making and how to stack a wedding cake.  The techniques for building the Baby Gift Boxes cake will be the same.
The link will help you find info about baking, leveling, torting, filling, covering with fondant and how to stack the cakes.
If this seems like a bit to much to start with would you consider a decorating a sheet cake or two instead?  I did not make the cakes in the attached pictures but they might give you an idea of what I'm talking about. Here is another link for ideas.
QUESTION:
Thank you so much for replying so quickly.  I have decided to skip that idea and go with a cake I'd seen on the Wilton website, The baby go round cake.  I decided to buy three individual cakes with filling minus the fancy decorations and decorate it myself.  I intend to use your butter cream icing recipe for the teddy bear and any other decorating I will have to do. Can suggest to me which of your butter cream icings would be best. Is making the icing as easy as you make it sound?
ANSWER:
For this project use the Buttercream Icing (my favorite):  https://whatscookingamerica.net/PegW/ButtercreamIcing.htm
Yes, it is easy to make but if you are using a hand mixer, please be careful.  Make small batches and if your mixer starts to get warm, stop and let the motor cool down.
Stars are not difficult at all, the Wilton site even has a little video to help you with the technique.  Just make sure that you place them close together (touching) for the best effect.  You don't want to see the white icing in between the stars.
QUESTION:
I just found this site last week and oh am I happy. I have been working with fondant but I couldn't stand the taste, I thought it was me. I am to make a baby shower cake and was thinking of doing a jelly roll with your mmf on it, placing a cupcake on the end to look like a baby bottle. Will the MM Fondant stay on a rolled cake? If not any suggestions? Thanks.
ANSWER:
It sure will. No problem at all.  Just cover the cake with a buttercream icing and then put the MMF on.
---
Misc. Questions and Answers:
QUESTION:
Your site is fantastic!!! I was so amazed at all the good advice and help you give everyone. Thank you so much.
I have 4 questions, as I'm attempting my first fondant cake:
1) How do you get the fondant an even 1/8″ thickness?
2) Do you know how to put an edible photograph on the fondant?
3) Where did you get your dowel looking rolling pin?
4) Do you have instructions to make the beautiful white flower cake pictured in Fondant 101? Is the top flower made of your MM fondant?
ANSWER:
You are very welcome.  My family laughs and says that baking helps keep me out of trouble. I'll answer your questions one at a time.
(1) How do you get the fondant an even 1/8″ thickness?
Yes, you should have an even surface.  If it's not, you will have to work a lot harder to get that beautiful smooth finish on the cake.
(2) Do you know how to put an edible photograph on the fondant?
Sugar Craft offers a service over the internet.  You send in a good quality picture and they will send you the edible picture with instructions.  You can also check with your local bakery.  They might be able to help you.  Please plan on 3 weeks for the whole process though.  Some places are faster than others but don't push it and wait until the last moment.
(3) Where did you get your dowel looking rolling pin?
Ok you'll laugh at this.  I was watching Julia Childs on TV years ago and she was talking about her rolling pin being a problem.  Her sweet husband went outside to his workshop and a little while later, he came back in with a 1 inch stick.  He cut the handle off of a broom, sanded it, oiled it with Salad Bowl Finish and presented it to his dear wife. She still had it years later and it was her favorite rolling pin.  My Husband got off the couch and went outside.  A little while later he came back in with the rolling pin I have today.  It is certainly my favorite.
(4) Do you have instructions to make the beautiful white flower cake pictured in Fondant 101? Is the top flower made of your MM fondant?
Not as of yet.  I will write up the instructions in the near future.  The flower on the top is a large white Mum.  If you want to make a colored cake, a bright colored Zinnia or Aster looks wonderful.
QUESTION:
Can your marshmallow fondant be used to make chocolate covered cherries, or will it fail to 'melt'.
ANSWER:
Ruth, you have got me on this question. I'm not a person who likes chocolate andcherries so I have complete lack of knowledge on this topic
QUESTION:
I've been looking at your website and I'm hoping you can help me. I'm making a gingerbread house and need a smooth outer wall covering that royal icing can't provide. How would I attach fondant to gingerbread? How long does fondant last if sitting out (this is not for eating, just for decorating) and needs to look good for several months? Would the grease in the fondant break down the royal icing?
ANSWER:
Well, I admit to you that I don't know the answers to all of your questions. I never had the inclination to make Gingerbread houses. A neighbor lady made them for me and I would bake cookies for her. With that said, I do have ten books about making GGB houses and cities. The books are about the winners in the Grove Park Inn competitions.
I can't see even one house that is fondant covered.  I think it is because the fondant won't "act" correctly for an extended length of time.  Usually if the top level experts don't do something, then there is a good reason for it.
Nicolas Lodge has a book out that tells about using royal icing on a cake.  The sides are perfectly flat and level so it is the technique that gives you the fine finish even more than the icing itself.
I do think that the royal icing would break down from the Crisco in the fondant after an extended length of time. Sorry that I couldn't help you more with this. Best of luck with your project.
---
Using petal dust:
QUESTION:
A quick question on using petal dust. I read the following information:
Petal, Pearl, Luster, and Sparkle dusts contain ingredients that are NON-TOXIC. These dusts are not a food additive and should not be considered as such. They should only be used on decorations that will not be eaten. The dusts are ideal for use on gum paste and rolled fondant flowers, plaques, etc. that will not be eaten.
However onthe Wilton website, it says:
Just brush your fondant-covered cake top or fondant Cut-Outs with water and sprinkle lightly over the dampened area.
This leads me to believe it is safe to eat. I am making a fondant covered football helmet cake and wanted to make it look like a metallic paint. Is it safe to use the dusts to cover the entire cake and eat it too??? Thank you for your wonderful website!!
ANSWER:
I personally would not attempt to use the metallic petal dusts on anything that you plan on eating. It probably won't hurt you but the question is why do it. The exception would be the pearl dusts. I understand that the pearl look is obtained from fish scales.
The product that is offered by Wilton looks like big flakes of glitter. The petal dusts and the Wilton products are two very different product lines and not interchangeable.
---
Check out some of Peggy Weaver's many Cake Decorating Articles, Tutorials, and Q&A pages below.
Peggy's Baking Corner Home Page

Peggy Weaver, author of Peggy's Baking Corner, has generously answered all the above question on cake baking during the last 15 years.  Peggy will not be able to continue with the Question and Answer pages in the future.  She thanks you for all your interesting questions.
Comments and Reviews