Questions and Answers – Snow Pea, Chinese Pea Pod, Sugar Peas
Question:
How should snow peas be cooked?  Thanks.
Answer:
The Oriental edible pod pea or Chinese Pod Pea is also known as Snow Pea and Sugar Pea.  These are all flat-podded peas which are hand picked and are available fresh or as a frozen vegetable and used in Oriental dishes.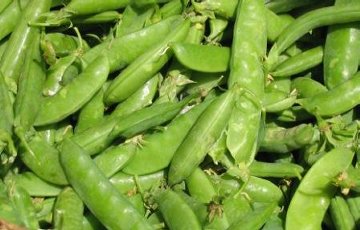 Preparation – Slice through the stem end of each pod but do not sever the string on the side of the pod.  Pull the stem end and string down the pod and repeat the procedure on the other side.  You may leave the strings intact, if desired.  Steam in a small amount of water or stir-fry in a little oil.
Whichever method is preferred, keep cooking to a time short – 1 to 2 minutes is sufficient for heating through.
Serve along or in combination with fresh mushrooms or water chestnuts, or in stir-fry recipes.
Snow peas can be served raw in salads, but blanching them in boiling water for one minute brings out their vivid green color and heightens their crispness.
Microwave Instructions – Cut off ends.  Place pods in a 9-inch pie plate with two tablespoons water.  Cover with plastic wrap.  Cook 1/4 pound for 2 to 4 minutes on high.
Comments and Reviews