This Arugula Salad recipe is considered a classic Italian salad.  What could be easier than tossing your fresh arugula greens in some wonderful olive oil and Fleur de Sel.  This arugula salad recipe is so simple to make and so delicious, and is also a vivid reminder of just how good a simple salad can be. Your dinner guest will be amazed at how wonderful this tastes!
Please check out more of What's Cooking America's delicious Salad and Salad Dressing Recipes.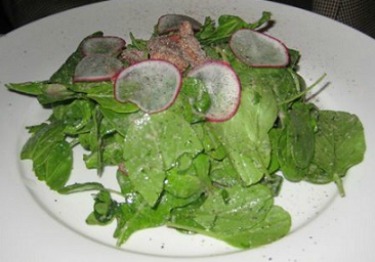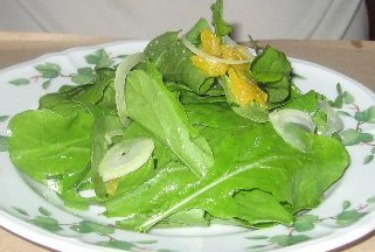 Photos show a couple of different ways I have garnished this fantastic arugula salad.
Arugula Salad Recipe:
Keyword:
Arugula Salad Recipe
Ingredients
Arugula

leaves, washed and trimmed (1 cup, loosely packed, per person)*

Olive oil,

extra-virgin

Coarse salt, (Fleur de Sel or sea salt preferred)**
Black pepper,

freshly ground

Asiago cheese

or Parmesan Cheese, grated coarsely or sliced with a potato peeler
Instructions
The arugula can be washed and trimmed a week ahead of time. I put the cleaned leaves on paper towels, roll up and carefully but completely, wet the towels with cold water and place in a plastic bag and refrigerate until ready to serve. They keep very fresh this way.

In a large bowl, add prepared arugula leaves and drizzle with olive oil to just lightly coat only.

On individual salad plates, place the tossed arugula; season with salt and pepper. Top with Asiago or Parmesan cheese.

DO NOT OVERDRESS YOUR SALADS - Too much salad dressing will weight down the salad ingredients and mask their flavors. The dressing's role is to highlight not to overpower the salad ingredients. A general rule is 1/4 cup of dressing for 6 cups of greens. As soon as your salad is mixed, taste a leaf to see if there is sufficient dressing. If not, drizzle some more over the salad, a tablespoon at a time; toss and taste again.
Recipe Notes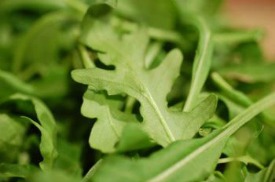 * Arugula is also know and Salad Rocket.  The leaves are tender and bite sized with a bit of tangy or peppery flavor, and are a rich, dark green color. When purchasing arugula, the leaves should be darkish green, dry and firm, and not yellowing or wilted.
** Fleur de Sel, Flower of Salt, Flor De Sal - This salt is skimmed from the top of salt ponds early in the process of evaporation.  This sakt is considered a great condiment salt; also good on grilled meats, in salads and on vegetables. The flavor, like wines, varies depending on the region it is harvested from. Typically it is from France though some is produced in Portugal.
More Delicious Salad Recipes:
Comments and Reviews