A salad you can grill!  Enjoy Grilled Caesar Salad.  Grilling adds a wonderful smoky flavor variation when the Romaine lettuce is grilled.  A fun way to make a favorite salad even better.
I have seen many recipes for grilled Caesar Salad lately, and I was wondering what was all the fuss?  Why would someone want to eat grilled wilted lettuce?  I decided to try grilled lettuce for myself and I was amazed at the wonderful flavor that charring and adding a touch of smoke will add to this salad.  It is a whole new flavor experience!
I first drizzled the romaine with olive oil and sprinkled salt and pepper before grilling.  The romaine was so tasty that I could have eaten it all by itself without adding any extra toppings or dressing.  When I finally did add the rest of the ingredients, we had one sensational salad with our dinner!  Try it out for yourself.
I have used my delicious low-fat version of Caesar Salad Dressing in this fantastic Smoky Grilled Caesar Salad.  I promise you that your guests will never know the difference!  I make this low-fat version all of time.  No one seem to know that I have reduced the fat and calories.
Also check out these wonderful Caesar Salad Recipes:  Classic Caesar Salad, Low Fat and Low Calorie Caesar Salad, and Kale Caesar Salad.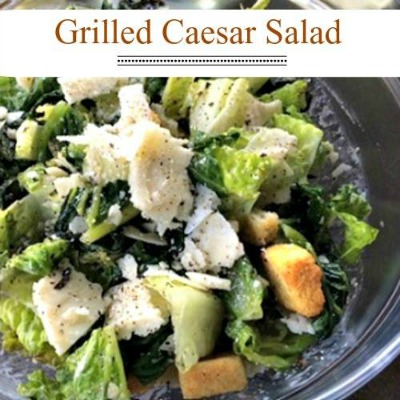 For more great Low Fat Recipes, Low Calorie Recipes, Low Carbohydrate recipes, and Diabetic Recipes, check out my Diet Recipe Index.  Also check out my Nutritional Chart for fat grams, fiber grams, and calories for all your favorite foods.
Check out Linda's wonderful Salad and Salad Dressing Recipes.
Smoky Grilled Caesar Salad Recipe:
Keyword:
Smoky Grilled Caesar Salad Recipe
Servings
:
2
to 4 servings (depending on size of each serving)
Ingredients
1 to 2

cloves

garlic

with inner green germ removed, finely chopped or minced

1

anchovy

filet, mashed*

Pinch of

coarse salt
Juice

of 1 lemon**

3

drops

Worcestershire sauce 

1/2

cup

mayonnaise

(low-fat or light)

2 to 3

tablespoons

water

(to achieve desired thickness)

2 to 3

heads

Romaine lettuce,

hearts and tender leaves only

3

tablespoons

olive oil,

extra-virgin

Salt

and freshly-ground black pepper

1/2 to 3/4

cup

croutons

2

tablespoons (1/4 cup)

Parmesan Cheese

(Parmigiano Reggiano), freshly grated and divided
Instructions
Prepare the Caesar Salad Dressing:
In a bowl, whisk together the garlic, anchovy, and salt until blended. Whisk in the lemon juice, Worcestershire sauce, mayonnaise, and water. When the dressing is well combined and to the desired thickness you wish, whisk in 2 tablespoons freshly-grated Parmesan cheese.

Store in the refrigerator and let come to room temperature before serving.
Grilling the Romaine Lettuce:
Preheat grill or smoker to medium heat.

Wash, drain, pat dry, and discard the coarse outer Romaine leaves.

Gently toss the heads of Romaine lettuce in the olive oil and sprinkle with salt and pepper.

Place the prepared Romaine lettuce on the heated grill and grill for 2 minutes on each side until slightly wilted and grill marks appear. Ends of lettuce will be a little crispy.


Variation Idea:  Romaine hearts can then be served whole for presentation with dressing, Parmesan cheese, and croutons sprinkled on top.  Leave bottom stem-knob on the Romaine lettuce if cutting into halves or quarters.  Another optional way to grill Romaine, is to cut lettuce heads in half lengthwise, and brush cut sides with olive oil and sprinkle with salt and pepper.
How to assemble Caesar Salad:
When ready to use, place grilled Romaine leaves onto cutting board and chop into bite-size pieces.

In a large wooden salad bowl, add 1/3 of the prepared Caesar Salad Dressing and toss with the croutons until well coated. Add the Romaine lettuce pieces and toss until coated. Taste and add more dressing as needed a little at a time. Sprinkle the top with the freshly-grated Parmesan Cheese.

Do not OVERDRESS your salad - Too much salad dressing will weight down the salad ingredients and mask their flavors. The dressing's role is to highlight not to overpower the salad ingredients. A general rule is 1/4 cup of dressing for 6 cups of greens. As soon as your salad is mixed, taste a leaf to see if there is sufficient dressing. If not, drizzle some more over the salad, a tablespoon at a time; toss and taste again.
How to serve Grilled Caesar Salad:
Serve salad warm and garnish with shaved Parmesan cheese and coarsely-ground black pepper.

Makes 2 to 4 servings (depending on serving sizes).
Recipe Notes
* Use only good-quality Spanish or Portuguese anchovies in your dressing.  Anchovy paste may be substituted (approximately two inches squeezed from the tube will provide the equivalent taste of one anchovy fillet).
** Fresh lemon juice is essential.  Some chefs squeeze the lemon through a cheesecloth to ensure that only the juice ends up in the salad.  If you are careful to keep the lemon seeds out of the salad, a simple squeeze will do.  Sometimes I add more lemon juice.  Taste to adjust.
Comments and Reviews