Homemade Mayonnaise Recipe – Blender or Food Processor Instructions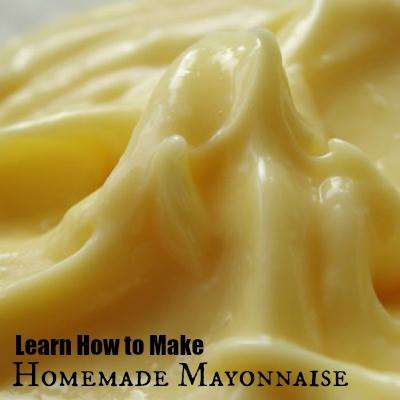 Fresh, homemade mayonnaise is so much better tasting than the store-bought commercial mayonnaise.  It is easy-to-make, inexpensive, and so good!  You will definitely impress your family and friends with the wonderful taste of mayonnaise.  It has a silkiness and elegance that can not be beaten.
Mayonnaise is one of the many foods that is referred to as an emulsion.  An emulsion is a combination of two, unlike components.  According to Julia Child, mayonnaise is also something every cook must confidently and rapidly whip up on command with nary a qualm because it is one of the elemental cookery procedures.
Once you make your own homemade mayonnaise, you will understand the taste difference.  Give it a try!
The Science of Mayonnaise:  Before attempting to make homemade mayonnaise, it is important to understand just how mayonnaise works.  Mayonnaise is an emulsion of oil in lemon juice that has been stabilized by the molecule lecithin found in the egg yolks.
The key to making mayonnaise is to avoid having the components of the emulsion separate back into their individual components.  This is called "turned" or "broken" mayonnaise.  No matter how long you mix the oil and lemon juice together, it will always separate into a gooey mess unless the egg yolk is added as a stabilizer.
Why Make Your Own Mayonnaise:  There are two (2) main reasons for making your own mayonnaise – freshness, and flavor.  Homemade mayonnaise is fast and easy to make in a blender or food processor.  It takes less than 5 minutes to make.
 Watch our fun video demonstrating how easy it is to make mayonnaise in the blender!
Homemade Mayonnaise Recipe:
Keyword:
Homemade Mayonnaise Recipe, How To Make Mayonnaise
Servings
:
2
to 2 1/4 cups
Ingredients
2

egg

yolks, room temperature*

1

whole

egg,

room temperature*

1

tablespoon

lemon juice

(plus more if needed), fresh-squeezed**

1

teaspoon

Dijon-style mustard

1/2

teaspoon

salt

Big pinch

white pepper,

freshly ground

Up to 2

cups

vegetable oil or pure olive oil (all one or a mixture)***
Instructions
Put the egg yolks, whole egg, lemon juice, mustard, salt, and white pepper in the work bowl of the food processor or blender; process for 10 seconds or more, until creamy.

With the food processor or blender running continuously, pour in the oil very slowly in small amounts at first to start the emulsion process. Add 10 to 15% of the oil at this time. The first addition should be small and gradual. Wait about 30 second between additions.

When the sauce has definitely thickened, you may add the oil in a thin stream. Do not stop the machine at this point, but cease pouring every few seconds to be sure the oil is being absorbed. Add about 50% of the oil at this time.

Then continue until the remaining 1 1/2 cups of oil are incorporated. You may not need to use all the remaining oil at this time.

Stop the machine and check the mayonnaise for taste and consistency. Adjust the seasonings and, if the mayonnaise is very thick, process in additional drops of lemon juice or warm water to thin. The mayonnaise may be used at this point, or you can process in some of the remaining oil for a thicker sauce.

Transfer the finished mayonnaise to a bowl or jar and store in the refrigerator. If not using right away, cover with plastic wrap and refrigerate. The sauce will keep for a good week. The fresher the eggs used, the longer the mayonnaise will keep.

Makes approximately 2 to 2 1/4 cups.
Recipe Notes
* Since raw eggs are being use, only use the freshest eggs you can buy (the fresher, the better).  As an egg ages, lecithin, a protein that acts as the central emulsifying agent, breaks down and the power of the egg yolk to stabilize the mayonnaise weakens.  
* Important note on raw eggs: Elderly, pregnant women, people with weakened immune systems and infants should avoid raw eggs. To avoid the risk of salmonella infection, you can use pasteurized egg yolk instead.
** Some people like to use vinegar in place of the lemon juice.  I personally like the flavor of the freshly-squeezed lemon juice.
*** For a basic mayonnaise, use an oil with a mild flavor oil that will not overpower the other ingredients.  If you plan to refrigerate your mayonnaise, then choose a refined oil such as pure olive oil or sunflower oil.  An unrefined oil, such as extra virgin olive oil, will solidify when chilled and cause separation later as it returns to room temperature.
Precautions for Preparing Mayonnaise:

IMPORTANT:  All the ingredients must be at room temperature.  If necessary, eggs may be immersed in warm water for 10 minutes to bring them up to temperature before breaking them into the blender jar.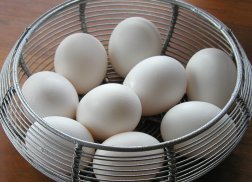 Since raw eggs are being use, only use the freshest eggs you can buy (the fresher, the better).  As an egg ages, lecithin, a protein that acts as the central emulsifying agent, breaks down and the power of the egg yolk to stabilize the mayonnaise weakens.  You may also use pasteurized eggs.
Eggs keep the fat (oil) and the liquid (vinegar or lemon juice) of the mayonnaise evenly blended together.  If egg yolks were not used to emulsify the mayonnaise, the heavier liquid would sink and the lighter fat would float just as they do in vinegar and oil dressing.
Never use aluminum bowls or saucepans to prepare mayonnaise, as they will turn the mayonnaise gray. S tainless steel, enameled, plastic (food processor) or glass may be used.
Add the oil very slowly, especially at the beginning.
Since homemade mayonnaise has fresh eggs in it, the mayonnaise should not be left at room temperature for more than a couple hours, as food poisoning is always a concern.
Repairing "Turned" or "Broken" Mayonnaise:
Mayonnaise frequently breaks when stored overnight in the refrigerator and should be reconstituted before being used.  If mayonnaise breaks at any point, it can be brought back together by beating the broken mixture bit by bit into a fresh egg yolk.  As soon as this new mixture begins to thicken, the broken mayonnaise can be added more quickly.
Mayonnaise Variations:

Aioli Fusion Mayonnaise Sauce:  Excellent served with poached fish and crab cakes.
Champagne Mayonnasie:  You can use a regular, white distilled vinegar, or you can amp up your mayonnaise with a flavored vinegar, such as a champagne or pinot noir vinegar.
Chantilly Mayonnaise:  Prepare mayonnaise, then fold in 1/2 cup heavy cream, beaten to soft peaks.
Chipotle Mayonnaise:  To the finished mayonnaise, stir in half of a roughly chopped chiipotle pepper in adobe sauce.  Also add 1 teaspoon of the adobo sauce. Taste and add more to your taste.
Citrus Mayonnaise:  Substitute Meyer lemon juice, lime juice, or blood-orange juice for the lemon juice; the blood-orange juice will tint the mayonnaise a delicate pink.  If you use blood-orange juice, you could add 1/2 teaspoon of sugar at the beginning of the recipe.
Curry Mayonnaise:  Prepare mayonnaise, then blend in 1 to 2 teaspoons curry powder.
Fruit Mayonnaise:  Prepare mayonnaise, then beat in 3 tablespoons each orange juice and superfine sugar, 1 teaspoon finely grated orange rind, and a pinch nutmeg.  For added zip, mix in 1 tablespoon Grand Marnier or other fruit liqueur.  Serve with fruit salads.
Garlic Mayonnaise (Aïoli):  Prepare mayonnaise.  Add 2 teaspoons minced garlic (roasted for an additional flavor boost) with the first group of ingredients.
Herb Mayonnaise:  Add 1/4 cup of roughly chopped herbs midway through the processing (after the mayonnaise has begun to thicken but before you have added all the oil).
Mustard Mayonnaise:  Prepare mayonnaise, then mix in 4 teaspoons Dijon mustard.
Remoulade Dressing:  Prepare mayonnaise as directed, then mix in 1 tablespoon each minced capers and gherkins, 2 teaspoons each anchovy paste and Dijon mustard, and 1 teaspoon each minced parsley and fresh chervil.  Serve with seafood or use to dress cold vegetable salads or sliced tomatoes.
Sauce Nicoise:  Prepare mayonnaise as directed and set aside.  Mix 2 tablespoons tomato puree with 2 minced pimientos and 1/2 crushed garlic clove; press through a fine sieve and blend into mayonnaise.
Russian Mayonnaise:  Prepare mayonnaise, then mix in 1/4 cup black or red caviar, 1/2 cup sour cream, and 1 tablespoon minced fresh dill.
Tarragon Mayonnaise:  Excellent served with poached fish and crab cakes.
Thousand Island Dressing:  Prepare mayonnaise. Into 1/2 cup of mayonnaise, stir in 1 tablespoon of tomato paste or 2 tablespoons of ketchup, and 1 tablespoon each of finely chopped gherkins, minced scallion whites and chopped green olives.  Season with mustard, lemon juice and black pepper.
Wasabi or Horseradish Mayonnaise:  To the finished mayonnaise, add 1/2 teaspoon wasabi powder or 2 teaspoons prepared horseradish (adding more to taste).
Sources:
Julia and Jacques Cooking at Home, by Julia child and Jacques Pepin, Alfred A. Knopf, New York, 1999.
Food Science, Course FS 532 Lab Manual, University of Wisconsin, Dept. of Food Science, Updated January 16, 2003.
Sauces: Classical and Contemporary Sauce Making, by James Peters, Van Nostrand Reinhold, 1991.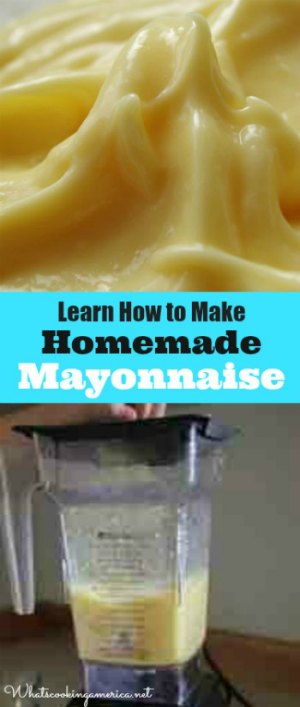 Comments and Reviews