West Coast Clam Chowder
For our family, Grandma's clam chowder is traditional to serve on Christmas Eve every year.  My grandchildren insist that it be served.  One year I decided to change up the tradition by serving ham instead, and I had my own children and grandchildren protesting.  I learned my lesson after that!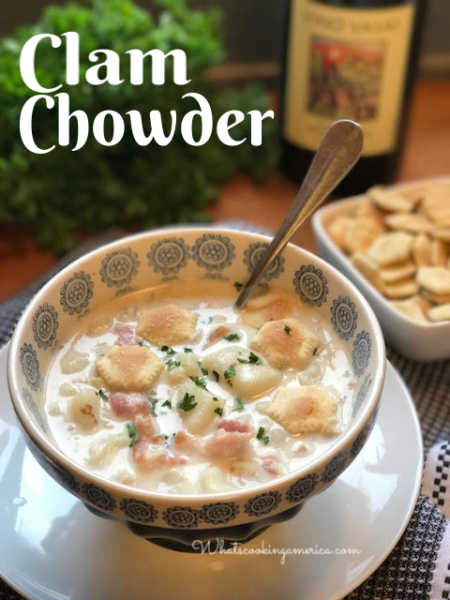 This Pacific Northwest clam chowder recipe has been passed down through the generations in my family.  My Grandma Myers taught me to make this clam chowder recipe when I was a young girl.   Part of the secret to the wonderful flavor is adding bacon to the chowder.  After the bacon grease is drained from the pot, there is just a little of the bacon grease still lingering when the onions are sauteed.  This adds an extra special flavoring in my humble opinion.
A true Clam Chowder recipe is a matter of debate between New Englanders and those further down the coast.  New Englanders say that milk must be used, while New Yorkers and Philadelphians maintain just as stoutly that a chowder is not a chowder unless the stock is made from fish and contains tomatoes.  In other parts of the country, the subject is academic, and both are acceptable. This recipe is made in more of a West Coast  style which is more like a bisque and not quite as thick as a traditional New England chowder.
West Coast Clam Chowder Recipe:
Normally, I just add the chowder ingredients, without measuring, to my soup pot. I just taste and add them to my liking. For you, I have attempted to write down my family's recipe. Add or delete to your family's taste. ENJOY!
Course:
Main Course, Soup
Keyword:
Grandma's Clam Chowder Recipe, Pacific Coast Clam Chowder Recipe, West Coast Clam Chowder Recipe
Ingredients
5

bacon

slices, cut into 1/4-inch pieces*

1/4

cup

butter

(salted or unsalted, your choice)

1

medium

onion,

chopped

1/4

cup

flour

(all-purpose)

Salt

and pepper to taste

4

cups

milk**

Potatoes,

peeled and cut into 1/4-inch pieces (as many potatoes as you prefer)

2

(6.5-ounce) cans

clams,

minced, undrained

Crackers

or bread
Instructions
In a large soup pot over medium heat, saute bacon until crisp and golden brown. Remove bacon with a slotted spoon; drain bacon on paper towels (drain off the bacon fat from the soup pot). Set bacon aside. I do not add the bacon fat back to my clam chowder, but it is your choice!

Reduce heat to low and add butter and stir until melted. Add onions and cook until they are translucent and soft (about 10 to 15 minutes). Sauteing the onions in the butter is important to achieve the excellent taste. DO NOT SKIP THIS STEP. Add flour, salt, and pepper, stirring constantly until well blended. Gradually add the milk, stirring constantly until sauce comes to a boil and thickens.

Making a large quantity of clam chowder:

Since I usually make a large pot (sometimes a couple of pots) of clam chowder for my family, I make a Roux with flour and butter for thickening the chowder to my liking:

First use some of the butter to saute the onions.

Then using equal parts of butter and flour, melt the butter over medium-low heat. Whisk the flour and butter together. Cook, stirring, it until the flour/butter mixture are well blended and starts to lose its raw flour smell. NOTE: A good guideline is to use 1 tablespoon of flour for every 2 cups of liquid you have, but adjust to your taste.

Slowly add the milk to the roux, stirring constantly to blend well.

My family likes a thinly-thickened chowder, but thicken to your liking.

Add the cut-up potatoes and simmer approximately 10 to 15 minutes or until the potatoes are soft.

Add the cooked bacon, clams and clam liquid; simmer until thoroughly heated. Season to taste with additional salt and pepper.

Serve in large soup bowls. I sometimes like to add a dollop of butter on top of each bowl of clam chowder (your choice).

Serve with crackers or bread.
Recipe Notes
* I like to cut off most of the fat from the bacon.
** I sometimes replace some of the milk with cream.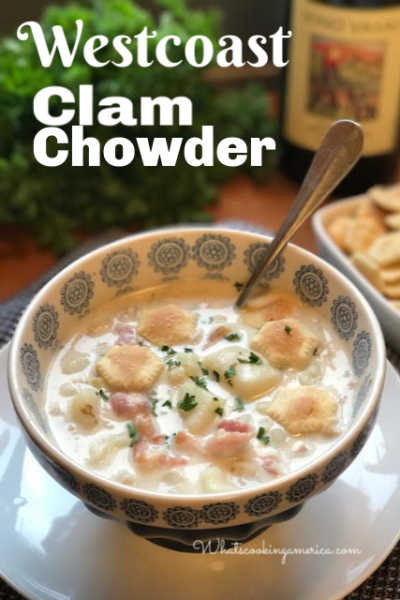 Comments and Reviews