This Leatherthroat Chili Con Carne is an unusual recipe in that it gives you the option of using beer in the chile recipe or just drinking it!
Leatherthroat Chili Con Carne Recipe is from the book The Chili Lover's Handbook, by Jack Arnold, published by Jack Arnold and Associates, 1977.   The original recipe is now copyrighted by his daughter, Donna Arnold Morella.   I have only slightly adapted the recipe wording to meet present day recipe standards only.
Jack says, "I have been a chili lover ever since boyhood.  I didn't know then why I loved chili – I just did . . . Now that I know more about chili, I realize how lucky I was to get hooked on it early in life."
Learn about the history and legends of Chili, Chili Con Carne.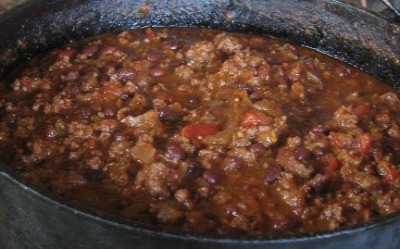 Leatherthroat Chili Con Carne Recipe:
Keyword:
Leatherthroat Chili Con Carne Recipe
Servings
:
8
to 10 servings
Ingredients
1

pound small dried

red kidney beans

(optional pinto beans)

5

tablespoons

vegetable oil

2

cups

onion,

finely chopped

3

pounds lean

ground beef

2

pounds lean

round steak

or flank steak, diced into 1/2-inch cubes

4

cloves

garlic,

finely minced

1

(10.5-ounce) can

condensed beef broth

2

(15-ounce) cans

tomato sauce

15 ounce tomato sauce

1

(12-ounce) can

tomato paste

6 to 8

tablespoons

chili powder

2

tablespoons

oregano

2

teaspoons

ground cumin

1

heaping teaspoon

crushed red peppers

1

teaspoon

monosodium glutamate

(Accent)

1

tablespoon

salt

1

heaping teaspoon

black pepper

8

ounces of

beer

(as thinner or to drink when needed)
Instructions
Soak washed kidney beans overnight in 1 1/2 quarts water with a pinch of salt. Cook slowly next day, approximately 2 to 3 hours, until tender. Add additional water if the beans cook down to much.

Heat vegetable oil in a large pot or cast-iron Dutch oven, add onions and simmer approximately 30 minutes until golden.

Add meat gradually, searing and turning constantly until meat starts to brown. Add garlic, beef broth, tomato sauce and tomato paste; stir well until blended. Slowly add chili powder and other seasonings' stir and mix very thoroughly.

Cover and cook at low heat for approximately 3 to 4 hours. Add cooked beans, stir well and let cool. "Age" for 12 hours - then reheat and serve. Freezes remarkably.

Variations: When serving add tablespoonful of finely chopped raw onions or tablespoonful grated Monterey Jack Cheese to each bowl, or both.
Comments and Reviews