Asparagus Recipe Collection – Recipes Using Asparagus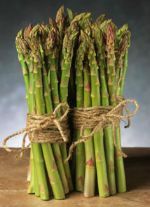 Asparagus is my yearly classic Spring treat! When the fresh asparagus is in season, the taste is the absolute best when cooked properly. Learn all about fresh asparagus. Learn how to select and purchase asparagus, how to prepare asparagus, and how to eat asparagus – plus check out our favorite dishes in the asparagus recipe collection below.
Check out How to Select, Store, and Cook Asparagus.
Asparagus and Avocado Wraps
These appetizers are fabulous and also low-fat and low calorie! Sure to impress your guests.?
Asparagus Milanese (Asparagus with Fried Egg)
This makes a great luncheon dish or a starter course.
Asparagus Parmigiano
This is my favorite way to prepare and serve fresh Spring asparagus. It is so simple and so good!
Asparagus with Balsamic Viniagrette
This vinaigrette is also excellent with green beans!
Asparagus with Lemon-Mustard Dressing
This easy-to-make asparagus, may be served either as an appetizer or a first course at the table.
Asparagus with Lemon Viniagrette
This another one my favorite way to prepare and serve fresh Spring asparagus.
Asparagus with Orange Dressing and Toasted Hazelnuts
Recipe is from Gourmet Magazine, April 2000 issue.
Asparagus with Poached Eggs and Shaved Parmesan
My husband loves this dish! He looked at me funny when I first served it to him, but he loved it! He said I could make this anytime. It would make a wonderful luncheon dish. I have also served this asparagus dish as a side dish for my gourmet dinner group.
Asparagus with Sesame And Chive Blossoms
Recipe from Cooking With Flowers by Susan Belsinger.Bright lavender chive blossoms begin to bloom in my garden about the time the asparagus bed is at its peak. Hence, we have a natural combination and a simple tasty dish.
Asparagus with Sherry Vinaigrette
Sherry Vinaigrette Asparagus is absolutely delicious and a easy-to-make asparagus dish that is also pretty to look at.  An excellent vegetable side dish to serve with just about any meal. 

Asparagus with Truffle Oil Vinaigrette
This another one my favorite way to prepare and serve fresh Spring asparagus. The truffle oil provides a new meaning to asparagus as there is something about the smell that makes you want to throw aside your fork and eat them with your fingers!
Baked Asparagus with Swiss Gruyere and Red Chile Pepper
Baking asparagus dish is beautiful for the simplicity and ease of being able to prepare it ahead of time. Prepare in the morning and pop into the oven at night. It is fresh, flavorful, and beautiful!
Cold Marinated Asparagus with Lemon and Scallions
This is a great make ahead summer dish. I like to serve it with grilled steaks for barbecued chicken.
Grilled Fish with Baby Potatoes and Asparagus
This dish offers fresh and bright flavors, that is easy and quick to prepare.
Guacamole Dip (lowfat) – Canyon Ranch
This wonderful recipe is from the cookbook Canyon Ranch Cooking: Bringing the Spa Home, by Canyon Ranch, Inc. and Jeanne Jones, 1998. The recipe is described in the book as: We have served this asparagus guacamole at Canyon Ranch since the day we opened and it has always been extremely popular with our guests. Because it is so unusual it was an immediate favorite with the press whenever articles were written about our Southwestern cuisine. Serve it with fat-free baked tortilla chips for your next fiesta.
Lemon Risotto with Spring Vegetables
This a delicious and wonderful risotto when the spring asparagus and peas are available.
Oven-Roasted Asparagus
This delicious and very easy-to-make Oven Roasted Asparagus recipe was shared with my by Dina Calanchini of Sacramento, CA. Dina belongs to a Ladies Dinner Group in the Sacramento area, and they have lots of fun creating and cooking many different types of foods.
Parmesan Omelet with Fresh Herbs
My inspiration for this lovely omelet was leftover, grilled asparagus. A combination of fresh herbs from your garden, fresh tomatoes and you can have a show stopper breakfast in no time."
Reva's Vegetable Quiche
I may be partial to this light vegetable filled quiche because it is from my mother's Reva's secret recipe box. I hope you too will find it equally as delicious at your next afternoon tea, luncheon, or supper.
Roasted Asparagus with Goat Cheese and Bacon
Recipe is from Bon Appit Magazine, April 2001 issue.
Roasted Asparagus Parmigiano
This is my favorite way to prepare and serve fresh Spring asparagus. It is so simple and so good! It smells like you have a pizza in your oven. My grade-school-age grandsons love this asparagus! They always ask me to make my asparagus for them. So, this is a kid friendly recipe!
Roasted Asparagus Wrapped in Prosciutto
This is the ultimate way to serve fresh Spring asparagus as an appetizer. Once you make this Roasted Asparagus Wrapped in Prosciutto, you will make it every year during asparagus season.
Spring Asparagus with Lemon Vinaigrette
When the first spring asparagus is out and winter lemons and oranges are still available, I make this pretty dish for the best flavors from both seasons. Easy, healthy, and you may make this hours ahead of your dinner service.
Truffled Asparagus with Parmesan Cheese
This is another of my favorite way to prepare and serve fresh Spring asparagus. It is so simple and so good with the truffle oil!
Wilted Balsamic Spinach Salad with Asparagus
If you love spinach salads, you will definitely love this very healthy wilted spinach salad with the addition of balsamic vinegar and fresh asparagus.
Comments and Reviews