Please don't throw away those fresh beet greens when cooking fresh beets.  Cook the beet greens and enjoy a delicious and nutritious dish just like your grandparents grew up with.
How do you cook fresh beet greens? This is a very simple and definitely delicious way to cook fresh beet greens.  In fact, my husband says it is the only way!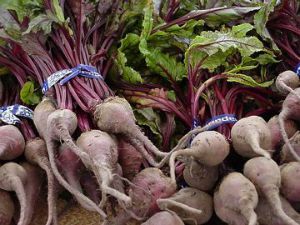 Oven-Roasted Fresh Beets
It is easy to love fresh beets, and not just for their outstanding nutritional advantages.  Roasting them seems to enhance their sweet nature.  Roasting is the easiest way to cook beets.  The skins will slip right off after cooking.
Baked Beet Green Chips – Oven Roasted Beet Green Chips
Learn to make these delicious and healthy Baked Beet Greens Chips.  Not only are they healthy, but they are pretty to look at as they roast up in various shades of greens and browns.  They taste very similar to Baked Kale Chips, and are sure to become one of your favorite snacks!  They are a healthy alternate to potato chips and are perfect for snacking.  What more could you ask for?
Golden Beets with Red Onion and Feta
Beets are abundant in the Farmer's Markets right now, and these beautiful baby golden beets grabbed my eye.  In the bunch was one white beet.  I love golden beets for their sweetness and milder flavor than the purple variety.   The white beet did not disappoint either with it's nutty sweetness.
Pickled Whole Beets
This recipe is from my mother, Dorothy Hagerman.  My mother used to make these every year when fresh beets were in the garden.
Refrigerator Pickled Beets
Since I, personally, don't like to take the time to process and can vegetables, I always want to either refrigerate or freeze them.  This is a very easy and delicious way to make pickled beets.  My husband loves them!
Pickled Beets and Eggs
This recipe and photo were shared with me by Karen Calanchini of Redding, California.  Karen says that this is an old Portuguese recipe that her grandparents and mother used to make when fresh beets were in the garden.  They took fresh beets from the garden and whatever amount they gathered they processed.  There really is no actual recipe, as you use how many beets you have harvested.
Roasted Beet Bread Pudding
This was an interesting experiment with using roasted beets.  I had an over-abundance of beets to use this year that I had roasted them in my oven.  Now, what to do with all these roasted beets?  When I came upon this recipe, I just had to try it and, of course I couldn't just make the recipe as it was written, but had to experiment!  My husband really likes it and I hope you will also.
Roasted Beet Soup with Creme Fraiche
This soup is so good and so very elegant to serve.
Roasted Beets with Blue Cheese and Pecans
From the recipe files of chef Robert Hammond.  Robert says, "I've had more people tell me that they don't like beets.  Well, that was until they taste roasted beets.  Roasting beets give them a deep, sweet taste that can't be accomplished in any other fashion.  Serve these beets either as a side dish or a salad."
Roasted Beets with Sauteed Greens
Fall is a lovely time to be in the kitchen.  At our local Farmer's Market this weekend, I came home with a lovely bunch of red beets which had long, very fresh greens.  It turned out very impressive, the beets were so sweet, caramelized, and absolutely delicious.  The combination of the sauteed greens and roasted beets is a winner!
Ukrainian Borscht Soup
Several years ago my daughter Brenda's dear friend Lena Hennegan, from Russia, hosted a dinner party and served everyone borscht soup as one of the courses.  She enjoyed the flavors of the soup so much that she had to ask for Lena's recipe.  Brenda just recently uncovered the recipe tucked inside one of her cookbooks.
Comments and Reviews