Roasted Cauliflower is my favorite way of serving cauliflower.  If you have never roasted cauliflower – try it now!  This method of preparing cauliflower is very simple and extremely delicious!  Once you have taste this cauliflower, you will never go back to boiling cauliflower.  Because of the quick cooking in a very hot and dry oven, the cauliflower florets are not mushy.  They will have softened slightly but still retain a very pleasing crunch.  Roasting the cauliflower intensifies the flavor and gives it a nutty taste.  It is so good that you could even serve it as an appetizer or as a snack.  Even children love cauliflower cooked this way!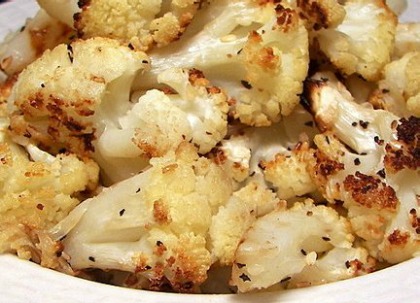 Roasted Cauliflower Recipe:
Keyword:
Roasted Cauliflower Recipe
Instructions
Rinse cauliflower and cut into quarters. Cut off and discard leaves and cores. Cut quarters into 1/4- to 1/2-inch-thick slices or wedges.

In a large bowl or resealable plastic bag, mix together cauliflower slices, sesame oil, olive oil, salt, and pepper. Spread in a single layer in a non-stick baking dish, or aluminum foil lined rimmed baking sheet.

Bake prepared cauliflower approximately 20 to 25 minutes, turning every 10 minutes, or until cauliflower is browned or caramelized on edges and tender. Remove from oven and serve warm or at room temperature.

Makes 2 servings. (My husband and I will eat all of the roasted cauliflower ourselves.)

Roasted Cauliflower Variation Ideas:

Add 1 tablespoon minced garlic.

Add 1/2 teaspoon cumin seeds and 1/4 teaspoon ground coriander

Delete salt and add 1/4 cup soy sauce.

Substitute smoked paprika for the salt and black pepper.

Add 2 tablespoons balsamic vinegar and 1/2 cup finely-shredded Parmesan cheese after baking 15 minutes. Return to oven and continue roasting until the cheese is melted and any moisture has evaporated, approximately 5 to 10 additional minutes.
Recipe Notes
* The sesame oil is fantastic in this dish.
More delicious cauliflower recipes:
Cauliflower Cheese Pie
This is an absolutely delicious cauliflower pie.  The wonderful smell of the crispy potato crust as it bakes will set your taste buds alive.  I like to serve this fantastic cauliflower pie with a nice salad for dinner.
Cauliflower Rice – Gluten Free
Wait until you try this amazing cauliflower rice recipe! It is delicious, very easy-to-make, low calorie, and gluten free.  It is a great rice substitution. M y husband was actually surprised how delicious it is.
Roasted Cauliflower Steaks
This method of preparing cauliflower is very simple and wonderfully delicious!  Once you've taste roasted cauliflower steaks, you will never go back to boiling cauliflower.  This is a very elegant way to serve cauliflower.
Comments and Reviews