Twice Baked Potatoes with Caviar Recipe:
Keyword:
Twice Baked Potatoes with Caviar Recipe
Ingredients
4

medium-size baking

potatoes,

scrubbed and dried

Olive oil,

extra-virgin

1/4

cup

butter,

melted

1/2

cup

cream

or milk

1/2

cup

sour cream

4

ounces

cream cheese,

room temperature

3

tablespoons

chives,

minced

1 1/2

teaspoons

salt

1

teaspoon

white pepper

2

egg,

hard-cooked then finely chopped

2

teaspoons

caviar
Instructions
How To Choose Potatoes for Baking:

Any potato can be baked, but for the perfect baked potato with the desired flaky texture, it is recommended that mature, baking-type potatoes such as the Russet potatoes be used. Russets are known as a starchy potato, a baking potato, or a mealy potato. The starch gives the potato it's characteristic fluffiness.

Make sure that the skin has a nice even brown tone without a greenish cast. Inspect the potatoes thoroughly to make sure that there are not any significant bruises, discolored spots, or sprouts. When baking a large amount of potatoes at one time, choose potatoes with uniform shapes and sizes; they will cook more evenly and get done at the same time.


Preheat oven to 400 degrees F.

Rinse and scrub (I use a stiff-bristled brush) each potato under cold running water, as you will be eating the skins of these perfect potatoes. Do not soak the potatoes (that will make them soggy. Do not use hot water or you'll start cooking the outside and the inside won't catch up). A majority of the vitamins and minerals are found in the skin, so don't throw it away. Dry each potato thoroughly with a clean towel.

Rub potatoes with olive oil and pierce each with a fork. Bake approximately 1 to 1 1/2 hours or until tender. Potatoes are done if tender when pierced with a fork and the internal temperature reaches 210 degrees F. You can also use a meat thermometer to test for doneness. You can also test for doneness by gently squeezing the middle of the potato (using a pot holder). If it gives in easily to your touch, it is done.

Remove from oven and allow potatoes to cool to the touch. When cool, cut potatoes in half lengthwise, carefully scooping out the pulp with a small dinner spoon, leaving a 1/4-inch shell.

In a large bowl, place potato pulp (I like to put the potato pulp through my potato ricer). Add butter, milk or cream, sour cream, and cream cheese; mash with fork or mixer until smooth. Stir in chives, salt, and pepper. Stuff the potato shells with the potato mixture. Place on a baking sheet. NOTE: The stuffed potato shells may be covered and refrigerated until ready to use.

Preheat oven to 350 degrees F. Bake stuffed potato shells for approximately 20 to 30 minutes or until heated through. If potatoes have been refrigerated, allow additional time to reheat. Remove from oven.

Before serving, top each potato with 1 teaspoon chopped hard-cooked egg and then 1/4 teaspoon caviar.

I get many readers asking what cooking/meat thermometer that I prefer and use in my cooking and baking. I, personally, use the Thermapen Thermometer. Originally designed for professional use, the Super-Fast Thermapen Thermometer is used by chefs all over the world.  I only endorse a few products, on my web site, that I like and use regularly.
You can learn more or buy yours at: Super-Fast Thermapen Thermometer.
Sponsored Content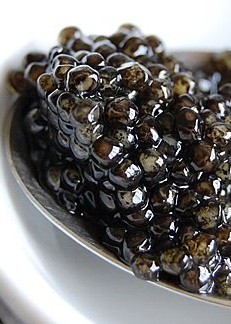 More Great Recipes Using Caviar:
Caviar/Dip Spread
Caviar Egg Salad
Caviar Plate
Caviar Torte
Cucumber-Caviar Salad
Cucumber-Caviar Sauce
Smoked Salmon and Caviar Pizza
Smoked Salmon Roulades
Stuffed "Deviled" Eggs with Caviar
Caviar Canapes

Comments and Reviews