The simple radish is far more versatile than most of us give it credit.   Radishes add an instant zing to any dish, whether sliced raw as a garnish, added to salads, or served as a side.  Check out these delicious radish recipes that show off how wonderful and delicious the humble radish can be.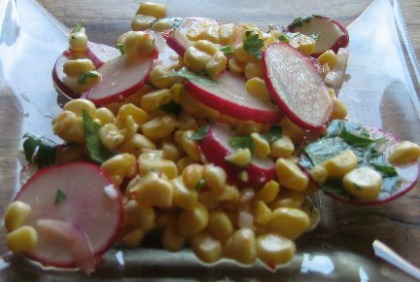 Corn Radish Salad with Chile-Jalapeno Dressing
Most people don't realize that fresh raw corn is delicious! A dd the sliced radishes and the Chile-Jalapeno Dressing and you have a salad "fit for a king."  Give this salad a try and see for yourself!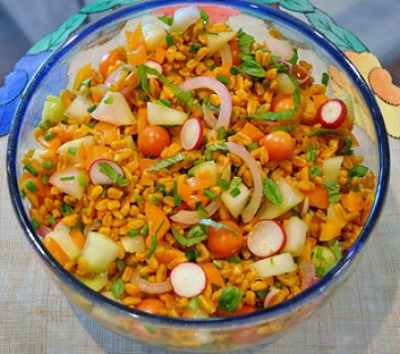 Farro Salad with Buttermilk Dressing
This colorful Farro Salad with Buttermilk Dressing may be served cold or at room temperature, which I prefer.  Farro is an ancient grain that has long been loved in Italy because of its delicious nutty flavor and chewy texture.  Farro is considered the Mother of all grains; the original grain from which all others come from including rice, barley, wheat and rye.   Farro is now enjoying a resurgence among chefs worldwide.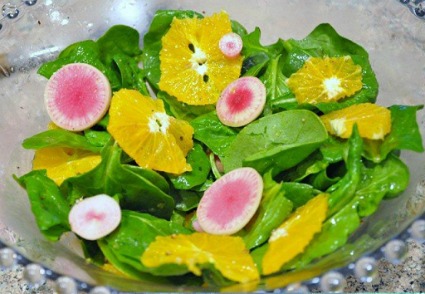 Orange and Radish Salad with Cinnamon Vinaigrette
This is my adaptation of a salad recipe I found on an Egyptian tourist site.  A complexity of flavors, freshness from the oranges, and a bit of heat from the warm spices and radish, made this a wonderful compliment to the grilled halibut.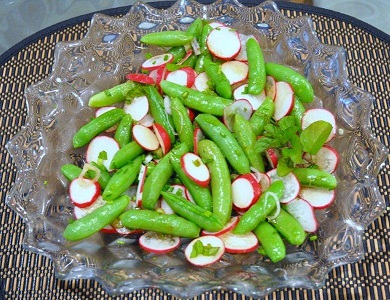 Pea and Radish Salad with Mint
A different salad using in-season vegetables. Loved the crunch!

Radish, Butter, and Bread (open-faced sandwiches)
This is a favorite appetizer that has appeared on European menus for decades.  This is quite possibly the perfect reward, along with a glass of wine, for yourself and guests.
Spring Radish Tea Sandwiches
In the Spring, when the young radishes are available, these are absolutely wonderful sandwiches!
Radish-Poppy Seed Tea Sandwiches
This truly is a ritzy tea sandwich and so easy to make!
Radish Sandwiches on Zucchini Basil Muffins
These muffins would actually be perfect for late summer, when zucchini and basil plants are growing abundantly.  They are bright and colorful, with green specks of zucchini and basil and the vivid red slices of radish add a touch of pizazz!  The delightful crunch and mild pungency of the radish slices, as well as the mellow rich saltiness of butter, complement the muffins perfectly."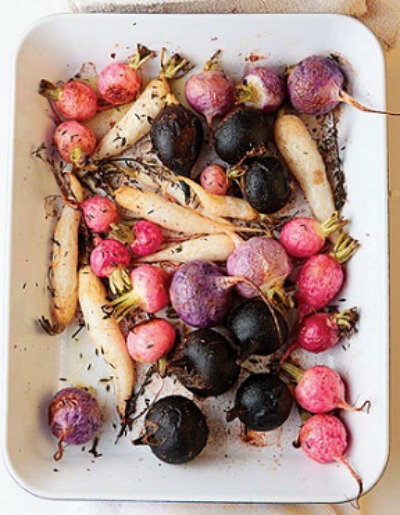 Roasted Radishes
Check out your local Farmers' Market for different varieties of radishes.  These tender radishes are a fine accompaniment for grilled steak or roast chicken.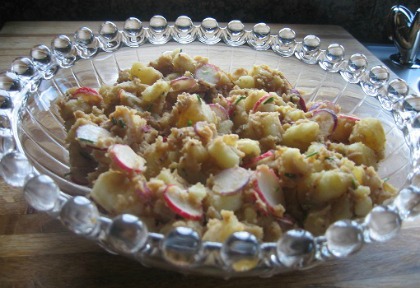 Spring Potato-Radish Salad
This is the perfect potato salad for when the Spring new or fingerling potatoes are available and also the wonderful Spring radishes.
Comments and Reviews