Zucchini Noodles – How about using summer zucchini squash to make edible noodles or ribbons?  This is also a very healthy and delicious dish, and is perfect for a hot summer evening.  Just add a simple basic tomato sauce for a delicious dinner.  Zucchini is in season all summer long making it super affordable.  In fact, zucchini squash seems to grow like weeds in summer gardens!
By slicing the zucchini lengthwise on a mandoline using the small julienne blade, you can get long thin, noodle-like strands of zucchini for use in salads and for a quick stir-fry.  If you do not have a mandoline, you can use a julienne peeler.  Or, if you want to practice your knife skills, you can slice the zucchini by hand.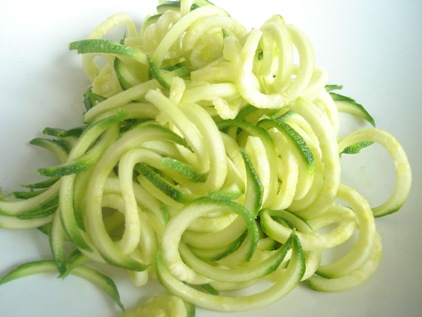 Zucchini Noodles or Ribbons Recipe:
Keyword:
Zucchini Noodles or Ribbons Recipe
Instructions
Using the julienne blade of a mandoline or a spiral vegetable slicer, slice zucchini lengthwise into long, thin strands. Slice the zucchini just until you reach the seeds in the middle and then stop (the seeds will cause the noodles to fall apart). NOTE: If you do not have a mandoline or a spiral slicer, you can either use a vegetable peeler or a knife.

Separate the zucchini strands. Transfer zucchini strands to a colander set over a mixing bowl. Toss the zucchini strands with salt; let stand 15 minutes at room temperature.

After 15 minutes, gently squeeze the zucchini strands to extract any excess water. Transfer drained zucchini strands to a bowl and toss with lemon juice, salt, and pepper.

To serve, twirl small amounts of zucchini strands with a long-tined fork and slip off onto individual serving plates. Garnish with herbs of your choice.
Recipe Notes
* Since the zucchini squash is served raw, be sure to use the smallest, freshest ones you can find.
Serving Ideas:
Top zucchini noodles with your favorite pesto, tomato sauce, or guacamole sauce.
Use in place of pasta for a delicious spaghetti dish.
Top with grilled marinated shrimp.
Top with grilled chicken and peanut sauce.
Toss with pan-fried tofu.
Let your imagination be your guide!
Comments and Reviews