Baked Ziti is known in Italy as "pasta al forno" which translates to oven baked pasta.  Pasta al forno is enjoyed all over Italy, and especially in southern Italy.  How pasta al forno is prepared depends on the region of Italy and also what ingredients the cook may have on hand.
Baked ziti is especially popular among many Italian-American families, using ingredients that you also find in lasagna.  Instead of using the long flat lasagna noodles to create layers, ziti noodles are used which captures the cheese and sauce inside the little pasta tubes.  Each bite you take oozes with cheesey sauce goodness.
I enjoy making Baked Ziti in the winter when I am craving something hearty to stick to my ribs.  This dish freezes well, so make a double batch to enjoy some for dinner and freeze the second pan for a later meal.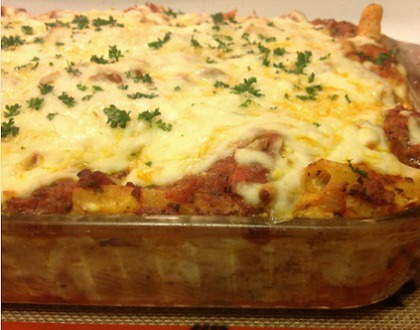 Check out Linda's Pasta Hints and Tips and Pasta, Rice, and Main Dish Recipes.
Baked Ziti – Italian Pasta al Forno Recipe:
Baked Ziti Recipe - Italian Pasta al Forno
Ingredients:
16 ounces Ziti Rigati or large Penne pasta, uncooked
Olive oil
1 pound ground beef (hamburger)
1 pound mild Italian sausage
1 large onion, peeled and chopped
3 to 4 garlic cloves, peeled and minced
1 tablespoon dried Italian seasoning
1/2 teaspoon red pepper flakes
1 (14.5 ounce) can diced tomatoes with liquid
1 (24-ounce jar) tomato sauce or Marinara Sauce*
1 tablespoon granulated sugar
2 cups red wine
1 (15-ounce) container of ricotta cheese (whole milk or part skim)
4 ounces cream cheese, softened
2 pounds grated mozzarella cheese, divided
1 cup freshly-grated Parmesan Cheese (Parmigiano-Reggiano), divided
Salt and pepper to taste
1 tablespoon finely-diced fresh parsley or basil
* Learn how easy it is to make homemade Marinara Sauce.
Instructions:
Preheat oven to 375 degrees F. Place oven rack in middle of oven.
Cook pasta according to package directions to al dente. Learn How To Cook Pasta Properly. Drain and lightly toss noodles with olive oil to prevent sticking.
While the noodles are cooking, brown the ground beef and Italian sausage in large a skillet over medium-high heat; drain off the fat. Add onions and garlic to meat mixture and cook for a couple more minutes until onions are translucent. Add Italian seasoning and red pepper flakes; stir into the meat mixture. Next add the diced tomatoes with liquid, marinara sauce, sugar, and red wine. Stir together and bring just to a boil. Turn down heat to medium-low and let simmer for approximately 20 to 30 minutes.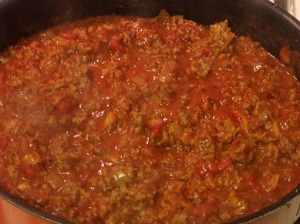 While pasta and sauce are finishing cooking, in a large bowl add the ricotta cheese, cream cheese, 2 cups mozzarella cheese, and 1/2 cup parmesan cheese; mix together until combined.
Gently stir in the cooked Ziti pasta and half the meat sauce (about 4 cups) until combined. It is ok to have clumps of the cheese mixture.

In a 9- x 13-inch baking dish or lasagna dish, spread a thin layer of meat sauce on the bottom of the baking dish and layer as follows: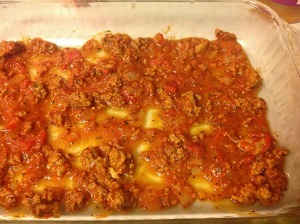 First Layer: Ziti noodle mixture, then meat sauce, then mozzarella cheese sprinkled on top.
Second Layer: Ziti noodle mixture, meat sauce, mozzarella cheese and remaining Parmesan cheese on top (keep from sprinkling cheeses all the way to the edges. Garnish the top with fresh parsley or basil.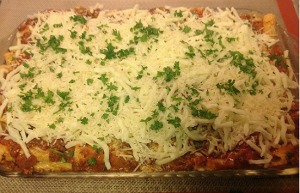 Bake approximately 20 minutes. Cheese should be melted and bubbling. Remove from oven and let stand for 5 minutes before serving.
Makes 6 to 8 servings.
https://whatscookingamerica.net/Pasta_Rice_Main/BakedZiti.htm
Comments and Reviews