A French Onion Tart recipe is also known as, Pissaladiere which is a traditional dish in the Alsace region of France located on the eastern border and on the west bank of the upper Rhine adjacent to Germany and Switzerland.  In Germany, this tart is known as Zwiebelkuchen.  The tart has similarities to pizza or a savory pie, and it provides a perfect showcase for the caramelized onions.
Enjoy this rustic French Onion Tart with its flavor combinations of crisp, toasted flat bread topped with caramelized onions and cumin seeds.  You can eat these tarts with a fork or enjoy as the perfect handheld appetizer to accompany brie cheese and a creamy French blue cheese on your spring cheeseboard.  Of course you must include a glass of your favorite wine!
This is a versatile dish that can also be enjoyed for dinner or even a special brunch occasion.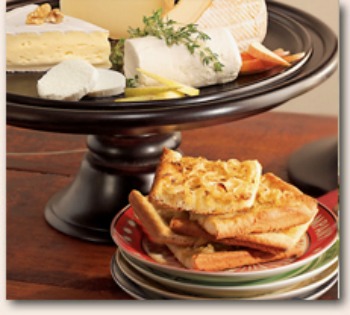 French Onion Tart Recipe - French Onion Pissaladie
Keyword:
French Onion Passaladie Recipe, French Onion Tart Recipe
Ingredients
3

cups

bread flour

2 1/4

teaspoons

yeast,

instant rapid-rise

1 1/2

teaspoons

coarse salt,

divided

1

cup

water,

warm

1

teaspoon

brown sugar

1/2

cup

olive oil,

extra-virgin, divided (plus more for oiling bowl)

4

cups (5 to 6 onions)

yellow onions,

thinly-sliced, separated into rings*

1

tablespoon

honey

1 1/2

teaspoons

cumin seeds,

divided
Instructions
In a stand mixer with the dough-hook attachment, combine bread flour, yeast, and 1 teaspoon salt. Mix on low speed until combined, then add warm water, brown sugar and 1/4 cup of olive oil. Mix on low speed until dough forms into a ball. Turn mixer to low/medium speed and mix for 10 minutes, stopping halfway through to remove dough from hook and return it to the bowl.

Remove dough from bowl and gather dough into a ball. Drizzle just enough olive oil into the mixing bowl to coat the dough; place dough back into bowl and roll to coat lightly with the oil. Cover the bowl with kitchen towel or plastic wrap and place in draft-free warm place until doubled in size, about 30 minutes.

Heat 2 tablespoons of olive oil in a large sautpan over medium heat. Add sliced onions, and cook on medium-low heat until onions are lightly browned and soft, about 10 to 15 minutes. Add honey, 1/2 teaspoon of cumin seeds, and remaining 1/2 teaspoon of salt. Cook for 1 minute, stirring to combine well. Remove from heat.

Meanwhile, coat a sheet pan with cooking spray. Punch down dough, turn out onto prepared pan, and spread out to cover bottom of pan. Cover with plastic wrap or a kitchen towel and place in a warm, draft-free place for 30 minutes.

Preheat oven to 425 degrees F. Press dough lightly into pan, creating small craters all over surface with the back of a wooden spoon. Brush on remaining 2 tablespoon of olive oil, top with onion mixture, and remaining cumin seeds. Bake for 20 minutes, and cool slightly before cutting.
Comments and Reviews