Apple Facts, Tips and Recipes
Check out our Apple Recipe Collection. Try making desserts like classic apple pie and, fruity nachos, and baked cinnamon apple chips.
Learn about the History and Legends of Apples
Apple Equivalents:
1 large apple = 2 cups sliced or chopped = 1 1/2 cups finely chopped =1 1/4 cups grated = 3/4 cup sauce.
1 medium apple = 1 1/3 cups sliced or chopped = 1 cup finely chopped = 3/4 cup grated = 1/2 cup sauce.
1 small apple = 3/4 cup sliced or chopped = 3/4 cup finely chopped = 1/2 cup grated = 1/3 cup sauce.
1 pound apples = 4 small apples or 3 medium apples or about 2 large apples
1 (9″ or 10″) pie = 2-1/2 pounds (4  to 5 large or 6 to 7 medium or 8 to 9 small apples)
Peck = 10-1/2 pounds
Bushel = 42 pounds (yields 20-24 quarts of applesauce)
Apple Tips:
To prevent discoloration of peeled apples, place peeled slices in a pan of cold water to which a pinch of salt has been added (for each whole apple peeled).
When making salads, dip apple slices in fresh lemon juice to prevent slices from turning brown.
Discoloration of aluminum utensils can be removed just as effectively by boiling a number of apple peelings in them as by the old method of boiling a little vinegar in water.
Sprinkling salt on spilled juice from apple pies in a hot oven will cause the juice to burn crisply, making it easier to remove.
To peel apples, dip them quickly in and out of boiling water.  The skin will come off much more readily.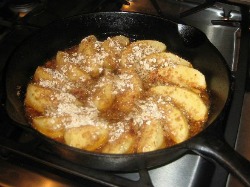 Apple Bake
This is a very easy-to-make recipe.  One that you can do at the last minute!  I love my cast-iron pans, and I'm always trying out new recipes in them.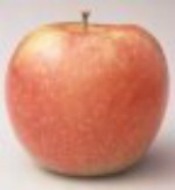 Apple-Boursin Cheese – Open Face Fingers – Apple Butter – Apple Biscuit Scones – Apple Tea Toddy
These recipes are from Ellen Easton's articles and recipes called Tea Travels™.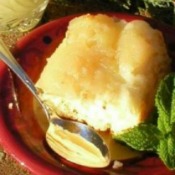 Apple Cake with Lemon Sauce
This wonderful recipe was shared with me by Cynthia Katz, food columnist and cooking instructor, of Saskatchewan, Canada.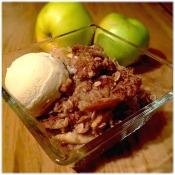 Apple Crispy Crisp
Apple crisp is one of my favorite desserts and it's all about the crisp for me!  The apples are just a bed for the crisp to lounge on and should never disappear and leave your apples lonely.  If you follow this recipe, each mouthful will be rich with apple, crisp, and ice cream down to the bottom of the bowl.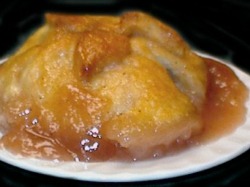 Apple Dumplings
My mother used to make these for our family when I was young.  My father loved these dumplings, and they were such a favorite for our family that we would make a whole meal of these dumplings.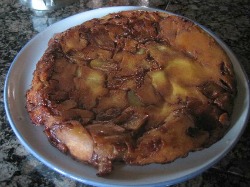 Apple Pancake
The smell of the apples cooking will drive you wild, let alone the taste of the pancake after it is baked.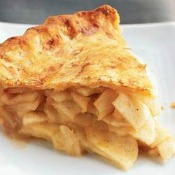 Apple Pie – Grandma Hagerman's Apple Pie
This is my Mother's, Dorothy Hagerman, apple pie recipe.  It is so good!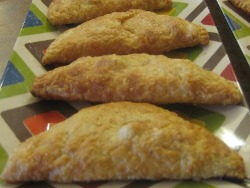 Apple Turnovers – Mom's Apple Turnovers
This is my Mother's, Dorothy Hagerman, Apple Turnover recipe.  It is so good!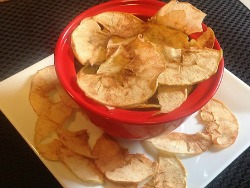 Baked Cinnamon Apple Chips
Here's a tasty snack to make with apples.  My daughter made these for family treats.  My five-year old grandson could not wait to take some to school for snack time.  These apple chips are so easy to make and your house will smell delicious as the apples and cinnamon are baking into chips.  The low oven temperature allows the moisture of the apples to dry out and the chips to become very crispy.  The apple chips taste best if baked until crispy.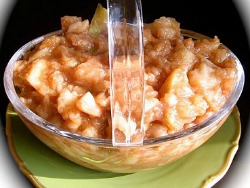 Baked Apple Sauce Learn how easy it is to make apple sauce in the oven.
Burst Vanilla Apples
These are called burst apples because the apple quarters swell and begin to collapse, as if exploded by some inner force.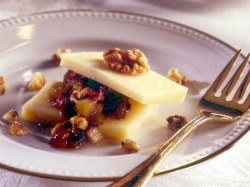 California White Cheddar with Apples
This dish features a lush combination of white cheddar cheese, sweet-tart apples, and spicy walnut conserve.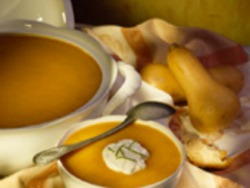 Curried Butternut Squash Soup
Serve this delightful soup at your next dinner party.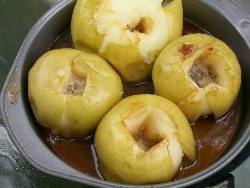 Dutch Oven Baked Caramel Apples
Desserts are always a great ending to a meal, and simple desserts are the key when camping.  I don't have any set recipes for making caramel apples, as they are very simple to make.  Just be creative and experiment!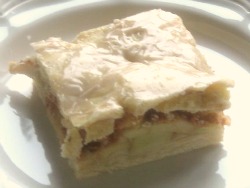 Frosted Apple Squares
Here is something new and tasty to do with all those apples you picked at the orchard.  This treat tastes remarkable like an apple Danish; but unlike a Danish, it is easy to make.
Fruity Nachos
Want a departure from the everyday?  These unusual nachos are a refreshing break from the traditional hearty flavors of beans, cheese, and jalapeno.  You can use almost any firm fruit, alone or in combination.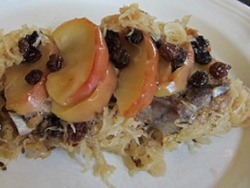 German Pork Chops
This is a very easy and wonderful tasting pork chop recipe.  I have made this recipe on several television shows during my book tours across the United States.
Ham and Apple Strata
This recipe is a perfect make-ahead meal because it must be refrigerated for at least 6 hours.  Just pop it in the oven about an hour before brunch.  It is so good that you will definitely get raves!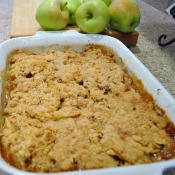 Lemon Pecan Apple Crisp
I love the taste of apples and lemons together. The added punch of lemon zest and the pecans gives this apple crisp a unique flavor.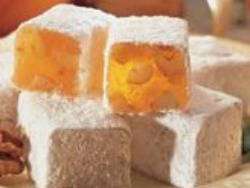 Northwest Apple Candy (Aplets)
Aplets are a delicious Northwest candy that is made with gelatin, walnuts, and apples.  Developed by two Armenian men in the small town of Cashmere in eastern Washington state, Aplet candies are considered a Northwest delicacy.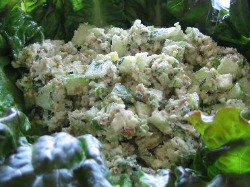 Stilton Blue Cheese Relish
This outstanding recipe was shared with me by Kieran Sienkiewicz of Portland, Oregon.  Kieran is an outstanding cook and served this excellent relish with a smoked pork tenderloin roast.  On it's own, it also makes a wonderful salad or an appetizer relish.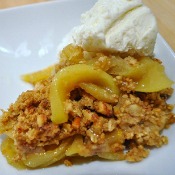 Zesty Orange Pecan Apple Crisp
A wonderful time of year for cooking with apples, and this dessert or breakfast dish will hit the spot on those cool, crisp days.
Comments and Reviews