Warm your bones while enjoying some sweetened hot coffee with a splash of Irish whiskey topped with cream.
Irish Coffee (Caife Gaelach) is a cocktail consisting of hot coffee, Irish whiskey, sugar, and topped with thick cream.  What a great way to celebrate St. Patrick's Day with a mug of hot and creamy classic Irish Coffee.  Surely after a couple cups your spirit will be lifted and you will be dancing a merry jig!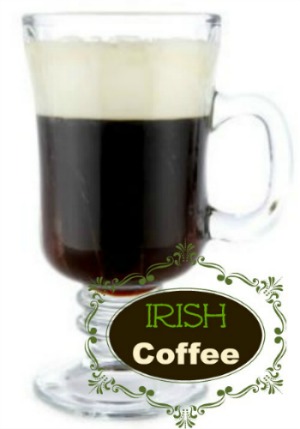 History of Irish Coffee:
The most popular story:
1942 – As the story goes, a flight full of American passengers was recalled to Foynes Airbase after struggling against heavy storms for several hours.  The flight landed safely at the airbase, and the passengers disembarked.  Though grateful to be alive, they were cold and miserable in the freezing night air.
Joseph Sheridan (1909-1962), the chef at the airbase terminal restaurant caught sight of the chilly passengers.  He decided to whip up a concoction that would warm their bodies as well as their spirits.  Sheridan brewed up some hot coffee and added a splash of good Irish whiskey to the mix.  The passengers enjoyed the hot coffee's unique flavor.  One passenger even asked Sheridan if they were drinking Brazilian coffee.  Chef Sheridan famously replied, "No, that's Irish coffee."
By 1945, the era of the Flying Boat was coming to an end and Foynes closed in order to make way for land planes.  A new airport was opened on the other side of the Shannon Estuary – Shannon International Airport.  Joe Sheridan, now working in Shannon, took his famous drink to the new airport and worked there until 1952.  As a tribute to Joe Sheridan, a plaque honoring his achievement can be seen outside the Joe Sheridan Cafe Bar in Shannon International Airport – now the new gateway to the south-west of Ireland.
November 10, 1952, Stanton Delaplane (1907-1988), a travel writer for the San Francisco Chronicle, persuaded San Francisco's Buena Vista Bar to start serving the coffee beverage.  He, along with George Freeberg, the owner of the Buena Vista bar to recreate making making Irish Coffee that he had tasted at Joe Sheridan's Cafe Bar – but the drink did not work out quite right for them as they had a problem with the cream.  According to the Tavern's legend, Stanton Deaplane, after sampling dozens of failed experiments, nearly passed out on the cable car tracks.
In 1952, the Buena Vista Cafe offered Joe Sheridan a position at the restaurant and he emigrated to the United States.  There is a memorial plaque at his graveside in Oakland, California, inscribed with the words  "Here lies Joe Sheridan, the inventor of the world's most famous drink: Irish coffee."
Today, the original Irish Coffee drink can still be enjoyed at the Shannon Airport in the Joe Sheridan Cafe Bar where a plaque marking his achievement had been erected.
The Foynes Flying Boat Museum holds an annual Irish Coffee Festival in June which includes the World Irish Coffee Championship in County Limerick.  The celebration includes participants from the world's best hotels, restaurants and bars.
Another claim:
1945 – It is also said the original Irish Coffee was invented by Joe Jackson at the Ulster Hotel, which he purchased in 1945, located in Ballybofey, County Donegal.  One of the specialties of the house was, and still is, is his Irish Coffee, which was made of strong black coffee, sugar, Irish whiskey, and then a layer of cream on top.
Joe, who was originally from Derry, was in the Merchant Navy during WWII.  One night, in the north Atlantic, his ship was torpedoed by an enemy sub.  To help him recover from hypothermia, Joe was given a traditional Navy remedy, a mixture of coffee and rum. Later, as he served on ships in the eastern Mediterranean, he tasted a number of drinks made from cream, sugar and various types of spirits.
In the early 1950s, a Scottish motoring magazine published an account of Joe Jackson's Irish Coffee.  The Jacksons maintain that the magazine described Joe's drink a full year before the other Joe, Joe Sheridan, did his.  A framed copy of the article used to hang in the Jackson's Hotel lobby for many years until it disappeared during renovations.
Authentic Irish Coffee Recipe - Joe Sheridan's Recipe:
The next time you have got chilly guests, follow Joe Sheridan's example.  Warm their spirits with a spirited beverage that has been a favorite since 1942:  Irish coffee. 
Keyword:
Authentic Irish Coffee Recipe, Joe Sheridan's Irish Coffee Recipe
Ingredients
Hot teaspoon

1

measure or shot (2 ounces)

Irish whiskey

2

teaspoons

brown sugar

5 to 6

ounces strong black

coffee,

freshly brewed

2

teaspoons

heavy cream

or whipping cream, lightly whipped*
Instructions
Place a teaspoon in a bowl with hot water to heat; let sit in the hot water until ready to use.

Preheat a stemmed whiskey goblet (7-ounce coffee cup or goblet may be substituted) with boiling water so that it is good and hot. Pour out the hot water and discard.

Add the brown sugar in the bottom of the goblet. Fill with strong black coffee to within 1 inch of the top; stir gently until sugar is dissolved.

Add the Irish Whiskey; stir again and then let sit until the mixture is still.

Using the hot teaspoon, place the spoon (back side up) in the goblet. Gently pour the prepared whipped cream over the back of the teaspoon (held just above the coffee's surface).

Gradually raise the spoon as you slowly pour in the cream. This will result in a layer of liquid cream that floats on top of the coffee. Do not stir the cream in the coffee.

Drinking the coffee through the layer of cream results in the rich, authentic flavor that the coffee's drinkers originally enjoyed. Do not stir. Irish coffee is best enjoyed by sipping the coffee through the cream.
Recipe Notes
* The cream should be "half whipped - not too stiff and not too liquid) 
St. Patrick's Day Recipes:

Irish Colcannon Potatoes – Mashed Potato with Kale and Bacon
Colcannon is true Irish soul food. The dish consists of mashing together buttery mashed potatoes with cooked kale or cabbage and leeks for flavoring.

Corned Beef Bubble and Squeak
Bubble and Squeak is a traditional Monday lunch in England to take the leftover potatoes and vegetables from Sunday supper and fry it up to enjoy for lunch the next day. The odd name is said to come from the noises made while cooking it.
Guinness Beef Stew – Irish Beef Stew
Most every pub you visit in Ireland will offer Beef and Guinness Stew on the menu. Stewing the beef in Guinness stout beer tenderizes the beef and adds a robust, malty flavor to the stew.
Irish Lamb Stew
Traditionally Irish lamb stew is cooked with lamb meat (neck bones or shanks) and root vegetables such as potatoes and onions with water. The stew is cooked over low heat until the meat is fall apart tender.
Irish Soda Bread
Here's a wonderful traditional Irish Soda bread recipe that can be found in homes and markets all over Ireland. In the United States, Irish Soda bread is popular to accompany Corned Beef and Cabbage when celebrating Saint Patrick's Day.
Corned Beef and Cabbage
My family and I look forward to enjoying corned beef and cabbage dinner as part of celebrating Saint Patrick's Day every year. This is a great no-fuss meal to serve on Saint Patrick's Day or any day that you desire.
Irish Sausage Rolls
In Ireland, sausage rolls are very popular. You can find them served at pubs, at home parties, and can even be purchased ready made at bakeries.
Guinness Chocolate Cake
A moist rich chocolate cake with wonderful malty notes from the addition of Guinness stout beer.
Guinness Black Bottomed Cupcakes
Enjoy this twist on traditional black bottom cupcakes using Guinness Chocolate Cake and an Irish cream cheese filling

The man who brought Irish coffee to America, by Carl Nolte, San Francisco Chronicle, November 9, 2008.
Irish Coffee – The Rest of the Story, Ulster Heritage Magazine, by Barry R. McClaim.
Jackson Hotel, Ballybofey, County Donegal, Ireland. Who Really Invented Irish Coffee, The Evening Herald newspaper, July 3, 2011.
Comments and Reviews