Roasted Asparagus with Grated Dill Coddled Egg Yolk Recipe
Ellen Easton is featuring this lovely vegetable side dish of Roasted Asparagus with Grated Dill Coddled Egg Yolk Recipe as part of her Springtime Celebration luncheon menu.  The egg yolks are cooked similar in egg coddlers like the Egg White Tartlet with Herb de Provence recipe.  The grated egg yolks make a fantastic garnishment to top roasted vegetables or salads.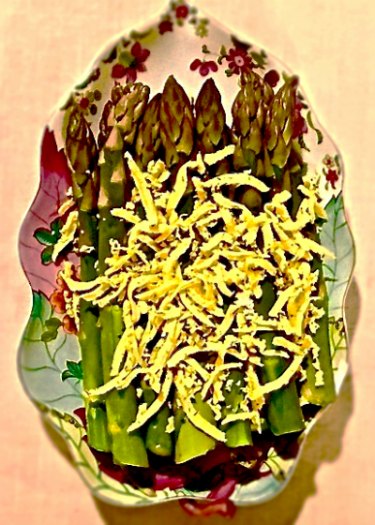 Recipe and Photos By Ellen Easton © 2020- All Rights Reserved
Check out more of Ellen Easton's Tea Travels™ articles and recipes.
Learn about the History of English High Tea and more delicious Afternoon Tea Recipes.
Roasted Asparagus with Grated Dill Coddled Egg Yolk Recipe:
Keyword:
Roasted Asparagus with Grated Dill Coddled Egg Yolk Recipe
Ingredients
Cooking Equipment:
Large saucepan

One porcelain or ceramic egg coddler with lid**

bowl

to separate egg whites

Tong

to lift the egg coddler in and out of the water
Instructions
Dill Coddled Egg Yolk Instructions:
Brush the inside of the egg coddler with olive oil until the bottom and all sides are thinly coated. Pour out any excess oil. Separate the eggs whites and yolks into separate bowls. Discard the egg whites or set aside for another use. Add the dill weed, salt and pepper to the bowl of egg yolks. Gently stir together until blended.

Pour the egg yolk mixture into the egg coddler. Tightly seal the lid.

Bring a large saucepan filled with water to a boil. Lower the egg coddler into the boiling water. Allow the egg yolks to boil for ten minutes. Turn off the heat. Allow the egg coddler to sit in the hot water for two more minutes. Remove the covered egg coddler from the water and allow to cool down until the egg coddler is cool to the touch to handle.

Once cool, open the lid. Remove the hardened egg yolk from the coddler. Finely grate or chop the egg yolk. Set aside grated cooked egg yolk. Note: You can also store grated egg yolk in an airtight container in the refrigerator for up to three days. Excellent to use as garnishment for salads.
Roasted Asparagus Instructions:
Preheat the oven to 350 degrees F.

Under cold running water cut off the ends of the asparagus stalks. With a small knife or carrot scrapper lightly clean the stalks. Squeeze lemon juice over all of the asparagus. Brush asparagus with olive oil and sprinkle with grated Parmesan cheese.

Place the asparagus on cookie sheet lined with aluminum foil into the oven on the middle rack. Roast approximately 10 minutes until al dente or longer if softer spears are desired. The roasting time will vary depending on the thickness of the spears.

Remove cookie sheet with asparagus from the oven and serve. Garnish with Grated Dill Coddled Egg Yolks. Note: May also be refrigerated and served cold.
Recipe Notes
* Any herbs and spices of your choice may be substituted for the dill.  
** If you do not have an egg coddler, you can use a small mason jar with lid or a ramekin covered with foil.
---
TEA TRAVELS™ – Wishing You Happy TEA TRAVELS!™  Tea is the luxury everyone can afford!™ and Good $ense for $uccess are the trademarked property of Ellen Easton/ RED WAGON PRESS
Ellen Easton, author of Afternoon Tea~Tips, Terms and Traditions (RED WAGON PRESS), a lifestyle and etiquette industry leader, keynote speaker and product spokesperson, is a hospitality, design, and retail consultant whose clients have included The Waldorf=Astoria, Plaza Hotels, and Bergdorf Goodman.  Easton's family traces their tea roots to the early 1800s, when ancestors first introduced tea plants from India and China to the Colony of Ceylon, thus building one of the largest and best cultivated tea estates on the island.

Purchase Ellen Easton's Tea Books:
Each 5 x 7 book is $20 postpaid Continental USA only.  Wholesale and fundraising accounts welcome.  Include name, address, zip code, and phone number for shipping.  All Sales Final. Check or MO order payable to:  RED WAGON PRESS, 45 East 89th Street, STE. 20A, New York, NY 10128-1256.  All inquires to teatravels@aol.com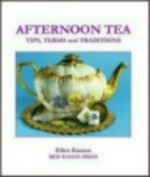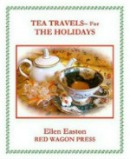 AFTERNOON TEA…TIPS, TERMS and TRADITIONS
72 pages of how to's, 27 photos, history, etiquette and FAQ about afternoon tea, serving styles and more.
TEA TRAVELS™ – FOR THE HOLIDAYS
64 pages, 21 color photos. A complete holiday menu includes 25 easy to prepare recipes; theme teas, decorating & gift ideas; invitation template and secret sources.
Comments and Reviews