Check out our comprehensive Blackberry Recipe Collection. Learn how to use blackberries to make delicious cakes, pies, jams, and even a full rib dinner.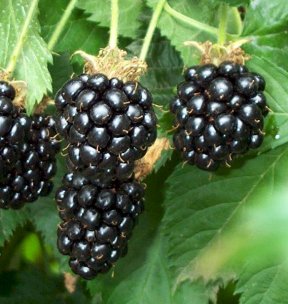 Select plump, well-colored blackberries.  They should not have stem caps attached.  If hulls are still attached, the berries are immature and were picked too early.  Avoid berries showing any signs of decay.
When buying berries, shop with your nose.  Always pick the plumpest and most fragrant berries.  They should be firm, bright, and fresh looking with no mold or bruises.  If possible, buy locally grown berries.  They're likely to be sweeter and juicier than those that are bred for shipment.  Select berries that are in dry, unstained containers.  (Stained containers may indicate over soft berries that are not freshly picked.)  Mold on berries spreads quickly.  Never leave a moldy berry next to a good one.
Do not wash or hull berries until you're ready to use them, and refrigerate unwashed berries as soon as possible.  Store them in a colander in the refrigerator.  This allows the cold air to circulate around them.
Tip: Remove berries from refrigerator 1 to 2 hours before serving.  Berries are at their fullest flavor at room temperature.
One pint fresh blackberries = 1 1/2 to 2 cups blackberries (depending on size)
Cake Recipes: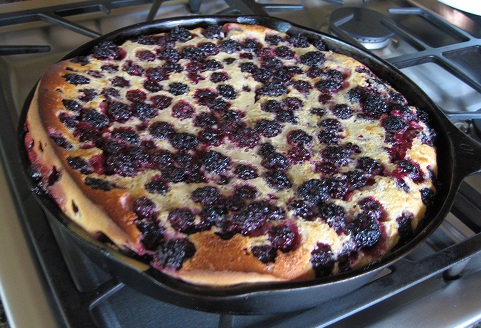 Blackberry Clafouti – Blackberry Pudding Cake
Clafouti (kla-foo-TEE) is a traditional dessert from the Limousin region of France.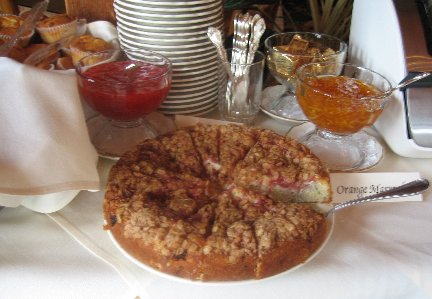 Blackberry Sour Cream Coffee Cake
I slightly adapted this recipe is from the Stephanie Inn Cookbook, written with Lori McKean and the Stephanie Inn staff.
Blackberry Torte
A light and wonderful way to serve fresh blackberries for either breakfast or as a dessert.  I like to use the wild blackberries that grow in Oregon.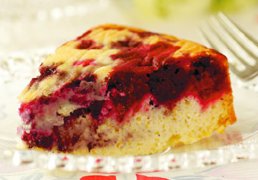 Blackberry Upside-Down Cake
Remember the Traditional Pineapple Upside-Down Cake which was so popular in the '50s and '60s?  How about using your fresh blackberries instead?  Use your cast-iron frying pan. The heavy pan keeps the butter from burning, and the handle makes it easy to flip the cake upside down when it is done.
Cobbler and Crisp Recipes: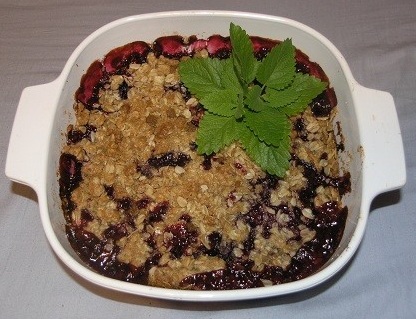 Blackberry Cobbler
This cobbler is especially good using the fresh wild blackberries.  When I am really lazy or in a hurry, I'll substitute a buttermilk baking mix, such as Bisquick, for the biscuit topping in this recipe.
Buttery Cinnamon Blackberry Cobbler
This buttery batter forms a crunchy crust around the edge of the dish that is very delicious.
Blackberry Crisp with Sweet Sour Cream
The peak of summer means grocery debut of plump, juicy blackberries popping up all over farmer's and local markets.  They are at their season's best for ripeness filled with sweet bursts of anti-oxidant juice!
Pie Recipes:

Blackberry Cream Pie
This is a very easy and delicious pie to make.  I often use a purchased pie crust when I'm in a hurry.
Blackberry Pie
This pie is worth the scratches and stained hands you get when picking your own fresh blackberries.
Sauces, Jams, and Jelly Recipes:
Blackberry Jam
After my daughter's had their first successful attempt at Raspberry Jam making, they decided to take on canning Blackberry Jam.  This second go round went more smoothly for them, as they got into the groove of the canning process.  Lesson learned – The more canning you do, the easier and more comfortable it gets with each fruit or vegetable you preserve.
No-Cook Freezer Blackberry Jam
With the bounty of fresh blackberry season, my daughters made some wonderful no-cook blackberry freezer jam after spending an afternoon picking berries.  Freezer jam is easy to make and does not require any cooking over the stove or placing the jam in a water bath for processing.
Blackberry Jelly
What could be better than homemade blackberry jelly?
Blackberry Barbecue Sauce
Wine, farm-fresh food, and friendship – A mighty powerful combination for the 4th of July celebration.
Blackberry-Wine Sauce
Another wonderful sauce that is good on pork, poultry, and beef.
Misc. Recipes Using Blackberries: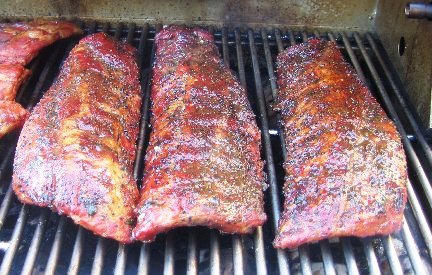 Jim's Blackberry Barbecued Ribs
These ribs are so good that you'll lick your fingers clean!
Poached Chicken Breasts with Blackberry Cabernet Sauce
My friend, Roxanne Sienkiewicz of Newberg, Oregon made this wonderful poultry dish for our Gourmet Dinner Group.  Recipe from Winemakers Cookbook by Lou Seibert Pappas, published by Chronicle Books.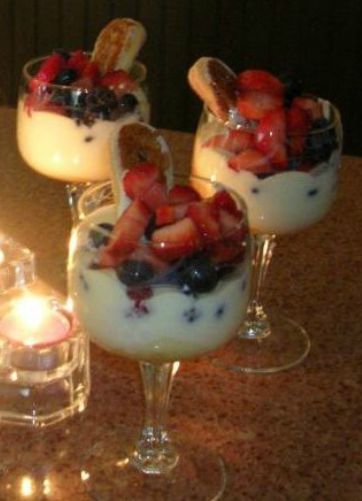 Zabaglione with Fresh Berries
Zabaglione [zah-bahl-YOH-nay], is a famous Italian dessert that is usually served with sliced fresh fruit or berries.  The French refer to this as Sabayon and it is used as a dessert or a sauce.  It is light and refreshing and perfect as warm weather dessert.
Comments and Reviews